Roy Johnson began racing in the sportsman categories all the way back in 1962 and has two Super Stock championships to his credit from 1976 and 1977. Now, many decades later, Roy Johnson and his son, Allen, are staples in the Pro Stock category since their debut over twenty years ago.
What were your initial thoughts when NHRA announced all the new rule changes to be implemented in 2016?
Well, the biggest change was obviously the fuel injection and I told Allen, 'Allen, that's your game. I'm not even gonna mess with it.' Allen does all the fuel injection and that took the pressure off me. And now, if it doesn't run right, it's on him.
How has the learning curve been with the new fuel injection?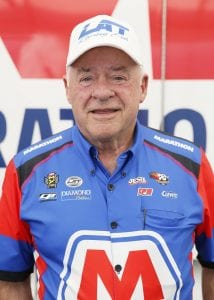 It has been very tough. I haven't tried to really learn it because I put it all on Allen's back and I think he's done a great job with picking up on it. Not being a tuning guy, I think he's doing a really great job. I'm just looking over his shoulder and telling him when he's doing something wrong. Thankfully, that's not often because seriously, he's doing a great job.
How big was the win in Denver for the Marathon Petroleum/J&J Racing team?
To be the one in the Dodge to break KB Racing's streak – that is just awesome. I can't believe it was us. I really can't believe it was us. I just thought some of the other GM cars would've been the one to do it. We're kind of the lone Dodge; we're kind of a stand alone team and I just couldn't believe luck played a big role in it. We were there to take advantage of the luck that came our way.
What typically are your racing duties at the races every weekend?
I'm there to tell Allen what he should or shouldn't be doing and I take care of the majors on the motor.
You've been making a lot of the tuning calls on AJ's car for his whole career, have you ever thought about getting behind the wheel of a Pro Stock car yourself?
Years ago I did. Surely after we started in Pro Stock, he [AJ] wanted me to test the car and drive it but I told him no. I'd be like a damn drunk because if I did it one time, I'd be wanting to do it all the time. In the beginning, when I was full of piss and vinegar, I would say, 'Hell, get your ass out of there and let me show you how to do it!' But not anymore. I'm too old now.
Now we're more than halfway through the first fuel injection season, are there any rules you'd want to modify?
With the fuel injection, I just feel like somebody went about it the wrong way cause it makes it so hard. I hate that the cars run slower than we did in the past and then they changed the rules and hell, I don't know anything about fuel injection other than it's a young boy's game so I don't think I should comment on that.
What do you say to those people that say Pro Stock is losing its popularity?
I don't think its losing popularity. There's more talk about Pro Stock right now than there's ever been because of fuel injection. I think if it was to lose popularity, it'd be because a lot of people don't have the money to switch over. If Marathon Petroleum wouldn't have come along, we wouldn't be out there racing.
What direction do you see Pro Stock going in the future?
If we can keep money out of it and once we get fuel injection going, I think the fuel injection overall in the long run will lower the cost of it because we're not tearing up motors now that we've learned. We probably went through $500,000 worth of stuff learning but once we learned fuel injection, it's easier on the motor. Pro Stock is no longer an old man's game and now it's up to the young kids. If we have enough young kids coming to race Pro Stock, they'll carry the class along if they have enough money.
This story originally appeared in Drag Illustrated Issue No 112, the Interview Issue, in August of 2016.