Each year Drag Illustrated takes on the daunting task of highlighting 10 female drag racers who have shown exemplary results over the past year or are demonstrating great promise for the future. In some way, each of the women racers featured here are outstanding in their fields.
Fortunately, there's no shortage of women racers taking on the eighth-mile or 1,000-foot or quarter-mile drag strips of this country to fill the list each year. But just as in previous years, we have to clarify that in this context "hottest" specifically refers to on-track or at-the-shop achievements. These are the women racers who we think are making waves; they're the ones you do not want to line up against; they're the ones who are contributing in their own way to our overarching effort in 2016 to "Make Drag Racing Great Again." But if the world's fastest women also happen to be pretty damn good looking, well, who are we to argue?
Tracy Pearson, 35, was introduced to the sport of drag racing shortly after meeting her then-boyfriend/now-husband-of-18-years David Pearson while both were still in high school at Boone, North Carolina. For quite some time, she admits she went along just to get along.
"At first I couldn't stand it because we just went to the local bracket racing scene and the Thursday night test and tune. And I just, honestly, I could not stand it until he said he was going to build a car for a class we had locally called Real Street Outlaws. It was a heads-up class on 26-inch slicks and when we started doing heads-up racing I ended up loving it," she reveals. "I guess 2006 is kind of when we started it, and as we started going and watching heads-up racing I got more into it, before we even built a heads-up car."
Pearson is now a frontrunner in the drag radial world with his '93 Mustang and wife Tracy at the keyboard calling the tune-up.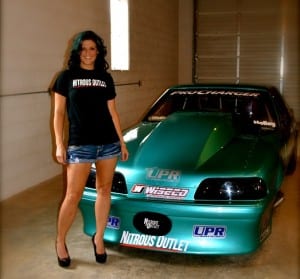 "It's a stock-suspension car built by Teddy Houser Race Cars with a 449-cubic-inch, small-block Ford built by Bullet Race Engines and we put an F3-130 ProCharger on it," she says. "We've had that combination since the beginning of 2010 and we've just kind of chipped away. We started out running 4.40s and now we're running, well, 4.10 is the best we've been so far.
"I handle pretty much everything with the BigStuff3, which is engine management, and looking at the track along with him and 'Mustang Mike' (Modeste), who has been a huge, huge person in our life," she says. "I guess you could say Mustang Mike is our mentor. He's taught us everything we know; without him our success would not be what it is today."
Tracy admits, though, that serving as her husband's tuner can be challenging and stressful at times, not only from a technical standpoint but at a personal level, too.
"Sometimes we have to step back and remember that we're just doing this for fun. I mean, it is fun for us, but it's kind of more like a job and everything we do about the sport, we take seriously. Because we don't want to let anybody down. We want all our sponsors to be happy with us and all of our fans. But sometimes we do just have to step back and be like, 'Hey, this is not our everyday job and it's not worth the fight.
"But I feel very, very, very lucky that I have a great husband that allows me to be part of the team," she adds. "I just like the fact that I get to enjoy something that my husband enjoys so much and we can do it together. And David's been one to never push me inside and not allow me to learn and do stuff—and he's never allowed any of his friends to come and push me out of the way, either. Sometimes you see too often that it's like the guys' weekend. The guys get away, and it's just not about women or families, but that's not our team at all."
The Pearsons now live in Marion, North Carolina. They own a bail bonding company and have three children together, plus 20-year-old Tyler, who is Tracy's stepson, "but I still claim him as my son," she stresses. Daughter Hailey, 18, will be leaving for college soon, while sons Trevor, 16, and his 13-year-old brother Jacob are high school students.
"They all love racing," Tracy says. "Our daughter, she doesn't get to go as much as the boys, but they absolutely love it. And Tyler was actually at Duck's race with us last month (February), and he had his little girl with him, so her first race was Lights Out 7. She's four months old, so we're grandparents now, too. They keep making fun of me about that. I was like, "She can call me 'Gigi,' I'm not going to be 'Grandma!'"
This story originally appeared in Drag Illustrated Issue No. 108, the Hottest 2016 Issue, in April of 2016.