It's been a long time coming, but Fiscus/Klugger Racing is finally ready to unveil their radical new radial car and they've got their sights set on making the world's first three-second radial run with it.
Kevin Fiscus stormed onto the radial scene back in '07, and has dominated pretty much ever since. With a slew of wins and records on the books, Fiscus is highly regarded as one of radial racing's elite few. When he teamed up with Josh Klugger to form Fiscus/Klugger Racing, his notoriety reached a whole new level. The two moved into the NHRA Pro Mod world earlier this year, but the two FKR counterparts are going back to their radial roots with a newly completed Mustang from Racecraft Inc.
"Out of the blue, they asked if we would be interested in campaigning their shop car. Of course, we said 'Yes!' and were very honored that they thought enough of us to do this," Fiscus said of how the arrangement between himself, Klugger and Racecraft originally came to fruition in 2012.
Once the initial offer was accepted, the details were hashed out: Racecraft would supply the duo with the roller, and FKR would provide the powertrain. Over the years, the '93 Fox Body was built using the best components available, and updated whenever a more advanced part was available.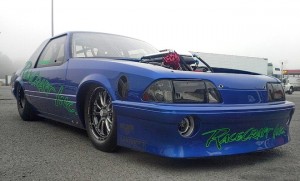 "It's been a long process, but it's been great to work with Racecraft Inc. They spared no expense building it, and in return, we spared no expense in putting in the best powerplant and drivetrain to compete with the best of the best right now. We have all intentions of going out and being on top again very soon," Fiscus added confidently.
The new flagship radial car will have generally the same setup as what's currently in the FKR Pro Mod Mustang.
"It'll be powered by a Pro Line Racing 481X motor with twin Precision GEN2 Pro Mod 98 turbochargers pushing 60+ pounds of boost instead of the NHRA-limited 43 PSI on 88mm units," confirms Fiscus.
The beautiful blue Racecraft Inc-built car features a spec sheet containing some of the most well known names in racing: a Proformance Racing 2-speed Turbo 400 transmission, ProTorque converter, BigStuff3 powertrain management system, Turbosmart wastegates and blow off valves, ProLite high-performance lithium ion battery, Racecraft Inc's latest and greatest in suspension both front and rear, Menscer Motorsports shocks, Santhuff double adjustable front struts, Weld V-Series wheels wrapped in Mickey Thompson radials, Motor City composite components, lexan from Optic Armor Performance Windows, and a Racecraft Inc carbon fiber front clip.
The new Mustang was only recently completed and the team plans to test early in September in preparation for its maiden race Sept. 21-23, in No Mercy V: Cleared for Takeoff at South Georgia Motorsports Park. Fiscus will be racing that same weekend in the NHRA Pro Mod race in St. Louis, so Klugger will strap into the driver's seat to do the honors of officially debuting the new ride.
Over the years, radial racing has evolved significantly and Fiscus remembers the days when "being the first to the 4.40s was huge, now it's teens and zeroes," but he's set his sights on being the first car to go 3.99 or quicker. "We've got a state-of-the-art car. In the radial world, people don't remember who wins races–they remember who sets records. Running the first three-second pass is our primary focus."
After SGMP, the FKR guys will hit up a few other races before wrapping up the season. They'll go to the Orlando World Street Nationals to defend their Pro Mod title, so the new Mustang will tag along to hurt some feelings there as well.
"We'd love to do an NMCA race so we could run the new car in Radial Wars and go for a Wally with it, and bring the Pro Mod car out, too" Fiscus said.
On paper, the car is the perfect candidate to break records. Soon enough, the world will know whether or not the FKR team can produce the actual paper that matters–the timeslip.