The journey of driving a Top Fuel Dragster has really only begun for me, but one thing that has stuck out from the beginning is that these cars are not as simple to drive as they appear. Our testing experience was a large learning curve for me to say the least.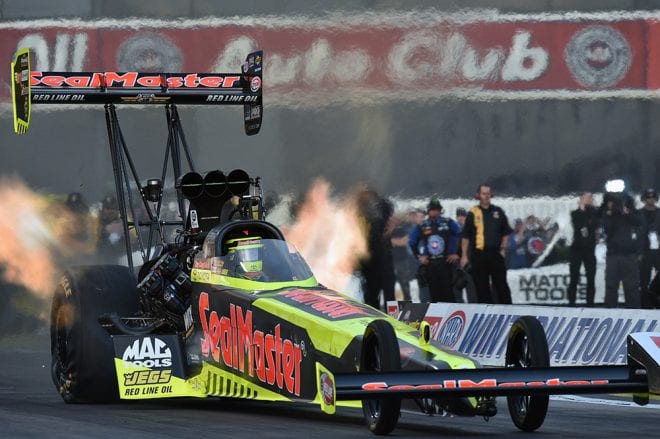 Everything I have ever driven in drag racing has had a footbrake and a transbrake button. This thing has a hand brake and a gas pedal and pulls WAY harder than any other car I've driven before. Getting used to the rhythm of driving has taken me longer than I wished, but each lap I get that much more comfortable, and focusing becomes a little more natural. It's a big adjustment in the way this car feels in ways of steering and making corrections but it's an absolute blast to drive and the learning process is great as I have J.R. Todd, Doug Kalitta, Connie Kalitta, Jim O, Rob Flynn and all of my guys on the team. Just the feeling alone when you leave the starting line and feel the car accelerate all the way to the finish line is extremely amazing.
After 13 runs in four days in Phoenix with a best et of 3.76, we were headed to Pomona for the Winternationals. Pulling in the gates at Pomona is always the coolest, but with an entry in Top Fuel it's an absolute honor! It's a ton to take in, let alone stay focused on the task at hand. The excitement that our sport of drag racing offers is extreme, whether you're a driver or a fan with all the things that go on in a day at the races.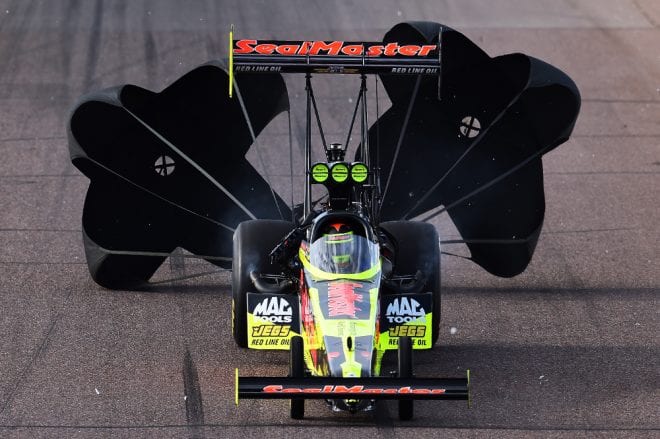 We made three qualifying attempts and ended up sixth with a 3.730 at 322.81 mph. Being in the show on Sunday is one of the coolest things as a driver, especially coming from the sportsman point of view. We raced Shawn Reed in round one and were fortunate enough to win the round thanks to Rob, Connie, and the guys. Next up was Antron Brown and we had lane choice. The outcome was not as successful as the first round, as I was .106 on the tree, a whole seven hundredths behind Antron. It's really cool to even race Antron because I've been watching guys like him for so long and he is very talented in so many ways in our sport. I think learning from losses is what sets up future success, and moving forward I know what I need to do to hit the tree better. Practice at home and more laps will only help, but the most important part is the focus.
After a week off we pulled into Wild Horse Pass in Phoenix. First thing we had to do was have a team
gathering at Top Golf. One thing about the SealMaster team is we are going to enjoy our time while away from home. Each one of the guys on the team is a blast and has their own unique talents and things about them that propel our team. The team is what I am enjoying the most because here at Kalitta Motorsports we are a family and you feel like you're a part of something more than just going 330 mph.
Friday at Phoenix was great, as we ran my career-best of 3.696 at 326.48 mph, which felt incredible. My reaction times are still not where I'd like them to be yet, but ironically on Saturday morning I got a phone call from Connie Kalitta. He gave me a few ideas to try for hitting the tree, as far as foot position and so on. I used his suggestions to the best of my ability, and his advice, which is loaded with tons of experience, picked us up around two and a half hundredths of a second. Listening to someone like Connie is so valuable, and an honor. He has so much experience and has paved such a huge path in drag racing for our generation. We qualified sixth again and were set to race Scott Palmer in the first round. The car felt nice when it left, but we dropped a couple holes and Scott came around us. The learning experience continues, and I'm truly having the time of my life as this opportunity has been a dream of mine.
With the time off before Gainesville, I am here at JEGS most of the time working with our Digital Marketing Group. We create the email blasts and certain campaigns to show our customers the great products and services JEGS.com has to offer. It is really wild and exciting to see the new technology grow in our industry. Our mission is to make JEGS.com easy to find and simple to use to find your High Performance Automotive needs! So if anyone has any ideas or suggestions feel free to reach out to us or on my social media outlets.
Troy Coughlin Jr. is the driver of the SealMaster Top Fuel dragster for Kalitta Motorsports in the NHRA Mello Yello Drag Racing Series. Follow him on Facebook, Instagram and Twitter.
Photos courtesy of Team JEGS, Kalitta Motorsports, Blackbeard, and Gary Nastase.