"I've missed more than 9,000 shots in my career. I've lost almost 300 games. 26 times, I've been trusted to take the game winning shot and missed. I've failed over and over and over again in my life. And that is why I succeed." – Michael Jordan
This quote is what got me through the toughest time in my professional racing career. I received an unmarked envelope from Norm Grimes, my competitor's crew chief, with this quote printed on a plain piece of paper. I have been a colleague of Norm's for many years, and although we have never been on the same team, we still maintain a friendship at the track. The fact that my competitor was trying to cheer me up as I didn't qualify for my final two races of my freshman year (Noble and Dallas 2016) really touched my heart and became a strong memory I will never forget.
Two years later, Norm and I have had our battles on the track, but I respect him and his team. He was not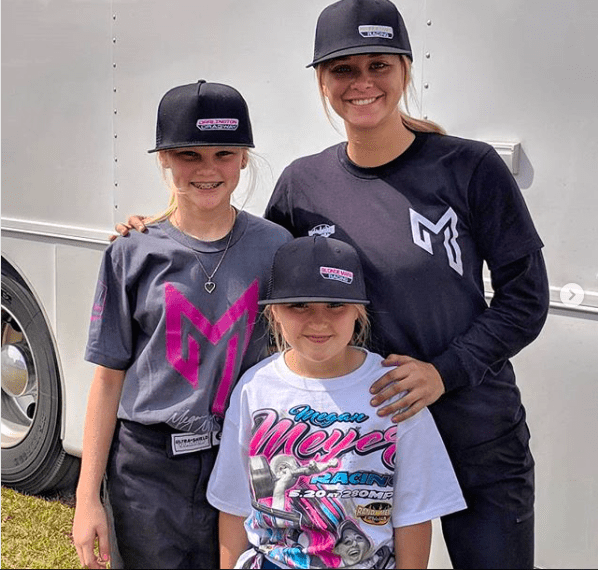 at the track this year when I didn't qualify for the Gainesville regional race on March 9th, otherwise, I may have thought of his inspirational letter sooner. My team is the best and I know we gave it our all, but for some reason, it just was not our day. It didn't hit me until after I made my second qualifying pass (our third session got taken away – one that I needed very much) and my crew guys came to pick me up from the top end. I thought that we for sure qualified – we always qualify – but then I asked Adrian, my crew chief, if we made it. He said no, and I went straight to my motorhome to cry and question why we didn't. I didn't understand what we were doing wrong – why did we keep having tire shake, with both cars, but my car just could not calm down enough to make a smooth pass?
The guys did their best to cheer me up, but I was so down in the dumps, I didn't want to talk to anybody. Fortunately, I had a few visits from some new Junior Dragster drivers that night. They lightened my mood with their enthusiasm as I reminisced on the good ol' days of racing my Junior with my sister and friends.
My competitive nature got the best of me, and I was not a happy camper on race day. I did not want to be at the racetrack, and I was honestly jealous that my teammate, Justin Ashley, got to compete in the event and I didn't. I prayed that I could come in as an alternate, but there was no chance to, and I just had to suck it up and hope that our second car got the win. Unfortunately, he didn't and was taken out in second round. Again, I was bummed that we didn't do better, especially since I won this event last year. That is what hurts the most.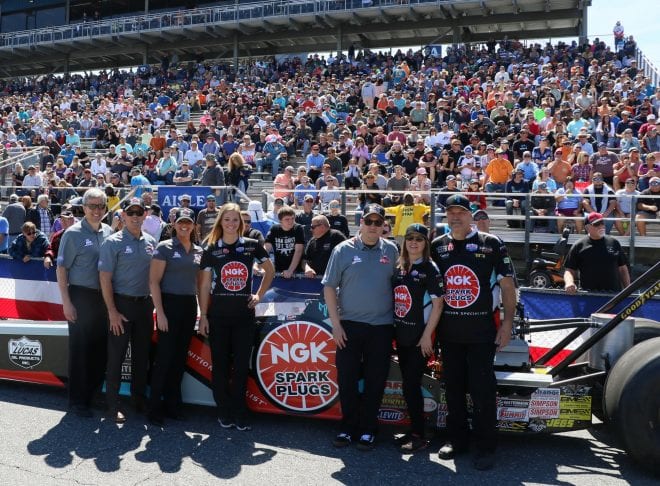 I was able to shake it off and hang out with my best friend, Mia Tedesco, for a few days before the Gatornationals. It was a great way to be distracted and get away from the racetrack and not think about my defeat. I was feeling much better when we got back to the track on Thursday and had everything ready to go to start fresh. We had much different weather and track conditions and it was easier to tune around that. For my first pass, we kept the tune-up very conservative, and it made a slow, but smooth, pass on Friday. I was thrilled to finally make it down the track and to share the excitement of announcing NGK Spark Plugs as the title sponsor of the NHRA 4-Wide Nationals in Charlotte. We slowed down a bit in the second session, but I was still in the top half of the field, so I was very happy with how the day went. Unfortunately, Saturday did not have the same results for me.
For the third session on Saturday morning, we ran another 5.28, the same pass I ran in Q1, but everyone else was running so much quicker than I was. A 5.28 is still a great pass, yet I was only sitting as No. 11 at the end of qualifying – not where I wanted to be. I knew we had to face Chris Demke, the No. 6 qualifier, and I knew I had a chance racing him since I was 2-0 against him in national events. We hopped up the tune-up and the car reacted exactly how we wanted it to, but it just wasn't enough. I ran my quickest and fastest pass all weekend in a losing effort as Chris got the holeshot win.
Again, I was devastated. Why were we not doing as great as we have done in the past? I was the runner-up at this race the past two years; now, I couldn't even get past first round. I had every single negative thought running through my head, and I could not get past the fact that my weekend was over and I was not going to race on Sunday. I spent the night hanging out with my friends at the track to forget the bad memories and I was able to cheer them on the next day. Unfortunately, Justin was taken out in second round as he smoked the tires and we all were disappointed in our performance.

It's tough to go from being No. 1 qualifier at your first race to not being able to make the field in the next race. The quote Norm gave me about how failures drove one of the greatest basketball players ever to succeed is truly helping me learn that sometimes it's not about the victory – it's about the struggle that gets you to the victory. Everyone has said to me, "That's racing, and it will happen to everyone." Sometimes we can move mountains and sometimes we are required to climb them. We don't grow as a person on our wins – we grow with our defeats and that is what strengthens us to get those victories. What is your true strength? What are your talents? Take a moment to take this in, and remember, even if you fail over and over again, you will eventually succeed.
Megan Meyer is the driver of the NGK Spark Plugs/Meyer Truck Center/WELD Racing A/Fuel Dragster in the NHRA Lucas Oil Drag Racing Series. Follow Megan on Facebook, Twitter and Instagram.
This DRAG ILLUSTRATED Driver Blog is presented by WELD Racing. Follow WELD Racing on Facebook, Twitter and Instagram, and visit them online at www.WELDWheels.com.