"You have to stay ahead of the game, or you'll get left behind." –Randy Meyer
This is the motto for our team coming into the new race season, and we are not one to back down. We are always striving to be stronger, faster, and quicker on the track and in the pits. We didn't make any major changes in the off season. Instead, we made little changes that make a big difference in cutting down maintenance, time spent working on the cars, and organization. Each year my dad comes up with new ideas to increase our speed between rounds, because it seems like we get less and less time on race day. Simply making things easier and work more efficient was our focus this offseason.
Before we headed to Phoenix for the Nitro Spring Training, Julie and I visited Scottsdale for the Women In Auto Care Leadership Conference and had an absolute blast. It was a short conference, but the knowledge we absorbed and connections we made are priceless. I highly encourage all women (and men!) in the motorsports/automotive industry to take a look at this growing group.
Their focus on leadership, mentoring, and empowering is so important to growing your career, but also for building personal development. I sent out a newsletter with a few of my takeaways from the conference, and I hope to take what I learned and pass it along to someone that can make a difference. They will have a second conference this June in Ontario, Canada, so check it out!
We took the opportunity to visit 180 Degrees Auto, a small shop that has a massive impact on the industry. 180 Auto is ran by Bogi, who you may have seen on All Girls Garage on Velocity, and her shop is mostly ran by females. It was a great eye-opener to the influence that women have on the automotive industry, whether it's a shop technician or a CEO.
The next stop was Wild Horse Pass, where we made seven test passes in two days. Julie got the most seat time but acted like a pro on the track. We made great strides and all of the hard work we put in since November paid off. Most of the runs we made were half-track, but out of the three full runs we did, the slowest was a 5.26 and the quickest was 5.14. We are very pleased with the results and it gives us a great starting point for 2018. A lot of the Top Fuel and Funny Car teams also made great improvements while testing, including the Forces and Clay Millican, who ran some of the quickest and fastest times while running the Weld Delta-1 rear wheels.
For now, we are focused on Pomona and how we will perform at the Lucas Oil Winternationals. In the past we have ran great at Phoenix, but go to Pomona and struggle for some reason. The two tracks are quite different and we don't want to have too high of expectations going into the first race of the year. However, we were able to go rounds at the final race of 2017, and run the 5.11, so we are going to use that data we learned to gain as many points as possible this weekend.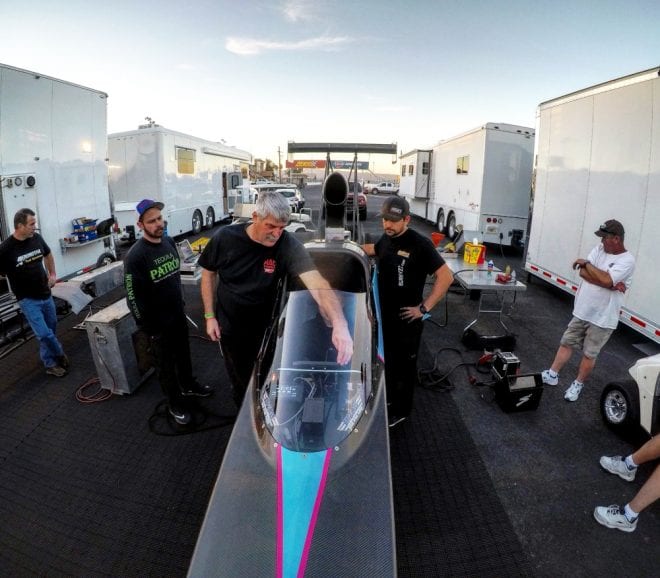 Today my dad and I are visiting San Diego and taking the chance to visit some of our sponsors and partners that are located in SoCal. It's crazy to see how different living is here compared to the Midwest! I love the beaches, but I prefer the outdoors and peace and quiet.
Take the time to stop by our pits this weekend and share your entrepreneurial experiences with me – I love to hear creative, new ideas!
Megan Meyer is the driver of the NGK Spark Plugs/Meyer Truck Center/WELD Racing A/Fuel Dragster in the NHRA Lucas Oil Drag Racing Series. Follow Megan on Facebook, Twitter and Instagram.
This DRAG ILLUSTRATED Driver Blog is presented by WELD Racing. Follow WELD Racing on Facebook, Twitter and Instagram, and visit them online at www.WELDWheels.com.