"When opportunity knocks, it's too late to prepare." – John Wooden
SEMA 2018 has thankfully ended, and I feel like I sprinted (with a heavy backpack) a marathon; events are no joke! (deep breath) It was intense, it was exhilarating, it was vulnerable.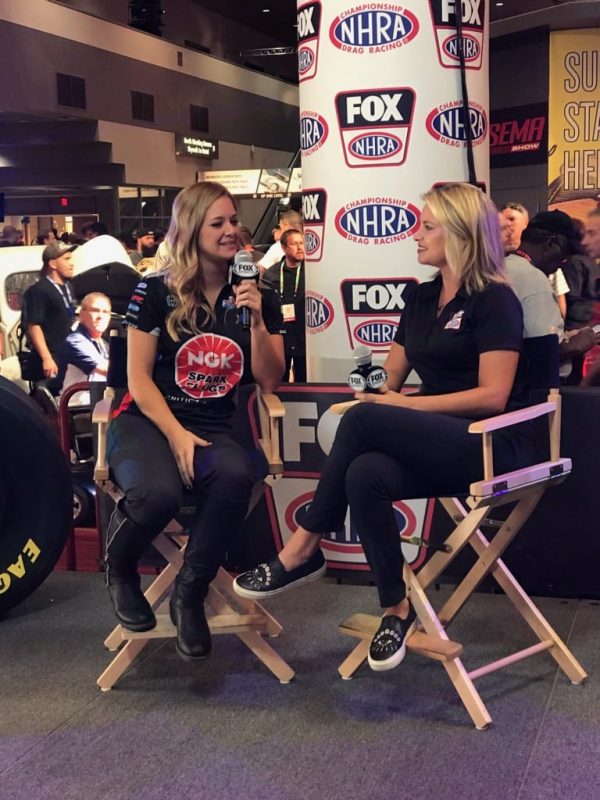 Trade shows are a marathon, not a sprint. Energetically being "on" for four days and engaging with thousands of humans was nerve-racking. Public speaking can be a sport, a sport in which you have to train your body and mind to react and interact the proper ways. Never mind the load-in and load-out situations, and constantly watching our dragster to make sure nothing gets damaged during the show.
Events like this take an army, and I am very grateful for my team who made this possible. I can't imagine having a dragster in a show like this without the amazing group from NGK Spark Plugs, and my team for taking the time to turn the race car into a show car and helping coordinate the very complicated logistics and transportation to and from the show.
My goal at SEMA this year was to have every meeting, interview, dinner, and autograph session scheduled before I got there so I didn't have any hiccups or unseen circumstances happen. I had four autograph signings, five interviews, two receptions, and five marketing seminars to attend, all while visiting with my current partners to renew for 2019 with the Randy Meyer Racing Team, and visiting with new companies to potentially join our program. To top it off, we won an award for the best racing engine in the Masters of Motors competition! This year was by far my busiest; like I said, trade shows are a marathon.
A few takeaways from my notes from the marketing seminars I attended that I think will help everyone out:
Build a social media strategy: create educational content that is relevant to your audience and be a place they trust to go for information.
Social media is the best place to advertise because it is one less step of action people have to take to buy a product or visit a website (vs. a magazine or tv). Ads on social can reach more people because they continue to grow for months or years until they are removed.
Customers and fans are the brand, the product is not the brand. Steer your content to the brand and engage emotions with great designs that inspire action.
The automotive and outdoor industries are converging, this is something we all need to hop on! Fifty percent of all truck owners hunt, fish, camp, or hike. You have the opportunity to capitalize on this market.
Focus your advertising on emotional and functional values, always humanize the ads.
Use analytics in PR work: What will you do with the data and information once you get it? Don't throw this away! Use these numbers to create specific campaigns and conversions and grow your online influence.
Use Google Chrome analytics for sites, campaign URL trackers, and SEO tools to track metrics. The more data you collect, the more data you can pass on to sponsors.
On another note, I don't understand the mindset of some people who can't believe a girl can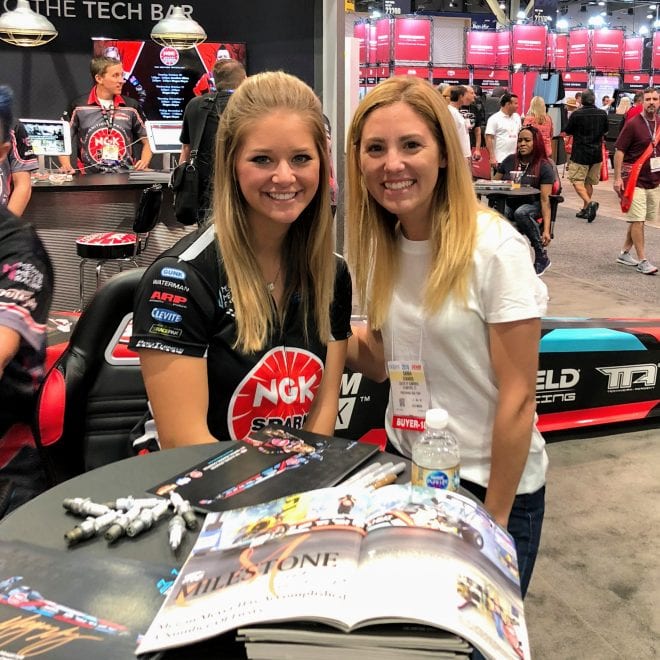 drive a race car. To me it has never been an issue at the track whether a male or female drives or works on a car. I've grown up with both genders in every class I've competed in. Yes, it is a male-dominated sport, but that doesn't mean that it is physically challenging for a girl to drive. I think the reason that most drivers are male is simply because girls aren't exposed to the sport as much because playing with cars is a "guy thing" to do. Why does someone simply assume that if I'm standing next to the car that it is my boyfriend's car?
Also, the many guys that in person, and mostly online, make satisfying comments to girls that race is extremely unnecessary. Guys with their unique poetry such as "so hot and you can drive, what the perfect combo", those are the ones that flatter me the most. Girls are not racing to get your attention, they just want to drive.
Both of these issues came up at the SEMA Show and it was nerve-racking to deal with and react professionally. Getting into these types of situations has started to cause anxiety for me and I know that it unfortunately happens to all female racers. This is something we need to take control of. As a result, I've taken some time away from social media and will continue to do so in the off season as I prepare for hunting season and focus on connecting my soul with Mother Nature.
Megan Meyer is the driver of the NGK Spark Plugs/Meyer Truck Center/WELD Racing A/Fuel Dragster in the NHRA Lucas Oil Drag Racing Series. Follow Megan on Facebook, Twitter and Instagram.
This DRAG ILLUSTRATED Driver Blog is presented by WELD Racing. Follow WELD Racing on Facebook, Twitter and Instagram, and visit them online at www.WELDWheels.com.