"Yesterday is not ours to recover, but tomorrow is ours to win or lose." – Lyndon B. Johnson
We all know that feeling of defeat when you just miss the tree by a mile and can't reach the finish line first. Unfortunately, it happens (a lot more than we want to admit) in racing, and letting down your team, your car, and your sponsors is the worst feeling in the world.
This past weekend, my teammate Julie and I both lost first round for the second race in a row. For us that is a big deal; we have been to 11 final rounds this year in 18 races and naturally expect both cars to go rounds on race day. Yet, that wasn't the case at Indy or Reading.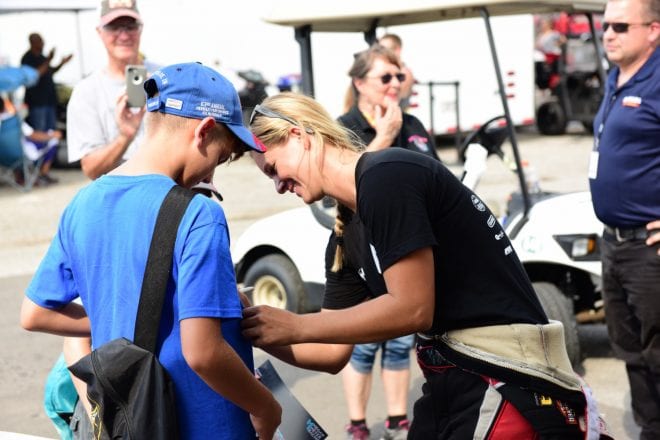 At Indy we just got behind, the track was difficult to tune to and we were playing catch-up all weekend. We made some electrical adjustments on my car for Reading, and that seemed to be the gremlin that we have been fighting since Norwalk (my last win). My car ran great each qualifying pass at Reading, however, Julie was having troubles and shook the tires in the only two sessions we were allowed to run. The team got her car turned around and she made a great pass in first round, but it wasn't enough to get ahead of Duane Shields. I also had an early exit in E1 with a terrible reaction time and fell behind Mike Kosky. We both made our best runs of the weekend, but I didn't have enough room to track him down before the finish line.
As a whole, we were extremely disappointed in our results. We know we can do better, and we should have, but as the season goes on, parts get weak, the car gets tired, you run out of fresh parts and supplies to run and have to make do with what you have. As a driver, I always try to do my best each pass, but when we start chasing points there is a lot of built-up pressure behind the scenes and I get more distracted on the line with what's going on in my head.
Moving on from these two defeats has been hard, but one thing I've learned over the years is that there will always be another race to try again. I had many Jr. Dragster drivers and families come up to me this weekend asking for advice, and they are all going through the same difficulties I am. There can be years where you just rock it at each race and finish off the year great, or struggle for months and can't seem to get out of a rut. I told them to not focus on the past, learn from it and make a note of what went wrong, but don't dwell on it and always enter the next race with a fresh focus and determination. Always think of why you got started and remind yourself of why you are there.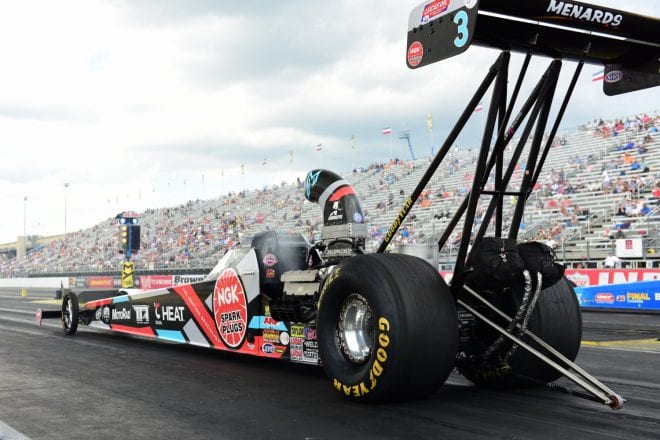 This weekend will be my only weekend off until November, so I'm trying to get as much house work done that I can, while also competing in a 5k obstacle course (very similar to the Tough Mudder). I have three races left for the year, two regionals and one national (Charlotte), while my sister, Rachel, and Julie both have three races left each. We will have two other drivers compete at one race each, and possibly debut a new teammate at the end of the year. There is a total of seven races left for the Randy Meyer Racing Team, and a lot can happen in seven weeks.
Megan Meyer is the driver of the NGK Spark Plugs/Meyer Truck Center/WELD Racing A/Fuel Dragster in the NHRA Lucas Oil Drag Racing Series. Follow Megan on Facebook, Twitter and Instagram.
This DRAG ILLUSTRATED Driver Blog is presented by WELD Racing. Follow WELD Racing on Facebook, Twitter and Instagram, and visit them online at www.WELDWheels.com.