I've always been very transparent with you guys on here and on social media, and I must say that I've had quite a rough day yesterday at the final Lucas Oil North Central Regional race at Beech Bend Raceway in Bowling Green, Kentucky. Actually, I've had quite a few rough days at the past couple of races.
Coming to Bowling Green, we were really hoping to have a repeat of last year where my dad took the track record and the event win, but that was not the case this year. We started off good, running a 5.36 E.T. for the first qualifier, but then we noticed a crack in the crank, so we changed motors. My dad made the comment that we've changed motors more times this year than we have in the past couple of years – due to the fact that we've put on a lot of runs this year (around 80 passes so far) which is a lot considering that the car is only one year old. I bet we have 100 runs by the time our season is up – I will look in our log book and keep you posted after Dallas.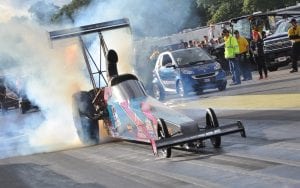 Anyways, when we changed motors we smoked the tires twice, once in the second qualifier and once in first round. We were not expecting it but for some reason we just struggled getting the power right this weekend. It's hard to run in the high heat and humidity with a tricky track, and we just didn't have enough data on this motor to really tune it correctly. I was confident we would get the win going into first round, but when it smoked the tires and I just had to watch Ken Perry drive to the finish line, I was mad and upset because this was only the second time I've lost first round – which is definitely not what I want to have on my racing resume. But that's just a part of racing; the journey is up and down, up and down, up and down. One thing works, then you go to a different track and it doesn't. You tell someone with excitement all you've done, and then you get knocked for it. It's ROUGH, very, very rough. Mentally, emotionally, and physically. As a driver, you cannot let it get to you. If your confidence in your guys and the car starts to dwindle, it will drastically change how you perform-in a negative way.
One of my favorite quotes is, "Don't ask for value if you're not providing value." With only five races left in my season, it's hard to believe the year has gone by so quickly. I still remember the day like it was yesterday when we pulled into Gainesville for my first race of the year, and looking back I am extremely grateful to have the success that we've had this year. Being around the sport and the Top Alcohol classes my entire childhood; I know that years like this don't happen often. I remember a while ago we had a three-year streak where we didn't win a race at all, maybe one or two, but that's it. And for a Championship team like we are, that's definitely not the kind of results we want. But, we've worked hard to create an organized system, brought on some great guys, built life-long partnerships, and have learned a lot along the way about how the cars respond and react; which is why we've been able to have a lot of power and a lot of success the past couple of years.
I'm not trying to brag or complain, I am just extremely proud of my team and my family for all that we've
accomplished in the almost 40 years that we've been racing. We have 39 wins as a team, and I cannot wait to claim #40 for us within these next five races. But, it won't come easy because there are a lot of tough guys in our field and it seems like every year there are more and more, and competition gets quicker and faster; which leads to more expensive racing. And we all know what that means.
So, I want to say thank you to all of the fans and spectators and racing colleagues at the track and online, and everyone who has taken the time to support myself and my team and continue to cheer us on our journey to the top. You guys really make me smile and your dedication can completely change a person's attitude at the track. I'm only 23 years old, and still in my first season, and I can't wait to bring bigger things to my team and to you all.
Since I still have the chance to win the Lucas Oil Central Regional Championship, I want to do a give-away as a thank you to you guys. I truly appreciate your support and I'd like to hear your racing journey. Tell me about your trials and tribulations, what gets you excited, and what's been the roughest part for you. Please write a story about the ups and downs that you've had on Instagram, tag me in it @MeganMeyer.Racing, use the hashtag #TheChampionshipAwaits, and I will pick a handful of you all to get some free gear.
If you are at the U.S. Nationals this weekend, stop by our pits and say hi, snap a pic, and let's chat.
Megan Meyer is the driver of the Racers Evolved/Randy Meyer Racing A/Fuel dragster in NHRA Lucas Oil Series Top Alcohol Dragster competition.