One word to describe how my rookie year (2016) in Top Alcohol Dragster ended: heartbreaking. This year, I'd say we ended confidently. Although we had a few ups and downs, we still came out strong with one NHRA national event win at Joliet, four Lucas Oil Drag Racing Series wins at Florida, Louisiana, Kansas, Iowa, and three runner-ups. That's eight final rounds, one Lucas Oil Central Region championship, and a provisional second-place finish in national points, in 15 races.
Going into my final national event last year, the Dallas FallNationals, we knew we would have problems with the car because of the poor performance we had in the last half of the season. I didn't qualify, and it was very heartbreaking for me to start off so strong and then finish at the bottom. But we made a lot of changes to the car after that, and came back stronger this year. For the FallNationals this year, we ran a 5.23-second elapsed time at 278 mph for the No. 1 qualifying spot in the quickest TAD field in history, ran an outstanding 5.16 in the semifinals, and made it to the final round (Catch the race on FS2 this Thursday, Oct. 26, at 9pm ET). We were very happy with our performance, other than shaking the tires three times.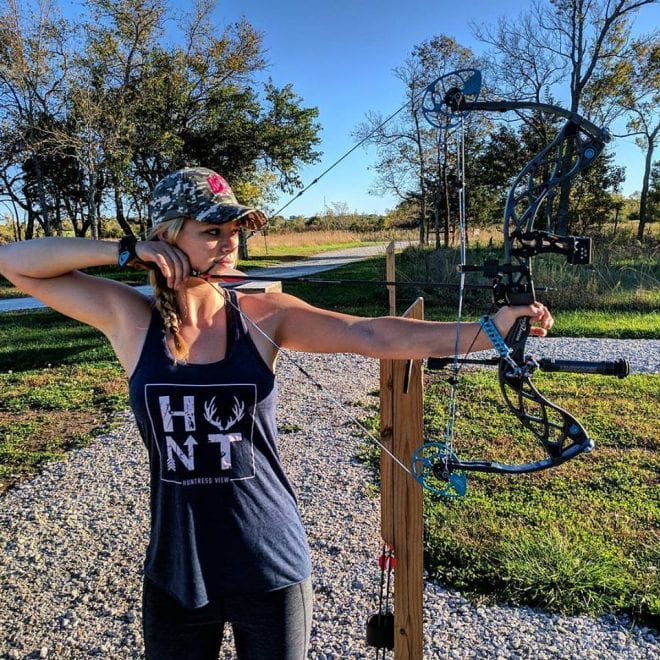 Now that my season is finished, I am handing the driving duties over to Bill Litton, who will pilot my car at the final three NHRA races; Las Vegas national, Las Vegas regional, and Pomona national. My other two teammates will share the seat of my dad's dragster: Justin Ashley and Julie Nataas. I will attend the Vegas national race and SEMA Show, but will come back home to start preparing for next year. Of course, I plan to do a lot of deer hunting this winter with my best friend, and I highly encourage everyone to go outdoors and come back next year refreshed. Getting to take a break from racing and insert myself into nature is the best way to relax and become stronger mentally and physically.
We have grown our team quite a bit in such a little time, which has been a big shift in our operations. We have had to add new crew members to handle the workloads and busy schedule, we are breaking parts more and need to grow our inventory, and overall need more funding to maintain the shop, truck and trailer, and the race cars. The Randy Meyer Racing team is more than a team; it's a complete business that operates 24/7 and competes on a schedule similar to a Top Fuel team.
I plan to race in a schedule similar to this year with 10 National events and 5-7 regionals. My goals for 2018 include another Lucas Oil regional championship, and possibly the world championship. I hope to win at least two national events and regional events and to continue to have one of the quickest cars in the field. We will have Justin, Bill, and Julie on board for 2018 as well as my sister, Rachel, competing in more races. We are all looking for marketing partners for the next season and hope to have some exciting announcements coming out at the SEMA and PRI shows.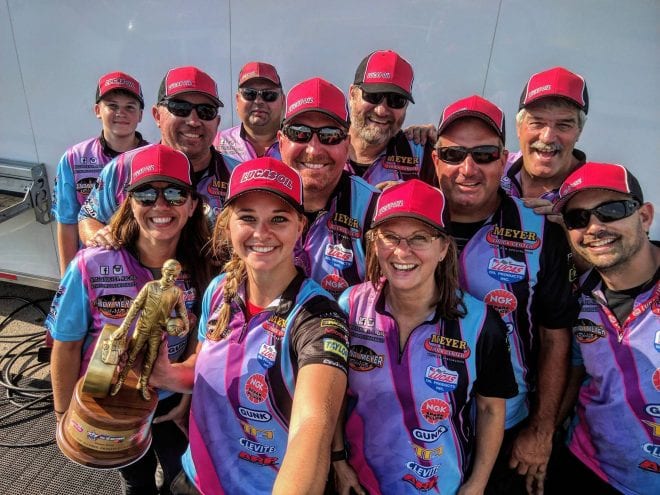 If you haven't already, please subscribe to our newsletter on our newly designed website, randymeyerracing.com. A new website for Megan Meyer Racing is in the works, and I am always open to creating websites for other teams, as well as logos, hero cards, etc. Follow us on Facebook and Instagram (@MeganMeyer.Racing) to stay up to date with our results at the final three races this year.
Megan Meyer is the driver of the Meyer Truck Center/Randy Meyer Racing A/Fuel dragster in NHRA Lucas Oil Series Top Alcohol Dragster competition. Follow her on Facebook, Instagram and Twitter.