I left off my first DragIllustrated.com Driver Blog entry with the following saying: "When life gives you lemons, you paint that shit gold." Our Alert Screw Products Top Sportsman team is currently searching for that gold paint after some lemons were dealt our way not too long ago. Such highs and such lows to talk about in this latest entry; I'd like to get some of those lows out of the way first.
I can't bring up the lows without first mentioning the passing of Top Sportsman badass Ronnie Davis. I'm not going to
bullshit you and tell you we were best friends, because we weren't. As you can imagine from someone of his strong opinion and old-school southern roots, matched with someone as young as myself, we didn't quite see eye-to-eye on everything. The one thing I most certainly couldn't deny, however, was his dedication and passion to the sport of Drag Racing, most specifically the art of fast bracket racing. It's arguable that without Ronnie's influence in the racing community dating back to well before I was even born, I wouldn't be in the position to write this very driver blog entry today about our own Top Sportsman operation.
Unfortunately, DI Senior Editor Ian Tocher was struck by the car during Ronnie's accident and sustained serious injuries. Ian wrote some of the first articles about me when I was still in Junior Dragsters. I always looked forward to our "bonding time", whenever I would run into him in the tower in the hours between 3 and 5 AM when he was hammering out his race recaps. I wish him a quick recovery so we can see him back at the races again soon.
Speaking of our own operation, there are some big highs and unfortunately some lows to report there as well. After debuting our new Vanishing Point Race Cars 63' Corvette last October, we spent most every single day since then preparing for the 2016 season with some subtle changes throughout, including updated hardware. The time had come a few weeks ago to test our new automatic Lencodrive transmission, Mickey Thompson tires, updated Racepak Data system with added sensors, along with an assortment of other new electronics throughout the car controlling an array of different functions. That test day at Byron Dragway was a huge success as all the new parts performed exactly as they were supposed to do; what a relief! It was also exactly six months to the day from when I last strapped myself into that seat, which was an enormous relief in itself that things flowed so smoothly and felt as natural as they should behind the wheel. The following weekend was our first race outing of the season at Lucas Oil Raceway Park in Indianapolis, where things didn't go quite as smoothly.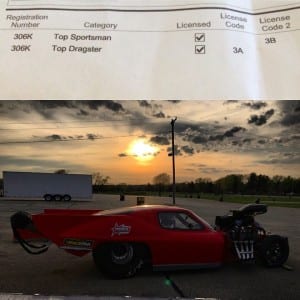 The race started out quite well, however. During Thursday testing I made my one remaining licensing pass for my Top Sportsman credentials with a soft and offset early 6.78 at 195 mph lap. In preparation for our first qualifier on Friday afternoon, we analyzed some of our Racepak Data and the car was given a tune-up that we thought it would respond to nicely, and boy did it ever! Our first full pull to the quarter-mile we were rewarded with a 6.32 ET at a new career-best MPH of 221! We were sitting in the number three position at our very first Top Sportsman outing, didn't hurt any parts and the overall health of components was checking out just as they should. Team moral and spirit was quite high.
That would all come crashing down after our final qualifying pass that came early Sunday afternoon after rain put a halt to any racing action all day Saturday. I've come to find out that these fast doorslammers are just as much of a handful to efficiently navigate through the shutdown area as they are while accelerating down the racetrack. This is especially true after your parachutes fail to blossom after a 6.36 at 219 mph pass.
You can see where this is going. At least I did when it finally sunk in that the "hit" of negative g-forces I was waiting to feel after I threw the parachute lever wasn't going to come and I was in trouble as the sand trap was ever-approaching at a rapid pace. I did the best I could with the knowledge and experience I had prior to that moment, having never driven a 220+mph racecar equipped with carbon brakes and no parachutes through a bumpy shutdown area. Over the course of the next two to three seconds I gave the brakes a few very slow, gradual pumps. My intent was to not "stab" the brakes hard to unsettle the car, but I later learned my decision effectively led to the same result.
On the last pump of the pedal when the carbon brakes had some heat in them and were working incredibly well, they grabbed hard, in turn making the car start to hop and bounce uncontrollably. It was at this moment I knew whatever came next I was simply along for the ride and hoped for the best. I started this pass in the left lane. When the car started bouncing, the rear end quickly washed out to the left side, sending me across the track and into the right wall at somewhere in the neighborhood of 160 mph. From there I bounced off the right wall and eventually came to a stop up against the left wall pretty close to the turn-off of the racetrack. Before I made my first pass during Thursday testing, I checked out the shutdown area as I always do, and remembered thinking to myself that I would rather use the walls to stop myself in a worst case scenario rather than carry a high rate of speed into that sand trap and catch net. I thought the trap and net could potentially cause much more damage to myself and the car if the net sent me airborne. I just didn't intend for a similar scenario to play itself out a few days later.
I'd like to take this space here to thank the crew at Vanishing Point Race Cars for building an incredible piece of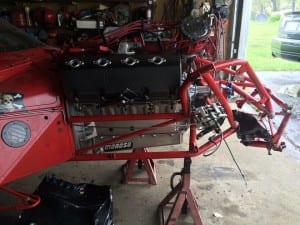 equipment that did exactly what it was supposed to do in the event of a forward collision. The front end of the car buckled up around the engine just as it was designed to do and took the brunt of the impact rather than all that crash energy being transferred back into the cockpit area. When Vanishing Point gets the car back soon they should be able to do new front-half tubing from the firewall forward, along with a new fiberglass front nose and we will be back out looking and performing better than before. The car wound up completely untouched from the windshield back and somehow I didn't even scratch the wheels or headers on either side! The following Monday I realized I wasn't even sore after the accident and I attribute much of this to the design of the racecar itself, my HANS restraint system used along with properly secured Simpson 7-point seat belts used in conjunction with ISP head padding and a molded seat.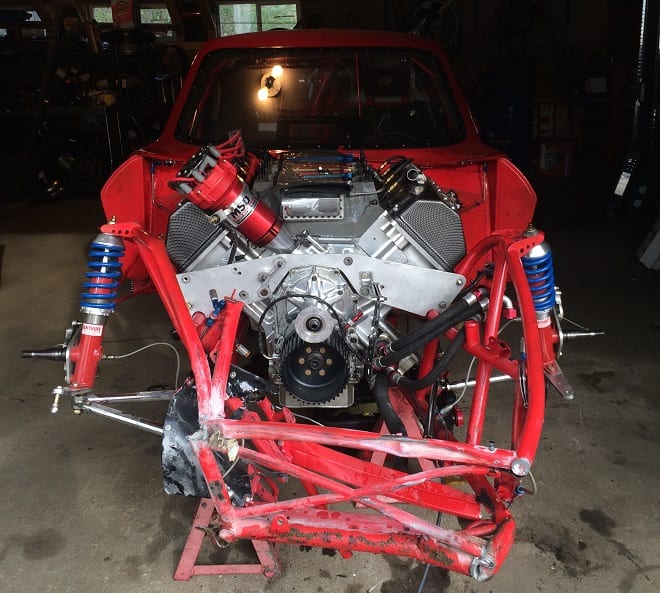 We've all heard friends and fellow racers complain about safety requirements in one way or another. Maybe you've even done it yourself like I have in the past. It's not up until you or someone you love has to put them to the test that we realize these items are there for more than to just pass tech. Your life just may depend on it one day.