If there's one thing our Alert Screw Products Top Dragster team is consistent about, it's either having a car or driver that shows up prepared on race day. Most especially pertaining to last weekend's PDRA North Vs. South Shootout presented by NAS Racing at Maryland International Raceway. To fully understand what makes my last statement so special, we need to rewind a little bit to our previous weekend at the Lucas Oil Route 66 NHRA national event in Joilet, Illinois.
We started off the weekend quite well, running a stout 6.26 at 216 mph quarter-mile pass in Q1 that ultimately wound up qualifying us in the number six position out of 34 Top Dragsters on the property. For Q2 we put the car back into "bracket mode" and made a very smooth 6.38 at 210 pass; by far the smoothest pass we've made all season on a non-Traction Twins-prepped PDRA track. It felt great and incredibly rewarding to be making big strides in the right direction with our tuneup!
But we all know how it goes in this sport that when your racecar is running exceptionally well, something is bound to break or fail. Fortunately our parts failure happened upon the warm-up Saturday morning before first round, and not going down the track while the engine was spinning over 7000 rpm through the traps. An inside bolt used to hold together the two halves of the intake manifold had managed to rattle its way loose, and eventually found its way down into the oil pan via punching a hole through the #1 cylinder. OUCH. The bright side to this unfortunate event was all cylinders made it through unscathed and our damage total was down to two new pistons, one new valve, and some welding and smoothing work to repair the chamber on the cylinder head. Oh, and one new bolt with lots of red Loctite.
Normally this failure wouldn't be too big of a setback; take a couple weekends off and rebuild as the engine parts came in, but we had planned on hitting the road the following Wednesday for Maryland to protect our PDRA points lead! Now this leads me to the main point of this blog entry – I need to thank all the companies and individuals who helped us get back on track (literally) in such a short a period of time. Between testing, qualifying, eliminations and some more testing, we had already managed to put 68 passes on our 762ci Sonny Leonard engine this season and decided while the engine had to come apart, it would be a good idea to put a fresh set of GRP rods and Total Seal rings in it. GRP was contacted the Monday after the NHRA event with our rod specs, the set of rods were built that same day and we had them in our hands at Alert Screw Products on Tuesday. Now how's that for service?! Sonny was able to overnight us two new pistons and a new set of rings for all eight holes. It looked like we just might be in business! As for the head, it was properly taken care of by our friend Jim at Galto Racing Enterprises down the street in Lakemoor, IL. We dropped the heads and one new valve off late Monday, and Jim had our damaged head fixed and both heads freshened up by Wednesday afternoon as we hit the road from GRE for Maryland International Raceway. When we pulled in the gates and got parked around 6PM Thursday evening with 4 pistons and rods in the engine, it was on like Donkey Kong from there on out. To our neighbors in the pits who we woke up around 1:30 am to a 30-second song of awesomeness followed by several "wahoo's!" and high fives, I sincerely apologize.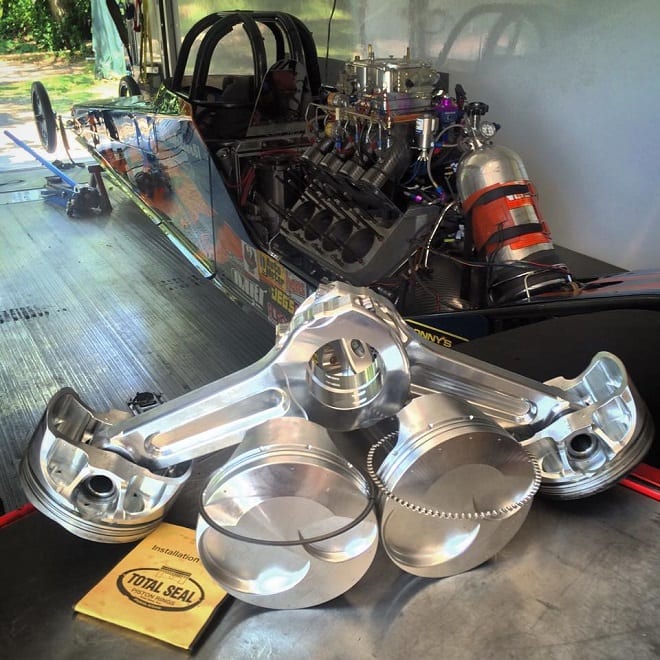 So we had plenty of oil pressure, no leaks, no knocks, and it looked like all of our electrical connectors for the nitrous and other systems were back in their respective positions. But would it make it down the track? This was the question lingering on my mind all Thursday night into early Friday morning. I maybe slept an hour. Taking into consideration the current track and atmospheric conditions, the tuneup in the car and the fact that we were on a fresh rebuild, my dad, Joe, guessed a 4.100 for Q1 and I said if it hooked clean it should be around a 4.085. With a chest full of butterflies as I released the transbrake button and went wide open throttle, followed by a brief wiggle and jiggle of the rear tires around the 60' mark, we lit up the scoreboards with a 4.092 at 172 mph pass in Q1. We were back in business! That 4.09 pass wound up placing us in the number seven position out of 17 Top Dragsters in attendance last weekend.
Remember what I said about either having the car or driver prepared on race day? We certainly had the car to beat, that's for sure. After the initial 4.09 pass Q1, we followed up with respective runs of 4.111, 4.111, 4.107 and 4.120 on a racetrack that ranged anywhere from 85-135* throughout the weekend. Unfortunately the driver (that would be me) was nowhere to be found that Saturday afternoon during first round of eliminations, and ended the race -.005 before it even started on what would have normally been a pretty easy win for our Alert Screw Products team. Was I disappointed in myself? Absolutely. Then I took a step back and put myself in the position we were in exactly seven days prior at Joilet with no engine, no parts to be found, and no hopes of even making it to this race. Only through the great relationships with friends and manufacturers we were able to make this event and even have a hope of staying in the points chase. After the completion of eliminations Saturday night we had fallen to 3rd in PDRA points, but with four events remaining on the schedule this season I'm confident we'll make our way back towards the top.
I would like to take this time to thank all of you for reading this if you made it this far, and to thank all the individuals who helped us with parts, repairs, engine assembly, and general morale boosters. In no particular order: Sonny Leonard, Manley Valves, Todd Hoerner, Dailey Engineering, GRE, Austin Philpot, Jim Galto, Jim, Jackie and Nick Cannon, GRP, Total Seal, Dave Roloff, the Sackman Boyz, John & Camp Stanley and mini Brian Olson (Derrick Beach) for the live PDRA interview Thursday night upon reassembly. Always remember, when life gives you lemons, you paint that shit gold.