It's been much too long since I last updated my DragIllustrated.com Driver Blog. Let's jump right back in where we last left off, shall we?
That would bring us all the way back to a beautiful mid-November weekend where the Alert Screw Products team found ourselves on the far west coast of this great country at The Strip at Las Vegas Motor Speedway for the 10th annual running of the PSCA's Street Car Super Nationals. Hopefully sometime in the future we can make the cross country trek from Chicagoland to race our own car in this prestigious fast doorslammer-only event. This particular weekend we found ourselves lending a helping hand to some familiar faces of the Stanley & Weiss Outlaw Pro Mod team with their freshly redesigned screw-blown 2014 Cadillac CTS-V. That weekend in Vegas turned out to be a rather spectacular one for the Stanley & Weiss team as driver John Stanley lowered his personal best quartermile ET to a blistering 5.58 at 262mph. The team made a semifinal round appearance before falling in a close one to eventual winner Troy Coughlin, and most importantly, didn't hurt any parts all weekend long! With our Vegas trip over, it was time to come home and make some more progress on our new Vanishing Point Race Cars 1963 split window Corvette in anticipation for the 2016 season rapidly approaching.
And rapidly approach did it ever! Here we are just one weekend away from the 2016 PDRA season opener at Tulsa Raceway Park and I'm quite positive our roots-blown Corvette is still in approximately 3,500 different pieces. Even with the season opener being pushed back one weekend due to forecasted heavy rain fall, it appears as though we won't be able to make it out to the track with our racecar just yet. We were told by an old wise man when stepping into these fast door cars that they will "run your wallet dry in a hurry", and boy was that little old man correct. At least we were able to make it out once with the new car at the very end of the 2015 season! Our on-track efforts the first race weekend with the new Corvette back at the PDRA season finale at Virginia Motorsports Park was an overwhelming success in just about all aspects of vehicle performance and driver/crew comfort in building an entirely new routine.
However, there are several changes that have been made over this off season and are continuing to be made to better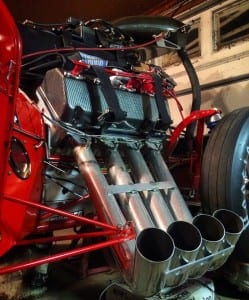 our operation for the future. I had more fun than I think one person should truly be allowed to have driving the Corvette with a clutch pedal, handbrake and manual Lenco transmission levers installed, but we knew the combination wasn't the best for us in the long run. A new Lencodrive transmission and torque convertor from our friends at Snyder Motorsports will be sitting behind the blown Brad Anderson Hemi for the 2016 season. That combination should hopefully require much less attention and maintenance between passes. Other notable changes being made include updating the Corvette's ignition to the much newer MSD "Grid" system, updates to our Racepak data logger, new Mickey Thompson tires in the front and rear, numerous safety upgrades all around the car, and several small "bling bling" changes I'm very excited to show you all very soon! Can you say, "Carbon Fiber?" (winky emoji)
Even though the Alert Screw Products Top Sportsman team won't have our own racecar at the PDRA season opener, we'll fortunately still be in attendance! The previous owner of our 63' Vette and fellow Drag Illustrated columnist, Tommy D' Aprile, will be racing both the Mel Bush Motorsports Pro Extreme C7 Corvette and the familiar 62' Bel Air in the PDRA Pro Boost class next weekend. This won't be my first weekend crewing with Tommy and team, however. Not too long ago at the US Street Nationals at Bradenton Motorsports Park in January I had the opportunity to help service both Pro Mod cars in between rounds all weekend long. What a weekend that was as well! We managed to qualify both cars into both Pro Mod classes entered and recorded a semifinal round finish in the Extreme Pro Mod C7 Corvette by a mere .005 of a second against eventual runner-up Frankie Taylor. I've always known Tommy as a great driver but I was truly blown away by what I witnessed this weekend. Besides an .032 reaction time the first pass down the track, Tommy's worst reaction time the remainder of the weekend between both cars was an incredible .019! Between physically working on both racecars and driver input tips from Tommy, the knowledge gained from this single weekend will stick with our Alert Screw Products team long into the future and hopefully help pave the way to success once we're able to get back out on track soon.
Whether it's with our own racecar to drive, someone else's to help out on, or just spectating for the weekend, there's simply no place that feels as "home" to me as the racetrack does. Am I disappointed I won't be able to release that transbrake button at WOT and throw the parachutes at 190mph a few short seconds later? Of course I am, but the knowledge to be gained, friends to be seen and memories to be made at the PDRA season opener coming up next weekend I wouldn't trade for the world. (Okay, maybe for a few passes down the track… but that will come soon enough!) I truly look forward to seeing each and every one of you in just a few short days and getting this season officially started. Here's to a safe and prosperous 2016!