Oh boy, I'm not even sure where to start with this latest driver blog entry. Some very exciting things have been happening around these parts the last couple of months! It seems hard to believe that my most recent blog was published just after the 2nd Annual PDRA Memphis Drags at the end of August. We really pulled like a turbo car out the back half of the season with big happenings occurring almost every weekend.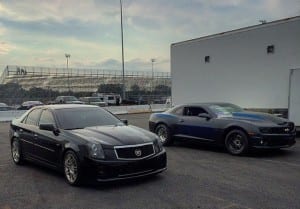 Let's start out with the very next weekend where I found myself at the newly reopened Gateway Raceway in St. Louis, Missouri for the Street Car Super Nationals "Anarchy At The Arch" event to help out our friends, John and Camp Stanley, with their CTS-V Outlaw Pro Mod. I did a little bit of crewing this weekend, but I also wound up doing a bit of driving myself! "But Kyle" you may ask yourself, "how did you drive at this event that's for door cars only?" Well I'm sure glad you brought it up! We'll call it a case of being in the right place at the right time. I was laying underneath the back of the Caddy draining the puke tank and cleaning off some excess rubber when I heard a familiar golf cart roll up next to the Stanley & Weiss camp, that cart belonging to none other than many-time NMCA Xtreme Street champion SpongeBob Curran. Bob wasn't in the house this weekend with his familiar Vortech-blown Grand Sport C4 Corvette, but rather his Strange Engineering/Mickey Thompson tires and wheels sponsored 2012 COPO Camaro. Somehow or another, and I'm still not really sure how this happened, but that next morning I found myself behind the wheel of the 327ci Whipple-blown COPO preparing for race day. After raiding Bob's closet and putting together the best possible fitting racing suit, then taking a few laps around the pits to get acclimated to the controls of the car, I was ready to hit the track!
Besides trying to stage on the rear tires my first pass, everything went pretty smoothly throughout the rest of the day. I was double-entered in the non-electronics and electronics bracket classes that race, and between the time runs and couple rounds I went later on, I believe I made six laps down the track with a low ET of 9.02@151mph in the quarter-mile with no ice in the intercooler. Not too bad for a 100% stock GM vehicle! I want to take this space here to thank Bob again for letting me wheel the COPO that day – what an experience that very few people get to receive. Although the COPO was a good bit slower than our Alert Screw Products Top Dragster, it was still a huge adjustment having a roof over my head, a large cowl to look around and actually having to give some steering input down track! It was a nice warm-up, but nothing even close to what we've gotten ourselves into lately. But more on that madness later……
The next track I found myself at was Rockingham, North Carolina for the PDRA Dragstock XII on September 10-12th. Rockingham has always been one of those tracks that has treated us well throughout the years, and that once again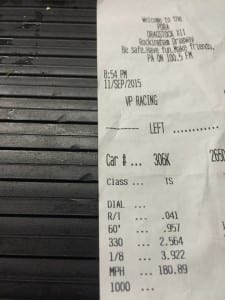 proved to be true this weekend. Remember that 3.98@180 pass we made in Memphis? Well fuggadeboutit. When Q3 rolled around Friday night the conditions were looking pretty optimal to lay down another number, but I had no idea just how quick that number would wind up being. I pulled up the data from our 3.98 in Memphis, saw a couple areas early on where we could definitely improve, and some other areas down track I thought could use some tweaking. With the tuneup changes loaded into the car and a beauuuuutiful smoky burnout completed, I gave my seatbelts one extra tug before I bumped our American Race Cars/Sonny's Racing Engines-equipped dragster into the beams.
What happened next was almost perfection from one end of the track to the other. We tripped the 60' clocks in .957 seconds, the 330 marker in 2.565, all followed up by a stellar [email protected] pass to the eighth-mile. If you happened to catch my top end interview on MotormaniaTV, you would probably say we were a tad bit excited about the pass to say the least. That 3.92 would wind up being good enough for the #1 qualifier position, our first ever in a "big car"! It was awfully fitting that we earned the #1 position this weekend, as this was our last event in PDRA Top Dragster competition. Our first ever #1 qualifier back in the Jr Dragster days also came at our last ever Jr race – how cool is that?! Unfortunately the rest of the weekend didn't unfold as well. Our momentum abruptly stopped in the opening round of eliminations after Derrik Sholar laid down a stout .013 package on us. Of course we were disappointed we weren't able to go rounds at one of our favorite races of the season, but we had our eyes set on a much bigger prize not too far away in the distance.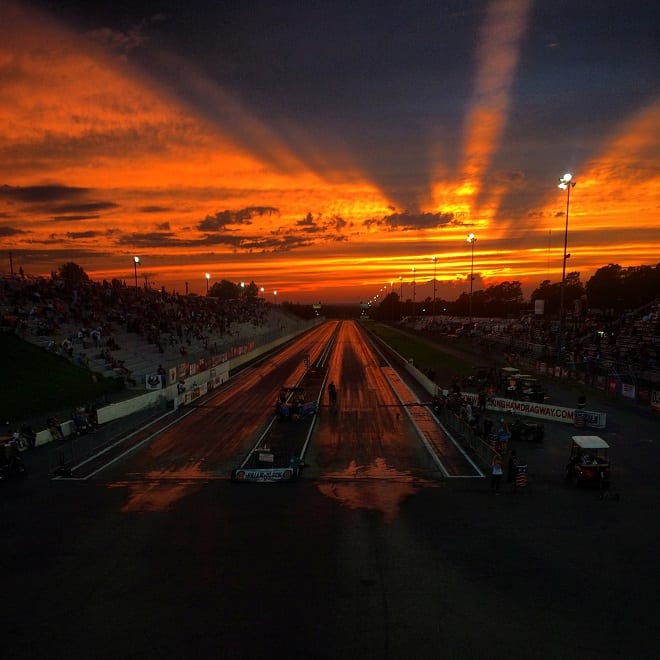 Our next and last outing with our Alert Screw Products Top Dragster took place at the AAA Midwest NHRA national event held once again at Gateway right outside of St. Louis. All I'm going to say about this is that we didn't hurt any parts. This was good because we had the engine and transmission sold heading into the weekend, which was later pulled out Sunday night to deliver to its new owner across the pits. With those parts claimed, I had the tuneup in the car set much too conservative and just threw our entire weekend off from all the momentum we had been building at each of our prior races. That combined with the driver not being too sharp on his game wound up being a rather short outing for us, as we again bowed out in the first round of eliminations Saturday afternoon to your eventual race winner and current national points leader, Marco Abruzzi. Any time that Marco is .009 on the tree next to you, you're in serious trouble and had better be .009 or better to even have a fighting chance at moving on to the next round! One good thing that came out of this weekend is we were able to get some new equipment we had been needing to move forward, namely some Simpson SFI-20 gloves and over boots. Have you been putting the pieces to the puzzle together yet?
Oh darn, looks like I'm all out of space for this third driver blog entry for DragIllustrated.com. Guess I'll have to tell you all about our new Vanishing Point Race Cars 63' split window Corvette in my next blog coming out soon! It seems like we had the whole Speedtech Nitrous Oxide-injected Top Dragster combination pretty well refined towards the end of the season, so it would only make the most logical sense to switch to a blown door car for 2016, right……?