In the world of fast bracket racing, consistency is what we strive for, right? Well our Alert Screw Products Top Dragster team is sure still consistent about either having the car or driver prepared when eliminations roll around. Heading into this last weekend's PDRA Memphis Drags at Memphis International Raceway I was confident we would yet again have the car to beat. My predictions were we would run ~4.09 at 173 mph Q1, slow up two or three numbers in Q2 during the heat of the day, then turn on our second Speedtech nitrous system for Q3 under the lights and run close to if not hopefully improve on our previous best eighth-mile ET of 3.99 at 179mph. By golly was I pretty close to my dial-in, if not dead-on!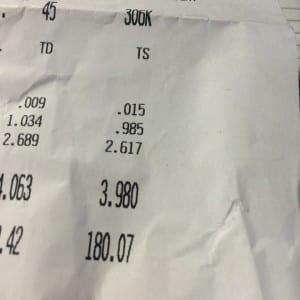 Starting out Q1 we ran a 4.083 at 174 mph to put us solidly in the show in the number six position out of 22 Top Dragsters on property. Seven thousandths of a second off of my original prediction – not bad! Fast forward a few hours to Q2 ran during the hottest and most humid portion of the day and we clicked off a 4.11 at 172 mph pass, right about where I thought we would be. After analyzing the track and atmospheric conditions prior to our Q3 run, I loaded a tuneup in the car that if we made it past the 60' under power it was going to be a good one! 3.980 seconds after I left the starting line we tripped the clocks with our fastest eighth-mile ET to date and a new best MPH of 180.04! That's Sonny Leonard horsepower and Speedtech Nitrous flexing their muscles right there! We weren't the only ones to improve, though, as our 3.980 held up for the number six position after qualifying had concluded. With good ets, and good reaction times of .030, .007 and .015 we were more than ready for first round of eliminations Saturday afternoon.
Apparently, the driver (that's me) was once again a little too ready, leaving the starting line two thousandths of a second before the green light came on and ending the race early. Even if I had a green light it would have been a tough race to win, as my opponent, Zach Sackman, was .003 on the tree and ran a 4.17 on his 4.16 dial. Even though we had another first round runner-up recorded, it was still a great weekend and we learned a ton of information about our car and got to see friends we don't get to see too often.
This race wasn't our only outing since my last driver blog entry, though. We did some quarter-mile racing a few weeks ago at the NHRA divisional event at Gateway Motorsports Park in St. Louis, and what an event that was!
We started off the weekend running some low 6.4x passes at 208-209 mph in the quarter-mile. This wasn't good enough for top half of the ladder, however, so once again we turned on that second Speedtech system and ran a 6.26 ET at a new best mph of 217.34! That 6.26 pass was good enough to put us in the number seven qualified position in what turned out to be the fastest NHRA Top Dragster field in history. That weekend there were 44 cars shooting for the top 32 positions, with the 32-car bump spot winding up being a 6.49 ET. Yes, a 6.50 quarter-mile pass wouldn't even get you in the show for this bracket race…absolute insanity. We wound up having a decent outing that weekend, starting off first round with a .012 reaction time to win a double breakout affair with Bob Mandell III before being slapped with a .019 package second round by Vince Naninni in his VRN-built dragster. No shame in losing that good race against a good racer. While I'm writing about this event, I have to give a shoutout to fellow Drag Illustrated blogger Megan Meyer, who made her Top Alcohol Dragster debut that weekend and wound up making it to the finals before falling to Brandon Booher. Great job, Megan!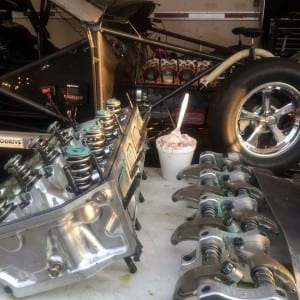 The weekend between St. Louis and this past weekend in Memphis we didn't have a race scheduled for our Alert Screw Products Top Dragster, yet I somehow found myself at a racetrack. Funny how that happens, right? That racetrack would be THE racetrack in my opinion, none other than Summit Motorsports Park in Norwalk, Ohio for the annual Night Under Fire. To say the Bader family and all of the Norwalk staff know how to put on a show is quite an understatement. If you've ever been to Norwalk before, you know how big those stands on both sides of the track are, and they were absolutely PACKED! I was told this was the largest single-day drag race in the world and after witnessing the spectacle for myself, I absolutely believe it. I found myself in Norwalk that weekend on the crew of the Stanley & Weiss Racing Pro Extreme Cadillac CTS-V participating in the X-16 class, an invite-only exhibition race pitting the eight quickest door cars against the eight quickest dragsters. I hadn't been at the track for an hour that Friday and we had already pulled that hefty screw blower off the car three times, and the pace never dropped off until Saturday night after we exited in the semifinal round of eliminations. A blower-banging 3.80 ET during the first round of qualifying on Saturday wound up placing us number one on the door car side of the field. Unfortunately, we had to miss Q2 to fix the car and swap engines, but at least we were ready in time for the parade down the track prior to first round of eliminations. Then we blew the doors off the competition, literally.
I have no clue how the driver, John Stanley, kept the car on all four wheels and in his own lane that weekend, but somehow he did it. In a first-round pedalfest, John found himself hovering close to the left wall for a second before giving the car a quick pedal, blowing the driver's door into the stands, and turning on the win light with a 4.26 ET. What an intense couple seconds watching from the starting line; I can only imagine what that felt like in the car! Yes, you read that correctly – the driver's door literally blew off the car and into the grandstands.
After going back to the pits and servicing the car along with reattaching the door, we were ready for our second-round matchup with Brian Keller. Second round was pretty much a repeat of first round with both drivers going into shake and pedaling the cars, John recovering quicker and yet AGAIN blowing the driver's door into the grandstands and turning on the win light with a 4.20 ET. The semifinals weren't so exciting, however. Phil Esz in his PDRA Pro Open Outlaw dragster made a clean pass for the win before splitting the payout in the final. It was quite a learning experience that weekend learning how to service a supercharged car. There were several small differences over my nitrous dragster that I'll keep in mind for when we make the switch to a fast door car in the future. I have to thank John and Camp Stanley for letting me crew with them over the weekend and my momma bear for being the coolest back-up girl (BUG) ever.
I hope you enjoyed reading this lengthy blog entry and hopefully I'll have better race results to report in a few weeks!