Oh, where to even start…Mega Race, Radial vs. the World Corvette, Pro Stock, life in general???
I'll just kick 'em off in order and try to highlight the good stuff to spare your time and energy. So while you may appreciate that, I appreciate you making it this far in my blog.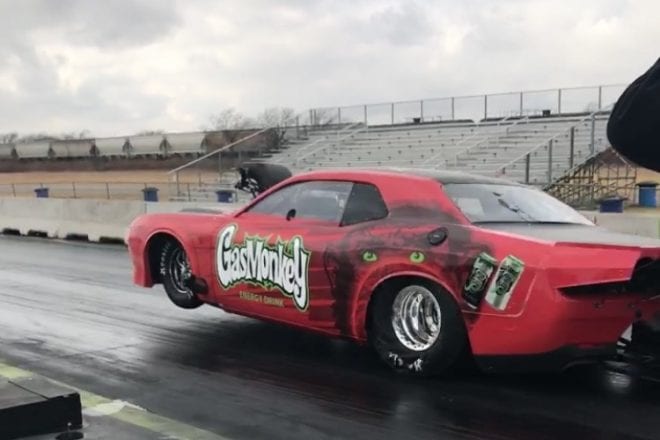 Closing out 2017, we dusted off that red dumpster that you may remember being wrapped like a race car and planned to go race the guys from Street Outlaws again. We originally met back up with Chief and Shawn and to make a long story short, we couldn't agree on racing terms. A few weeks later, we got the call that we would be racing Ryan Martin, the fastest guy in the 405 – great…NOT.
We clearly knew we had our work cut out for us and our car itself was the weakest link. The chassis couldn't hold the power we were making and wasn't making a good pass without just about twisting in half. We didn't realize this until we made a full pass in Mega Race 1 last year. This time, we tried adding all kinds of bars throughout the chassis to strengthen it up. We didn't get much time to test (again) and never made it the full eighth mile under power before we had to head out to Phoenix for the race.
We had one test day in Arizona before the race and we made seven or eight attempts and still never got all the way down the track. The car wasn't controllable and it might as well hadn't even had a steering wheel in it because it wouldn't do what I told it to do anyway. They didn't use any of my on-camera interviews in the episodes because the message I was trying to get across was "This car isn't safe, I can't drive it, it's trying to kill me, we are going to lose." I guess they wanted it to look like a more even matchup for TV.
If you saw the show, then you know what happened. The only pass we made it all the way down was the first race and it went 4.05 at 195 mph next to Ryan's 4.04. I may have just had my eyes closed the whole time and just hanging on; it wouldn't have mattered anyway because the car went wherever it wanted. That was only the second full pass the car had ever made, and as far as I'm concerned, the last.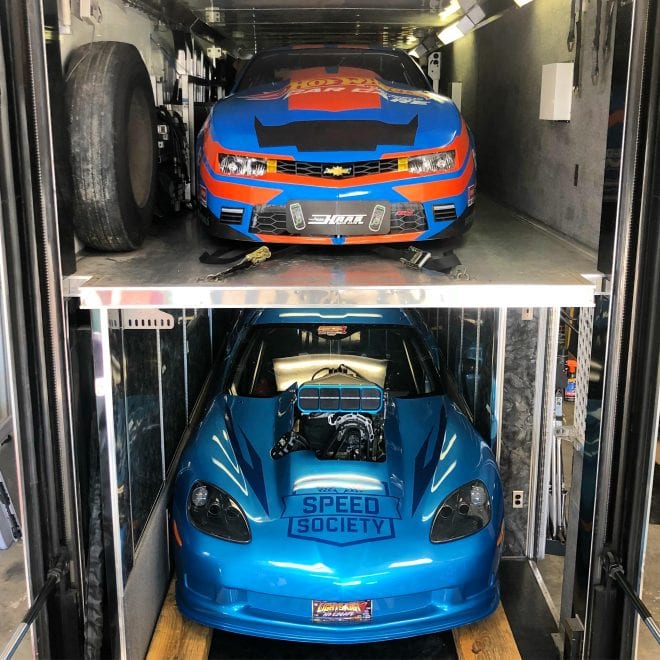 We have a car now I've been racing on radials. It's a blue Corvette with factory rear quarters, roof, rear bumper, and even factory doors. The only thing that isn't factory is the front end. It's the exact same combination as the Mega Race car (screw-blown Hemi with a Lenco transmission) and we've been running in the 3.70s. The last race I went to, we went 3.74 at 207 mph. The bottom line is, we know how to go fast, we just need to have a decent car to do it in. I actually don't think that any of the Street Outlaws guys have been 3.74 in anything, ever. Call out? Maybe so!
Since I ended the last story with details of the radial tire car, I'll just leap into that now. Lights Out 9… WOW!!! Listen, guys: I've been drag racing for the last 15 years and I have never experienced any event like that in my life. The fans were awesome, it was complete chaos, the cars out there were flying (some of them literally did), and I didn't want it to ever end! So many people told me that after I run this radial deal that I'll throw rocks at the Pro Stock car. Leaving Lights Out 9, I just wanted to go straight to another radial race!
What's cool about these events is there's no red tape or politics and no corporate-style racing. It's just a bunch of racers that love to race and it really has that grassroots and backstage pass kind of feel to it. Don't get me wrong, I still love Pro Stock, but I do wish the "corporate" racing could be a little more laid back like the radial stuff. In the Pro Stock pits (or Pro pits in general), you're on your own. Don't talk to another team, don't ask them for help, don't even look at 'em! If you need something at one of Duck's races, just start by asking whoever is parked next to you and if they don't have it, go one more trailer over. Also, I've never done a burnout with hundreds of people on the starting line until Light Out 9. I literally blew people's hats off their heads with the exhaust as I slung rubber and tire smoke at 7500 rpms across the starting line. Just nuts…and I loved it.
Who has seen our new 389 Peterbilt from Fitzgerald Glider Kits? It made its debut on Mega Race 2 and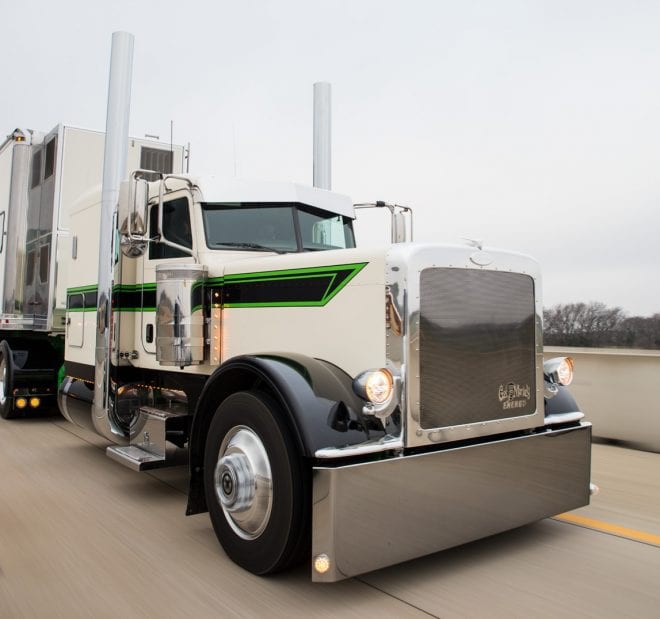 continues to turn heads every week as it hauls the Pro Stock car and trailer to each event across the country. If you've never heard of a Glider Kit, it's a brand-new truck from the factory with no motor or transmission. The guys at Fitzgerald install their very own (pre-emissions) engine and transmission of choice. If you are into trucking, check them out. If you think slammed, stretched, and fully custom built trucks are just cool, check them out! Fitzgerald USA has partnered with me for 10 Pro Stock races this year and I couldn't be happier to have them on board.
You may have noticed that every Pro Stock race so far this year has been with some new colors that I've never ran before. Hot Wheels Car Care has recently launched into retail and we've been super pumped that they found interest in allowing us to be their brand ambassador. I can get all into details about how professional-grade the products are and why they work so well, but I'll just tell you; it's science, it's awesome, and it works. If you want to order online, go to www.JEGS.com or you can pick it up Advance Auto Parts. It'll be out nationwide soon.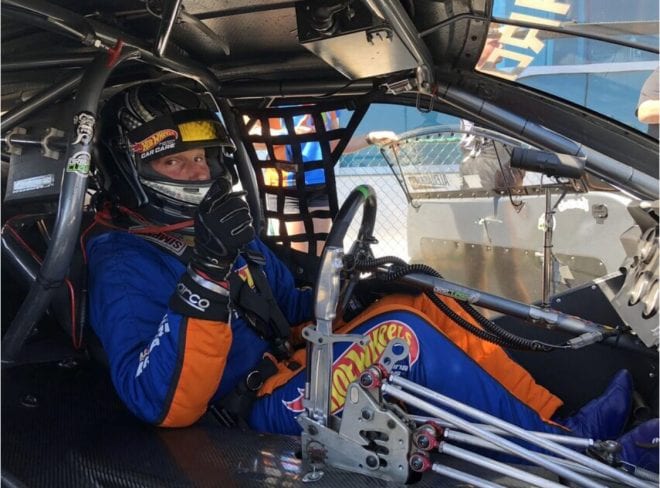 I guess I'll wrap this up, I'm about to head to the airport to fly out to Vegas for the first 4-Wide event in history there. I didn't make it into the K&N Horsepower Challenge but I appreciate all of the votes that were sent in. We ran a really strong campaign through my own social media outlets, as well as the awesome guys at Speed Society pushing it out nonstop to their millions of fans. We actually tracked the thousands and thousands of clicks from these campaigns and were just so ecstatic about the results we were seeing. But you know that "politics" part I was talking about earlier? Yeah, I'll just leave it at that.
Anyway, thanks for reading through this and supporting me, and thanks for supporting Drag Illustrated!