Alex Laughlin Racing: How, Where, and Why Part 2
In Alex's first DragIllustrated.com Driver Blog, he talked about his early racing career and how he and his family-based team decided to race NHRA Pro Stock. In this entry, the story picks up last summer, just weeks before the former shifter cart champion made his NHRA professional debut.
Three weeks before my Pro Stock debut in Sonoma, I didn't even have a car, much less a license. We spent the first week trying to find a car and a motor program. One call led to another and we landed at Gray Motorsports in North Carolina. They had a car for sale and a nice motor and support package that fit our needs. Week two I flew into North Carolina to their shop to be fitted for the car and trained on how to drive one. My experience level in something like this was very limited. I had driven door cars, but never a clutch car. Shane Gray and Larry Morgan coached me through the process of how it's supposed to go. On the first day, we unloaded at a little track in Mooresville, NC. If you haven't been there, it's very small and just outside the groove of the track is grass – yes, grass that they have to mow. The blacktop doesn't even extend to the guardrail.
Shane told me to get in the car, but he got in the driver seat. Confused as I was, he looked at me again and said, "Yeah,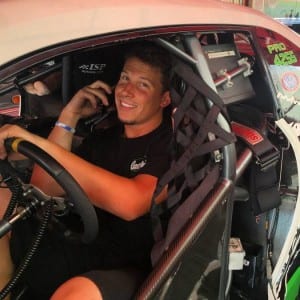 sit in the floor of the passenger side". At this point the car was still on the jack stands. He fired it up and ran it through the gears as I watched him work the clutch pedal and shifter. "See, it's easy," he said. At this point I'm terrified, it's 110 degrees outside and I'm sweating like crazy, and just flat-out overwhelmed. We set the car down to the ground and rolled it up to the water box. Shane tells me get in again. This time I knew he had to mean the driver seat – nope, passenger again. This time I'm going to sit there and watch him set the line lock and do a REAL burnout. Yep, my blood pressure was through the roof. He slammed it through the gears and did a couple big smoky burnouts. He said again, "See, it's easy". I'm thinking to myself, "No it's not, you're crazy. I've driven all kinds of stuff and this is NOT easy!" But I just smiled and muttered a small laugh…
Anyway, I suited up as we cooled the engine down and went up and did a few burnouts, learned to stage the car, and we called it a day. Coming up on day two, we were headed to zMax. Shane, Larry, and the guys from Gray Motorsports met us out there bright and early. I didn't sleep much because of the anticipation I was dealing with. Shane and Larry gave me some more pointers and sent me down the track – yes, with me in the driver seat. I made my minimal license runs and loaded up the car to send it off to Sonoma. The transporter stopped in Dallas at 360 Wraps to give the car a makeover, and headed right back out toward California. I didn't get to make any "practice" runs between my license passes and being on national television at my first Pro NHRA National event.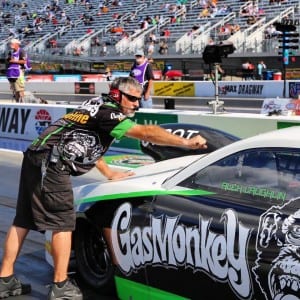 Qualifying started out a little tough. The "RACE" motor was a different animal than the "TEST" motor. When I staged the car and stalled it up to just over 6,000rpm, the clutch pedal pushed my foot back and the car launched before the tree was activated. Judging by the data from the computer, it ran about 207mph. In Q2, I was ready for it. I held the pedal down and launched the car as intended but was so focused on doing it correctly that I forgot to push the clutch pedal back in at the finish line. Running these engines just on the edge of destruction, by the time you get to the finish line, it's all they can take. Not pushing the clutch in not only keeps the motor to continue to turn hard, but it's winding down and pulling on the rotating assembly in the motor in a way it's not designed to do. After getting through that part a couple times, everything started to work right.
Things went pretty well the rest of the weekend. I qualified for my first NHRA race in Pro Stock and raced Greg Anderson first round. It was wild, just unbelievable. That day, I had nothing to lose – I'm racing in Pro Stock, against a guy I've only seen on TV for YEARS! We went up for first round, I did my burnout, heart beating through my seat belts, staged the car and the lights flashed. We were both .042 on the tree. I shifted gears when I saw the shift light flash. I can see Greg beside me but can't tell who's ahead (I had no reference point of where other cars are beside me yet since I hadn't really made passes with others ) but he crossed the finish line just about half of a car length ahead of me. It was an experience I'll never forget. Now, I have about 100 passes under my belt and am completely comfortable with the car and my reaction of decisions to make as it goes down the track.
In part 3, I'll discuss the differences I feel are pros and cons of racing in Pro Stock versus racing in the other kinds of motorsports I grew up doing.