Alex Laughlin Racing: How, Where, and Why – Part 1:
A lot of people ask the question, "How did you get into racing?" For many drivers today, the most common response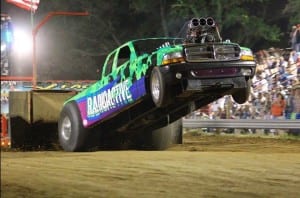 you'll hear is that their dad was or has been racing since before our own time. This proves to be true for me as well. I try to think back to the day that I wasn't involved in motorsports and for me, there's almost nothing there. Before I was even old enough to walk on my own, my mom had me bundled up in the bleachers with earmuffs that covered the entire side of my head, watching my dad tractor pull with his Hemi-powered Super Modified Two Wheel Drive. It had a red El Camino body and was called "Little Miss Dangerous". From the sounds of it, it was well ahead of its time too. My dad grew up on a farm out where we still live today in the tiny town of Morgan Mill, Texas. His dad didn't care too much for any other horsepower other than what it took to bale hay or plow the pastures but he was a hardworking man that loved what he did and still supported his son's passion for fast cars and motorcycles.
I do wonder sometimes if I hadn't been brought up in racing, would I have developed the infatuation I have for it now? It's hard to say. It's hard to think what I'd be doing otherwise, though. When I was a sophomore in high school, I was playing football for a school where that was all they breathed, like no other sport existed. I had been racing in various autosports for five or six years by this time, but had just started drag racing. I was doing well and I loved it. In the offseason before my junior year and right before two-a-days started, my coach came to me with the ultimatum to pick between football or "this racing thing that I do". I told him right there, without having to think twice, that I'm not going to play football my whole life, but racing is a real possibility. That was 11 years ago and I haven't played a football game since. I continued to do my thing, racing in shifter karts, legend cars on circle tracks, dirt tracks, road racing in the SCCA, tractor pulling, and of course, drag racing.
My wife, Sierra, gets to hear pretty much weekly about what else I want to go fast in and how I think I just "have" to do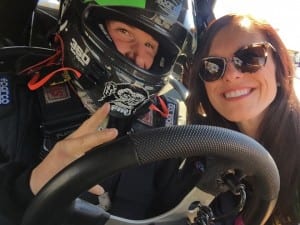 it. It's always something and luckily she's a big supporter of my addiction for adrenaline and speed. If it were up to me, I'd be racing with NHRA for all 24 races and filling in the gap weekends with endurance road races and rally cars. We'd live in a RV with our two dogs and parrot, just driving the country from track to track. But since that's not the case and we have to live in reality, we spend a lot of our off weekends taking the boat out on the lake or riding mountain bike trails.
In my next blog, I'll explain my story and fast-track to Pro Stock. Stay tuned!