Photos by Ian Tocher, John Fore III and Joe McHugh
The third event of the year for the all-new Professional Drag Racers Association (PDRA) goes off this weekend at Memphis International Raceway in Millington, TN. DRAG ILLUSTRATED is on the scene and will be providing photos and brief race commentaries throughout the weekend, along with result sheets posted in accompanying threads. Check it out!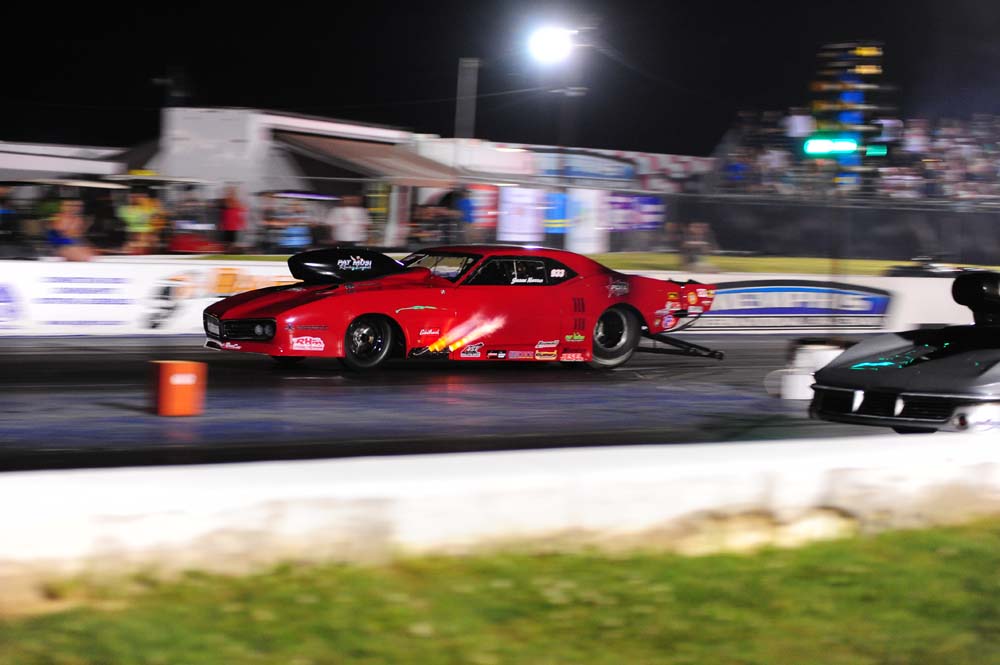 JOHN FORE III: ELIMINATIONS PHOTO EXTRA
(Click to enlarge)
Invalid Displayed Gallery

JOHN FORE III: QUALIFYING PHOTO EXTRA
(Click to enlarge)
Invalid Displayed Gallery

WANTYE WALKS AWAY
Neal Wantye, behind the wheel of the nearly new Pro Extreme 2014 Chevy Camaro built by teammate and friend Joey Martin, lost control and smacked both guard walls at Memphis International Raceway during the final round of qualifying on Saturday mooring. Wantye was able to exit the car under his own power. (Photos by Ian Tocher)
Invalid Displayed Gallery
SCRUGGS, FRANKLIN AND DOBBINS TOP FIRST DAY OF QUALIFYING FOR PDRA AT MEMPHIS
Jason Scruggs demonstrated why he's known as the "Mississippi Missile" May 23, when he posted a 3.561-seconds pass at 215.75 mph over the eighth mile at Memphis International Raceway to earn the early lead in NAS Racing Pro Extreme qualifying for the inaugural Professional Drag Racers Association (PDRA) Memphis Drags.
Also securing provisional poles in the PDRA pro classes after completing one of four scheduled rounds of qualifying were Tommy Franklin in Switzer Dynamics Pro Nitrous, Jeff Dobbins in Aruba.com Extreme Pro Stock, Eddie Rogers  in Precision Turbo Pro Boost and Terry Schweigert in Pro Extreme Motorcycle. 

After placing his supercharged '63 Corvette in second place with his initial qualifying pass, Scruggs leapfrogged over teammate Bubba Stanton to take over the lead with one more qualifying session to go on Saturday before elimination rounds begin.  

"Honestly, it was a bit better than we thought it would run," the Saltillo, MS-based driver said of his second attempt. "We've got a new motor in the car, we were experimenting a little bit with the tune-up and really we thought it would run maybe a .58 or a .59. We expected Bubba (Stanton) to run a .57 and stay number one, but we put a pretty aggressive tune-up in the car and the track took it and we were able to get around him."
Rounding out the top five for the 16-car field behind Stanton, who has won both of the PDRA Pro Extreme races held so far this year, were Brandon Snider, Frankie Taylor and NAS Racing's own Bader Ahli from Dubai.
Franklin, from Fredericksburg, VA, steered his Musi Racing Engines-equipped '69 Camaro to a 3.790-seconds lap at 198.70 mph to improve by three positions over his first-run effort. With Musi's daughter, Lizzy, posting an identical elapsed time in her 2006 Dodge Stratus, Franklin got the nod as Pro Nitrous leader heading into Saturday based on going just .13 mph faster.

"It felt good early, but we've been working on trying to get a little bit more on the back half and it came around," Franklin said. "We really didn't try to get after it hard, but we tweaked on it a little bit here and there and it came together."
Following Musi on the 14-car Pro Nitrous qualifying list were Jason Harris, who also won both of the PDRA events held so far, David Janes and Pat Stoken.
In Extreme Pro Stock, Dobbins put together a 4.079 run at 178.35 mph to lead teammate and yet another two-time winner this year, Cary Goforth. John Montecalvo, the number-one qualifier at the previous PDRA event early this month at Valdosta, GA, placed third of seven entries in Memphis.

Driving in relief for Goforth's father, Dean Goforth, Dobbins said his 2010 Pontiac GXP and Goforth's '13 Camaro both made good first passes, but both were tuned up a little more for the second session.

"Now we're one and two, so we're really happy with things," Dobbins said. "There might be a little more out there if you really wanted to push it, but I think it'll be pretty tough to beat those passes tomorrow if it stays hot like it was today. It'll all depend on the cloud cover, but if anyone does step up, we can step up, too."

A nearly full field of 15 entries made qualifying runs in the PDRA's all-new Pro Boost class at Memphis with the blown Hemi-powered '06 Corvette of Berryville, AR's Rogers leading the way at 3.868 seconds and 190.57 mph. Joe Baker, who made it to the final round at the previous race in Georgia, placed second, while Jeremy Ray was third, followed by Kevin Rivenbark and Larry Higgenbotham.

Tuned by his daughter, Amanda, Roger's team also includes his wife, Joyce, 15-year-old grandson Jordan and chassis builder Chris Duncan. His qualifying pass is the second quickest recorded so far in the class and just two hundredths off a career-best 3.84 he ran earlier this year.

"The car is running good, but I believe there's more in it if we can get our stuff together just right," Rogers said. "The thing is, we're still trying to get out fuel system dialed in a little bit. We'll be stepping it up a bit for tomorrow."
Schweigert posted his class-leading 4.073 at 173.92 mph in the opening round of Pro Extreme Motorcycle qualifying aboard his 2012 Suzuki, just ahead of defending two-time class champion Eric McKinney at 4.097 and 174.77 mph. McKinney's teammate Ashley Owens was third in a field of 13 two-wheeled entries.

In Top Sportsman qualifying, Canadian racer Toni Moretto drove his sharp-looking '55 Chevy to a 4.040 pass at 199.23 mph to take the top spot over fellow Canuck Barry Daniluk into Saturday's action. First-round leader Ronnie Davis wound up third of 20 entries vying for a position in the 16-car raceday field.

The top qualifier in Top Dragster was Ohio's Phil Esz, who improved from 3.810 in the opening round of qualifying to 3.800 at 195.17 in the second round. Jeff Holloway maintained second place through both sessions, as did Danny Payne as the third-place qualifier of 15 entries.

Additionally, Tia Tutterow of Lewisville, NC, ran dead on the 7.90 dial in to lead Huddleston Performance Pro Jr. Dragster, while Alexis Tanner of Rennsalaer, IN, led the Huddleston Top Jr. Dragster class after one round of qualifying.

Beginning at 11 a.m. one more qualifying session for all PDRA classes is on the schedule for Saturday, May, 24, with eliminations to follow.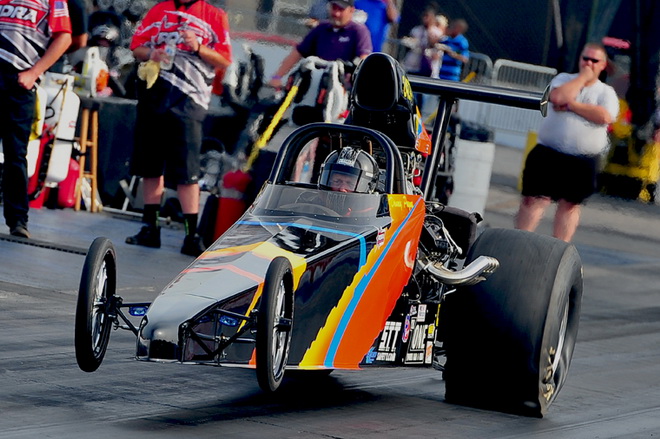 [adrotate group="8″]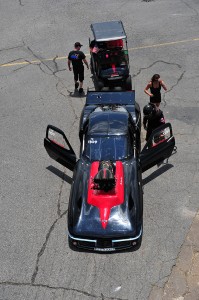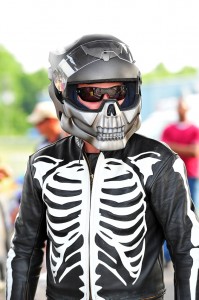 [adrotate group="8″]