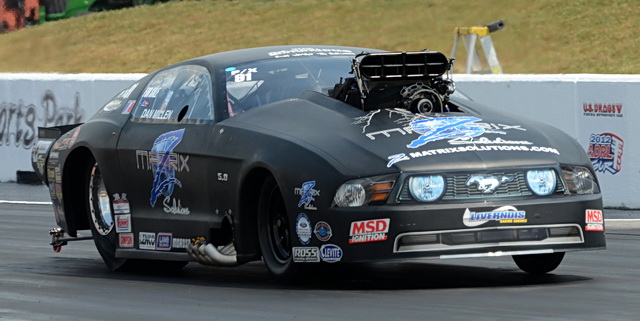 By Ian Tocher
He attended all nine events held so far in the 2012 ADRL season and sat just one marker outside the top 10 in points, but Dan Millen will not be at the ADRL World Finals VIII presented by CarSafe this weekend (Oct. 19-20), at the Texas Motorplex, near Dallas.
"We just have to step back and save a little," the Dearborn Heights, MI-based racer said. "We've got a brand-new car, another Mustang, from Jerry Bickel that we were hoping to bring to Dallas, but it's not quite ready yet so we thought it would be better to stay home and work on it instead."
In his first year in Pro Extreme after winning back-to-back championships in the ADRL Extreme 10.5 class, Millen ran a career-best 3.656 seconds in qualifying sixth at the most recent ADRL event late last month at Norwalk, Ohio. He qualified in the top half of the field at four events this year and reached the quarter-finals four times, too.
"It really has been what I expected," Millen insisted. "I think we were pretty fortunate to come out and qualify at the first race and we've qualified now at every race and went a couple of rounds at a couple races, so I'm actually pretty happy with that.
"And I'm definitely happy with being in Pro Extreme, although right now I would say we're probably a good six- to eight-hundredths behind the field. I am a little disappointed with that because when you qualify in the top half of the ladder I think you've got a pretty good shot, but when you qualify ninth and lower then you've got to race all those fast guys and without lane choice, too, and it just makes it that much tougher.
"I think that's what's really hurt us, because in the couple of races where we did qualify in the top eight, those are some where we put ourselves out, so we really don't know yet just how well we really could do," he added. "But again, we've learned so much doing this already that with the new car coming I'm looking forward to our future."