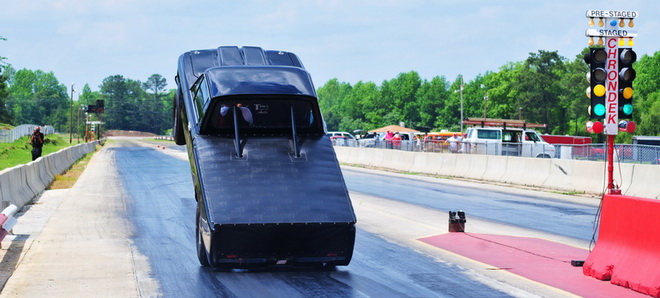 Tim Shamblin aimed his 1970 Chevy Luv truck to the moon last Sunday afternoon at Thunder Valley Dragway in Red Springs, NC. At the hit of the throttle, Shamblin's pick up stood straight up and carried the wheels down track until it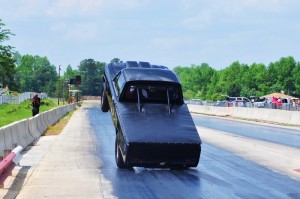 started to drift left, forcing Tim to get out of the throttle.
Down track stood photographer, Milton High, who seemed largely unfazed that Shamblin was giving him a little chin music with his pick up! Milton kept clicking away at the shutter and captured some great images as the truck was bearing down on him!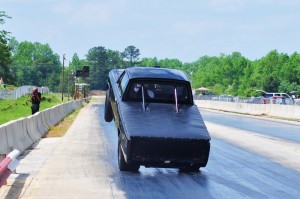 This run by Shamblin was alone worth the trip to Red Springs…and that's saying something considering I was in south Georgia the day before! In all, I had a fun weekend at South Georgia Motorsports Park, where the PDRA was contesting their 2nd event of an 8 race roster this season. I left Georgia on Saturday night as I journeyed to my native NC. On the way home I decided to make a stop at Thunder Valley Dragway to see what was shaking…or in this case, see what was dragging its bumper down the track!
Thunder Valley Dragway may not be well known outside the Tar Heel state, so in case you're not familiar with it, here's a brief history of the track: Built in 1985, this 1/8 mile strip is nestled in the tiny 2.8 square mile community of Red Springs, NC. In 1989 the track was purchased by Pro Stock racer, Lester Cooper (coincidentally racing in Extreme Pro Stock at the PDRA race in Georgia this day), who owns the track to this present day.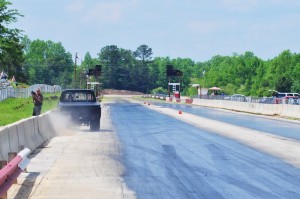 Thunder Valley is most noted for its grudge events, although a new heads-up small block series is rapidly growing in popularity. The series was founded by Milton High and Steve Bryant, who will likely hold events monthly this season at Thunder Valley. 
For more information on what's coming up this year at Thunder Valley Dragway visit them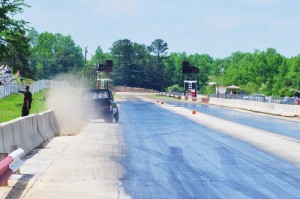 online at: http://www.newthundervalleydragway.com/             
 (Photos by Van Abernethy; Click to enlarge)