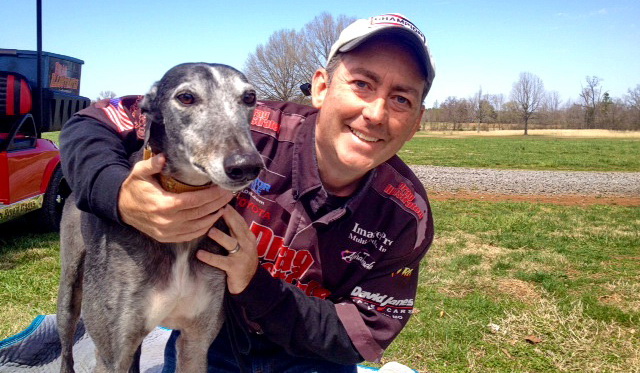 By Van Abernethy
Being involved with the fast-paced sport of drag racing, I suppose it should come as no surprise that the quick and nimble Greyhound is at the top of my list when it comes to favorite canine breeds. Sleek and slender with explosive speed, Greyhounds are like the Top Fuel dragsters of the dog world.
On the track where they're famously raced, Greyhounds can instantly sprint to speeds of 45mph in just 30 feet! Ironically, though, just ask anyone who owns them as pets and they'll confess that Greyhounds are just as quick at adapting to the life of a couch potato! Many retired racing Greyhounds get adopted and make wonderful companions. In fact, there are various agencies that specialize in placing retired racers into the homes of those who would like to make a friendly and lovable Greyhound part of the family.
Recently while at Farmington Dragway in Mocksville, NC, I had the pleasure of meeting "Oz," a retired racer who now belongs to Scott and Angela Macy. Although Oz is a family pet within their household, the Macy's have been involved with being foster parents to retired racing Greyhounds while they're awaiting a permanent home.
Over the years the Macy's have welcomed no less than 17 retired racing Greyhounds into their home while they're awaiting permanent adoption. Famous Greyhound owners include George Washington, Bo Derek, Babe Ruth and author J.K. Rowling, to name just a few.
Scott and Angela can't say enough about how awesome Greyhounds are, not that I needed any further convincing! I've been a huge fan of Greyhounds for years and I'd love to adopt a retired racer someday … maybe when we're both ready to slow down a little bit and come off the racing circuit!