It's 1967, the Summer of Love, but Roy Johnson isn't concerned with that. He's busy steering his pick-up truck and open trailer down a dusty Tennessee back road, heading toward the next race with his wife, Revonda, perched prettily on the bench seat beside him. In the center mirror he can see his seven-year-old son Allen, the middle child, sitting with his back toward him in the bed of the truck with brother Randy and sister Rhonda on either side, their three little heads bobbing and swaying in time with the curves and bumps of the road, watching their father's IHRA Stock entry—a Dodge, of course, they're always Dodges—bounce along in rhythm, tethered tightly to the flatbed.
It's a typical drag racing family with everyone involved—Revonda's even tried her hand at driving the race car a time or two—and Roy can't help but entertain thoughts of someday racing alongside one or maybe even all of his children.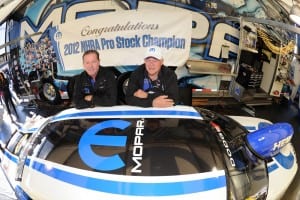 A few years later, though, it looked like that particular dream was not meant to be, certainly not with Allen. By the time the boy reached high school he'd lost all interest in racing, preferring instead to turn his attention to friends and athletics; football mostly, but pretty much anything in the stick-and-ball world seemed to inspire young Allen a lot more than going to the race track with his dad.
"I hated it," Allen Johnson states flatly. "I just didn't like racing back then."
So Roy worked in his small auto repair shop just outside Greenville, Tennessee, playing with his race cars when he had the chance, while Allen went to school and played football, a lot of football. It wasn't really a point of contention for the two; they just had different interests is all. So when Allen was a high school senior and asked if he and a friend could travel with Roy down to an IHRA meet near Miami, it came not only as a shock to the father but as a rekindling of the dream.
It turned out simply to be a matter of Allen having to make the decision himself to pursue racing; he never wanted to feel forced into the life. It also led to the establishment of Johnson and Johnson Racing, a father-and-son team that entered the IHRA Super Stock battles of the late-'70s. With Mopar support even back then, the Johnson duo did quite well, too, as Roy earned back-to-back championships (1975-'76) driving a '71 Challenger, while Allen, who began racing Roy's old '62 Plymouth Sport Fury in '78, missed out on his first series title in 1979 by a mere five points.
"He was almost unbeatable back then," Johnson says with clear admiration of his father's on-track prowess.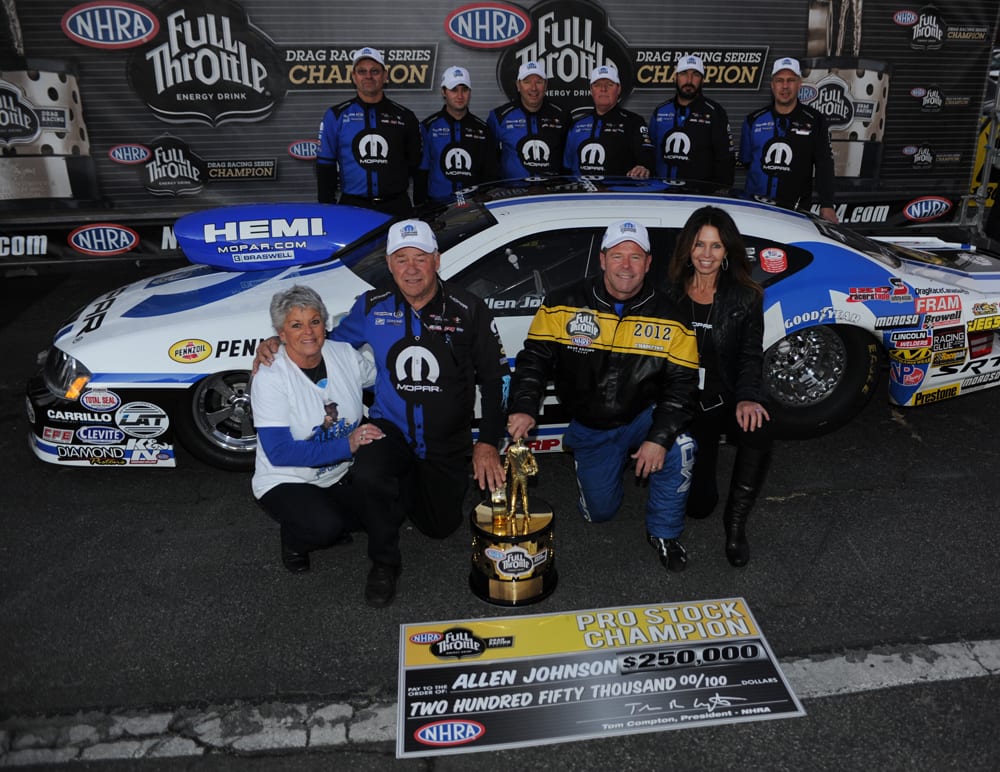 The next year, however, Roy insisted they take a break from competition so Allen could get an education and start making a life for himself beyond the confines of a drag strip. Roy also sold most of his go-fast equipment, telling his son if he wanted to go racing again to save up his money and they'd get J&J back on track, together.
Allen chose East Tennessee State University, a tidy, traditional campus in nearby Johnson City for his studies, eventually earning a degree in accounting before establishing Greenville Oil and Petroleum in his hometown. Over the next decade or so, he concentrated on building his business while adding several others along the way, which now include gas stations with convenience stores, a hair salon and a golf course, among others.
It wasn't until 1995 that Johnson once more turned a wheel on a race track, as J&J returned with a Super Comp dragster that Allen drove and Roy tuned. They did well enough to gain the confidence required for the huge leap up to NHRA Pro Stock, entering the class in 1996.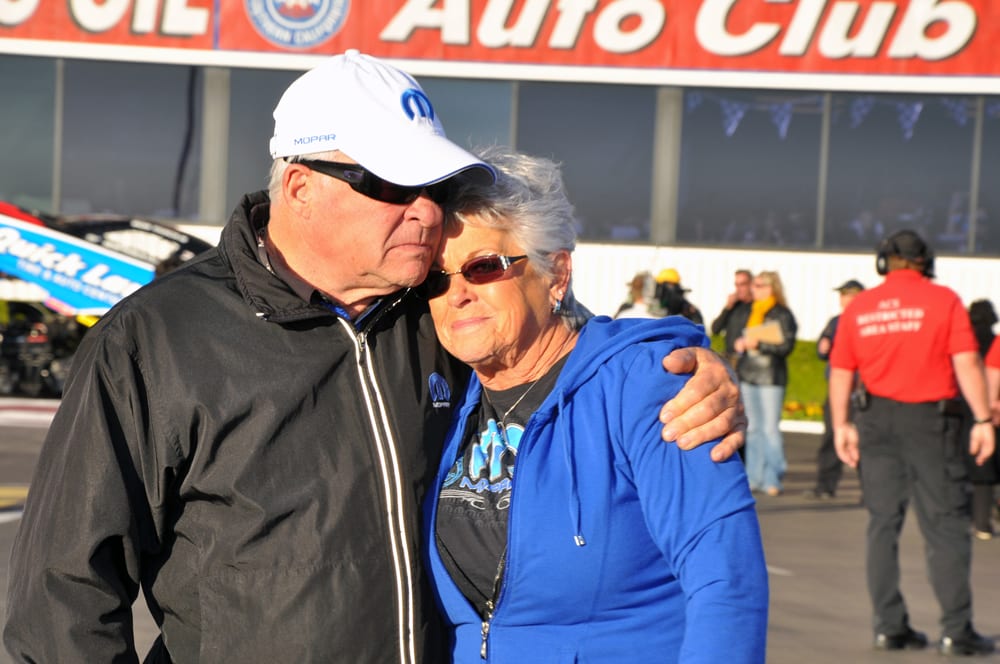 "I was fortunate in business and able to get Dad and me a start," Johnson recalls. "He was the crew chief and the engine builder, I was the driver and the clutch guy, and we had one truck driver, I think. We had no money. Amoco, my supplier and my business at that time, was able to throw me a few crumbs, but for the most part, we were on our own nickel, and I don't know how much we spent that first year, but we tested a lot—and we qualified one time (in 18 attempts). So it wasn't very good."
In 1997, J&J made it into seven of 22 events, but the following year dropped down to just two elimination-round appearances after 22 qualifying attempts. In 1999, however, Johnson qualified for 19 races and beat Richie Stevens Jr. at Richmond for his first Pro Stock victory before finishing in the top 10 (9th) in points for the first time.
There were still some lean years to come, however. Ten DNQs for the millennium year was followed by 18 non-starts for 2001, though Johnson greatly improved to 16 starts in 23 races in 2002 and picked up his second career win by beating Greg Anderson at Atlanta.
"Winning the Pro Stock championship was always my dream and it was my dad's dream when we started and we really thought we would do it back then. But after five, six, seven years, I actually thought we probably wouldn't," Johnson can now admit. "Those first few years we had some very tough days. It was hard to get beat like that week after week."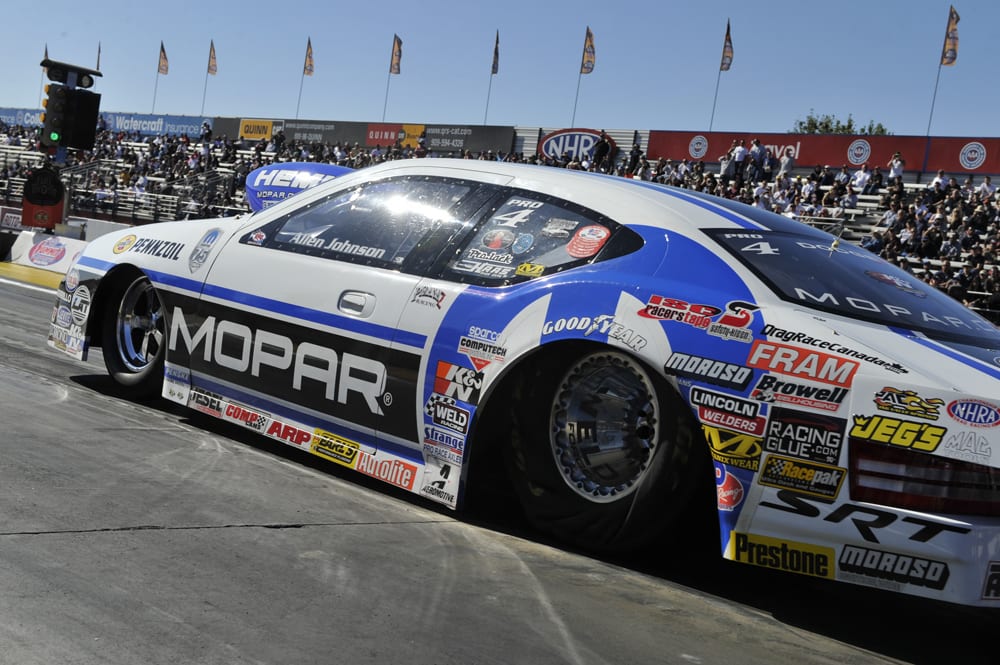 Regardless, Johnson and his dad refused to give in.
"No matter how difficult it got, I would always think we just had to get our stuff home and work a little harder on it, get a little better at making it work," he says. "That was the attitude I had, just because that's the attitude my dad always had; we were never afraid of a little hard work."
After failing to make the cut just once in 2005, Johnson finally made it through an entire 23-race season with no DNQs in '06 and broke into a top-five points finish for the first time in 2007 (4th). Two years later he enjoyed his first multi-win campaign with a pair of victories at Topeka and Denver.
There were flashes of brilliance along the way, including a repeat win at his sponsor's event in Denver in 2010 and a runner-up finish there last year, but it was never enough to sustain a true championship charge; something Johnson vowed to address for this year.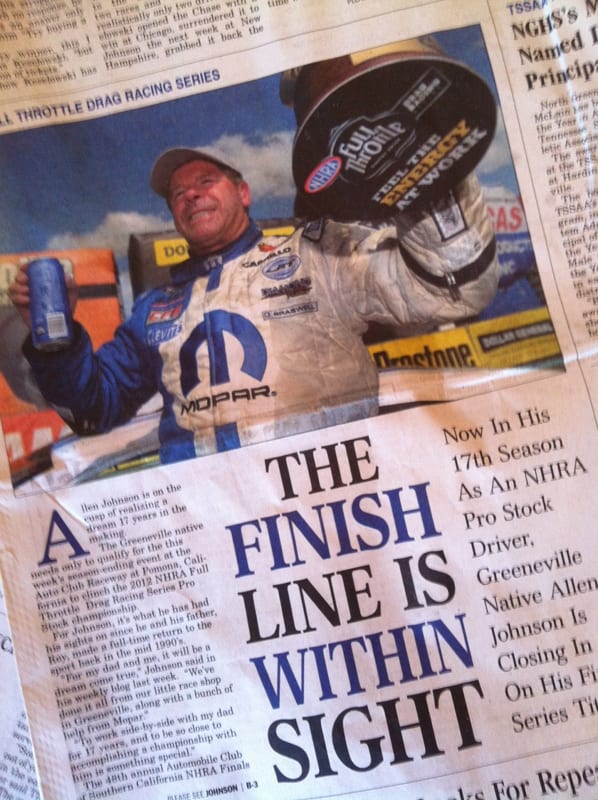 "The last three or four years, we've been in the position where we probably could've won the championship if we had just been a little more consistent," he observes. "It's just been a progression, a long progression, but we've done it all ourselves the whole way and it's been a family deal.
"The whole crew has been with us, too, most of them 10 years or so—Mark Ingersoll, Mike Gott, Jason Hughes, Jim Yates, Dean Underwood, Matt Hensley, Tracey Greg, Rick Cox"—Johnson rattles off their names with little hesitation. "So we've been working at it a long time and thinking we could do it."
To push them over the hump, Johnson says he decided to apply a more disciplined and analytical approach to the team's efforts this year.
"We run it more like a business now. Used to be, me and my dad, we'd be out in the shop at all hours. It would be that way when it was just him and me and a couple of others," Johnson says. "But now with Mopar's help, we're able to have several employees and try to run it more like a business and not kill everybody. When it takes the midnight oil, though, Dad's still out there."
Johnson also added two-time Pro Stock World Champion Jim Yates as the chassis specialist for his Jerry Haas-built 2012 Avenger, as well as for the similar machine piloted by Vincent Nobile with Roy's J&J horsepower under the hood.
"Mark Ingersoll is our crew chief and we've pretty much put him at a disadvantage the last few years by combating with the top two or three teams that had two and three crew chiefs. He's just had one hand tied behind his back," Johnson reasons. "Last year we got a Haas car and Mark and I talked and we decided to bring Jim to a couple of races because he knows the Haas cars really good; we just wanted to see if he could help us get it broke in.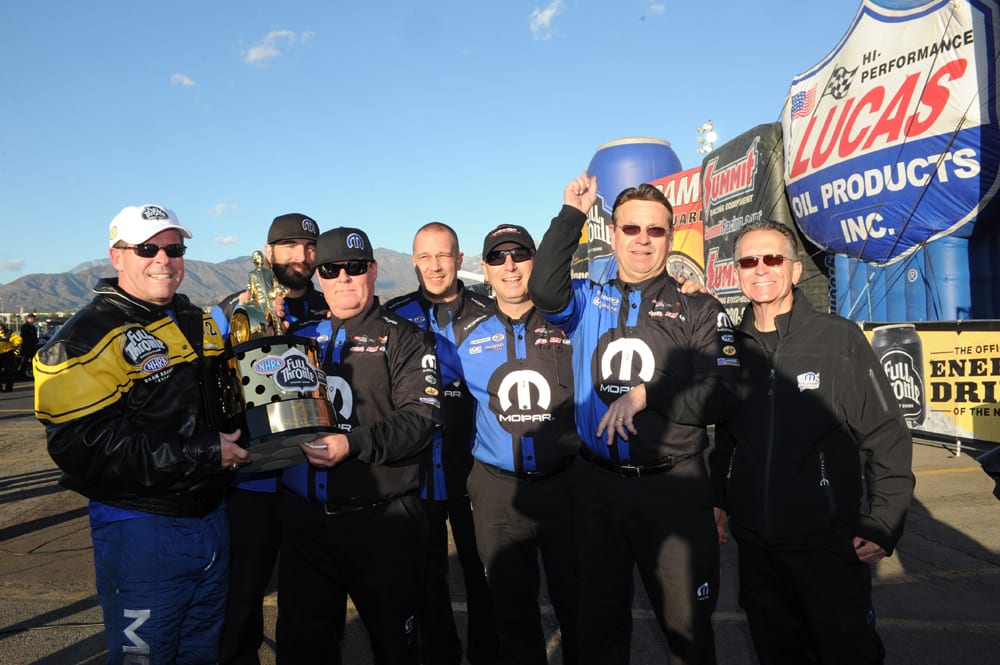 "That just turned into such a good relationship that we hired Jim to come on our team. Jim's raced a lot of years and is an engineer. What we all felt like we needed was somebody to have Mark's back and to help him with data and decisions and treat it like a business. Like I said, an engineering-type deal and that has paid serious dividends and really helped Mark making decisions on race day. That's sort of what we lacked before."
The new approach yielded 10 number-one qualifying positions this year, seven wins in 11 finals, and most significantly, the 2012 NHRA Full Throttle Series Pro Stock world championship. Along the way, Johnson amassed a 55 and 16 won-loss record in eliminations for an outstanding 77.5 winning percentage.
Regardless, perhaps more important than anything else for Johnson, this breakout season allowed him to see his father recover from a near-fatal heart attack in 2007 during the NHRA event at Phoenix that year to become the Pro Stock championship-winning engine builder.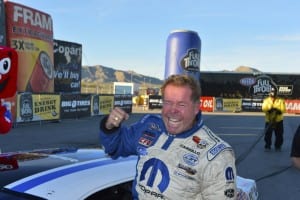 "I sat there and watched the monitor go flat, him fall back and not knowing whether he was …" Johnson's voice trails off as remembers the awful scene at Firebird Raceway. "They ran me off. About 15 people ran in there and started working on him. I stood 30 feet away, not knowing if he was alive or dead. It was real scary. So, to see him have this success is even double what it would have been without that.
"I've always said he's one of the top guys. I always knew he'd be one of the top Pro Stock engine builders in the country, given the opportunity. Well, he got the opportunity and now he is the top engine builder. It is very fulfilling as a family and a team to see him so happy right now, at his age; it's just a dream come true for me."
The wins this season came at both Las Vegas races, Topeka, Denver again, Sonoma, California, Dallas, and to cap his season in true championship fashion, with a dominating performance at the season-ending NHRA Finals in Pomona, California. Still, it wasn't until late in the year that Johnson really felt like the dream could really come true.
"When we left Charlotte and Jason (Line) put a round on me there, and it was down to just eight points between us or something, I was thinking like, 'Oh no, here we go.' And then we got to the next race at Dallas, and he loses first or second round and I win the race and now we're back up on top. That's probably the point where I thought, 'You know what? We can do this.'
"We still needed to go in the next race thinking we don't have any lead and continue to just really, really work hard, but I guess when we went to Dallas and won that race, I was like you know what, we can do this. We've just got to be smart and keep doing what we've been doing."
Of course, that's often easier said than done, as many drivers and athletes of all types have folded in the past under championship pressure. But in drag racing everything is so compressed, so reliant on tiny details that determine winners by thousandths of a second. It's never enough for just the car to stay together; the driver has practically no room for error, especially on the starting line. This is when having the steadying influence of a past champion like Yates nearby can be helpful.
"As a driver, Jim gives me tidbits, like have fun and enjoy the process. It's a stressful situation and I had several people, Bob Glidden among them, call me and say you're going into the stretch here, you're doing good, your team is great. What's got you there is what will keep you there. Just enjoy the moment and enjoy what you're doing and do what you've been doing. Jim said that along with several others and you really appreciate that kind of advice," Johnson says.

"So, I really worked hard on the practice rig and I went to each race and worked out a lot and just kept my mental deal intact. I went to each race thinking and going out to every round smiling, just thinking about how lucky I am to be here and just having fun."
The J&J team rolled through the gate to Auto Club Raceway at Pomona knowing all they had to do was qualify and the championship would be theirs. Johnson took care of that requirement in the first session of the weekend, placing a provisional number one with a 6.56-seconds pass that never was in danger of getting bumped out. He ended up starting second with a 6.51 at nearly 212 mph.
"We all high-fived before the race happened and acted sort of like a football team on the 50-yard line. Everybody high-fived and I said let's finish this deal, let's not just qualify, don't have that mindset; let's go out and try to be the quickest every single run. And let's win this race," Johnson recalls.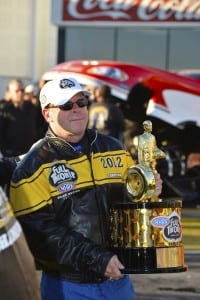 And that's exactly what happened. Johnson rolled through Greg Stanfield, Ron Krisher, Mike Edwards and teammate Nobile to earn his 16th career victory and deliver Mother Mopar's first Pro Stock championship since 1994.
"I'm telling you, the team stepped up and everybody just really did their job and it was so gratifying to me to be able to bring that one home. When I put the car in high gear and I looked over and saw I a three-foot lead (over Nobile), even probably before I pulled the chutes I knew I had won," Johnson says.
"And I just, first of all, I thanked God for this. I've never done anything to deserve this success. I asked Him, what do I need to do now to turn it back to Your glory? That's pretty much what I thought because I just, at that point, felt and thought, what else? I felt so humble and so lucky to be able to accomplish this with my family and a crew that's like family to me. It's just such a great feeling to do it with all those folks.
"It felt awesome and to do it in the style we did was just great. We beat everybody we needed to beat. We trumped them at every corner and the team performed flawlessly from the second or third race of the year on. It's such a great feeling to watch a plan come together."
Roy Johnson had his own, more personal reasons for the sense of relief mixed with happiness he felt immediately after clinching the title.
"I couldn't help getting a little emotional, because 44 years ago I started all this, and it's been 17 years getting here with my son, with a lot of fussing and arguing, but we made it," the 71-year-old racing patriarch said. "I had my lights go out in 2007 and they shocked me back to life. I'm glad they didn't leave my lights out, so we could enjoy this moment together."
It's a little over a week later and Johnson is relaxing in the hot tub on the back deck of his house, enjoying a cool, but not cold November evening in the foothills of the Appalachian Mountains. He's recently returned from a media luncheon thrown in his honor by the folks at nearby Bristol Dragway. Inevitably, talk returns to racing and cars and what Johnson has stored in the garage beneath him right now.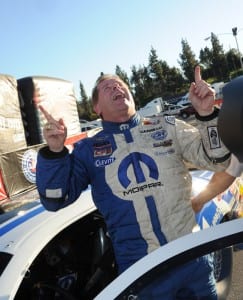 "I drive a Durango every day, one of the new designs, and that is one hell of a car," he declares. "I've also got an SRT Jeep that is freaking bad to the bone; it will haul. And I've still got my 1971 Dodge Challenger that I restored; first car I ever owned when I was 15. I still drive it. I'm a Dodge and Chrysler guy and so is every bit of my family.
"My wife, Pamela, she drives a Crossfire and has for several years. They quit making those, so it's about time to do something different on that, but she's been looking at the new Chargers and some of those things. We're bad to the bone Chrysler around here."
In 2008, during their annual visit to Denver's Bandimere Speedway for the Mopar Mile-High Nationals, Johnson noticed his father admiring the just-debuted Dodge Challenger Drag Pak by Mopar. "I began thinking about it and then I talked with Dale (Aldo, Coordinator, Performance Parts, Mopar) about getting in line for a Mopar Drag Pak vehicle for him," Johnson says.
A year later, a Drag Pak body was delivered to B&B Racecars in Hohenwald, Tennessee, where it was sprayed with a retro paint scheme nearly identical to the one sported by Roy in his IHRA heydays. It was then fitted with a 5.7-liter Hemi built by Gary Stanton.
The car was intended as a Christmas present, but its unveiling was delayed to New Year's Day 2010 when a group of about 20 friends and relatives crowded the J&J Racing shop while Revonda took Roy out to run a few errands. "When they came back I hollered at Dad to come into the shop," Johnson says. "He walked in, opened the door, and it was like, 'Bam!' It was awesome. Dad was completely surprised and shocked."
This was no mere trinket to be washed, waxed and put on display, however. When the NHRA returned to Bristol Dragway that summer there was a new, old name on the Stock Eliminator entry list: Roy Johnson. It was Roy's first race in about 15 years and he qualified number two before fouling out with a -.006 light in the semis.
"I think he acted more like he was 25 this weekend than he was 68," Johnson quipped to CompetitionPlus.com at the time.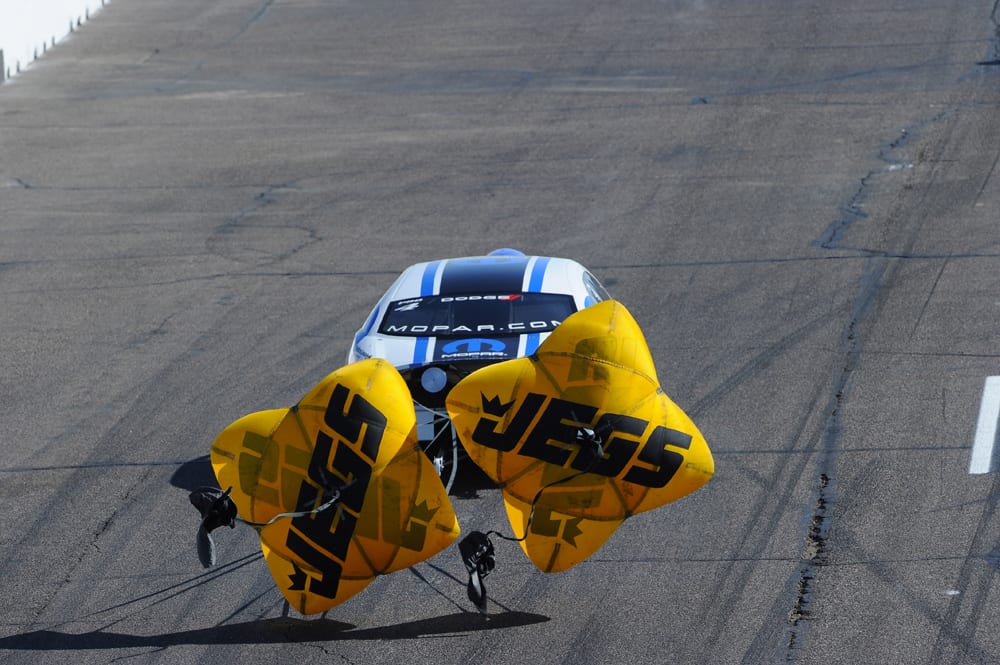 Yet another famous Dodge driver will join the J&J fold soon as Mopar recently announced that four-time Pro Stock champ Jeg Coughlin Jr. will race as a teammate to Johnson and Nobile in 2013.
"We were already teammates this year under the Mopar umbrella, but sort of doing our own deals. It's just a natural progression that Mopar probably wanted to happen," Johnson says. "So next year it's going to be basically a three-car team with me, Vincent (Nobile) and Jeg, who of course, is a big addition. His support and his accomplishments, his crew, everything about him brings positive. His relationship with Mopar is bringing more to the table. Mopar is 100-percent behind him, as they are me. So, that multiplies our effect there. We get more stuff from Mopar, more support. We look forward to that, and hopefully this relationship will flourish and go for many years."
At the NHRA championship banquet in the Grand Ballroom of the Hollywood and Highland Center, just a day after the season-ending race and a few miles west of the historic Pomona strip, Johnson stood before his peers for the first time in a formal setting as the Pro Stock champion. He later admitted his stomach was in knots, but he gave a fine, heartfelt speech, filled with all the usual thanks to sponsors and recognition of teammates. It was when he began speaking of his father and brought Roy up on the stage with him, though, that the true magnitude of what the championship meant to them could be appreciated.
"Tonight is the realization of a dream 17 years in the making and I get to celebrate it with my hero," Johnson began. "I wanted this championship just as much for my dad as I wanted it for myself. Well, Dad, we're here, the champs, thanks to you."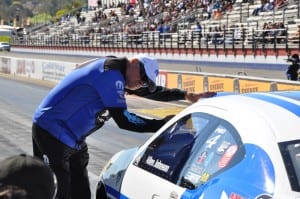 And with that, Allen Johnson, forever to be known as the 2012 NHRA Pro Stock world champion, invited his father to join him on stage.
"Paps,"—he calls him Paps—"Paps, I'd like for you to come up here."
His father rises and looking every bit his 71 years, ambles down the aisle from the table he shares with Revonda and Allen's wife, Pamela, and then slowly climbs the few stairs to reach his son.
"We're now NHRA Pro Stock champions," Johnson declares as both men embrace and fight to hold back tears while Roy gives a little fist pump in the air. "Thank you."