EDITOR'S NOTE: In memory of Ronnie "The King" Davis, we present this story on the Top Sportsman legend from the January 2011 issue of Drag Illustrated. Written by none other than Ian Tocher, the story details Davis' second NHRA division championship chase and showcases the sportsmanship, determination and grit that helped Davis become a legend even before his untimely passing last Sunday. Rest in peace, Ronnie.
A week before the final event of the year for the Southeast Division of the NHRA Lucas Oil Drag Racing Series, Ronnie Davis was racing his Top Sportsman '63 Corvette near Louisville, Kentucky, when a broken connecting rod put an unwelcome window in the side of his Gene Fulton-built, 738 cubic-inch engine.
Sitting third in points with only a slim mathematical chance that required him winning at Silver Dollar Raceway to earn a second NHRA Division II championship, the Suwanee, Georgia-based golf cart dealer admits to seriously considering cutting his losses and calling it a season. It was a fleeting thought, however, and the wounded powerplant was promptly dispatched to Fulton's South Carolina skunk works for major repairs.
"It was bad," Davis recalls, but Fulton's crew came through and the motor was back in place within days, though no time was left for testing before he headed south a hundred miles or so from Atlanta to the Reynolds, Georgia, strip. "There was a lot of pressure, but I thrive on pressure," the man they call 'The King' states. "I feel I'm at my best with a gun to my head."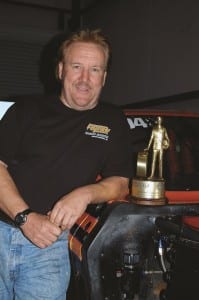 Davis delivered with a number-one qualifying 6.53-seconds pass at 215.13 miles per hour that gave him a first-round bye on the Silver Dollar quarter mile. Points leader Billy Vaughn and second-place man Jeff Pittman also advanced from the opening round, but a loss for Vaughn in round two left him with 304 points for the year and Pittman fell next in round three, stranding him at 295.
A low-lying sun nearly cost Davis his chance in the semis as it shone straight on the starting tree, making it difficult for him to see the lights from the right lane and causing his worst reaction time of the day. The consistency of his Corvette in running just six-thousandths of a second over a 6.83 dial-in saved the day, however, and set up a final-round match with Mississippi racer Vince Hoda to determine the event winner and divisional class champion.
After again dialing in at 6.83, Davis left with a nine-thousandths advantage off the start, then ran right on the number at 201.43 mph to beat Hoda and his 2000 Firebird. More importantly, the round win delivered the 11 marks Davis needed to edge Vaughn by a single point for his seventh Top Sportsman crown, including three IHRA world titles, two IHRA divisional championships, and this latest NHRA triumph to complement his 2006 Div. II win.
On his way to victory lane Davis had to pass by Pittman, who had so desperately tried to win it all for his ailing father, Calvin.
"Jeff had really wanted this championship for his dad and when I was pulling back after the final we stopped at his pit," Davis says. "We're very good friends and he's even one of my sponsors with Race Performance Motor Coach and I could see he was emotionally upset, but he was still happy to see me win and I told him, 'If I could give you this championship, I would; but I can't, but what I can do is dedicate this win and the championship to your dad.'
"So we parked the car, Jeff got Calvin on the phone and I got to talk to him a little bit and let him know, 'Big Daddy, this one's for you.' Unfortunately, Calvin passed away just a few days later."
It may be difficult to believe, but the season began for Davis with every bit as much adversity, drama and pressure as accompanied its ending. After making the 545-mile, one-way trek in February to south-central Florida's Bradenton Motorsports Park, Davis' initial outing of 2010 lasted no more than 10 feet in a Thursday-afternoon test session.
"The driveshaft came apart, ripped all the sheet metal up, tore the frame apart where the loop was, flipped the transmission around and pretty much destroyed the car; a real mess," Davis recalls. "The yoke just came apart and caused mass destruction like I had never seen. Also, the U-joint came out and went through my passenger door near the bottom of the window and if it had come to the left instead of the right I might not be here right now or I would've at least been mangled, there's no doubt about it. That was a huge force that went right through the door; I was blessed right there."
Quickly realizing he could not fix the car on site, Davis faced the prospects of staying and not racing or packing up and going home. His competitive nature prevailed, however, and instead of going with either of the lesser choices, he and lone crewman Pete March loaded up and departed Thursday night to reach their Georgia race shop about five o'clock Friday morning—just in time for a rare winter storm .
"We slept until 8, got up and saw the snow was coming," Davis says. "We pulled the motor out of the Top Sportsman car, put it in my Pro Mod that was just sitting apart on the floor, got it running, set the chassis up and loaded everything back in the truck. We left just as the snow was really coming down and they were fixing to close the highways around Atlanta."
Davis says it took three hours just to reach the south side of Atlanta, a trip of less than an hour on a good day, "but I made it, called (recently retired NHRA Div. II Director) Bill Holt, told him I would get back to the track about four in the morning and he said he'd let them know at the gate. We got there about 4:30, the guy said, 'You must be Ronnie,' and let me in."
Meanwhile, Bradenton had suffered a deluge of rain in Davis' absence, leaving behind a sizable pond where his pit stall had once been, so track workers moved him to a better, drier spot where he and March unloaded for the second time in 48 hours.
"But it was still windy, it was cold and all I'm thinking about was this car is difficult to get down cold tracks," Davis says. "I wasn't trying to go fast anyway, but I was right, the first run Saturday it hikes the front tires up, hits the wheelie bars and shakes."
Davis wasn't the only one having problems, though. Track conditions deteriorated so quickly and severely—they'd had two or three wrecks—that NHRA officials pulled the plug on all qualifying with only one Top Sportsman session in the books.
"Now, I'd had enough sense to still go across the scales even though it shook, so I was in, but I didn't know what to dial," Davis says. "Then they came around and let us know they were going to give us one more time trial Sunday morning and they never, ever do that, but that was alright; in fact, it was great for me."
After finally getting some well-deserved sleep, Davis got up Sunday morning and set about salvaging his weekend.
"I had at least figured out what I wanted to try to do. I choked the car way down, put some weight on it up front to keep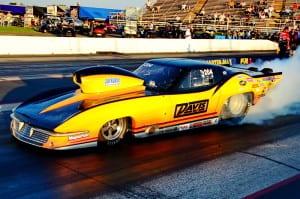 the front end down, but this was all just strictly guessing because that's not the way you race a car like that; you should be running it wide open on all four (nitrous) systems," he explains of his Pro Mod car, another Tommy Mauney-built '63 Corvette. "But I'm running just one small system and I asked Carl Baker, an old Pro Stock racer, if he'd come out and watch my burnout to make sure we had the wheelie bars set right. Well, he was kind enough to help us out, set them up and I went 6.70 at 202 mile an hour to qualify third and felt a whole lot better."
Davis made it down to four cars that day, running dead on his dial each round until losing to a holeshot in the semi-finals. Still, he considers it a solid outing. "I was totally exhausted, but I got 60 points I never would have had if I hadn't gone home to get the other car and little did I know how much they would pay off in the long run," he says.
Considering the drama of the bookends to his season and everything in between, Davis considers this championship his finest so far.
"This year is special to me because it started off bad; we certainly had our ups and downs in running two cars; I've got just one guy that races with me whereas most have three or four, so it's very taxing on both of us; we had the motor break just a week before the last race and going in in third place to a very emotionally charged atmosphere and then winning by just one point; it just made for a very memorable and special season to win over all that adversity," he says.
The 60-year old is quick to stress, however, that he's far from finished.
"In my younger years I always just expected to win in everything I did. But I'm older now, I get a little tired, get a little aggravated, and sometimes I tell myself, 'You should put your priorities in different places.' But then it's racing season again and I just have to get back out there.
"I think one of my attributes is that I just never, ever give up. I've taught my children that same attitude; that no matter what happens you can never quit. If you get knocked down in life you get up and it's the people who keep getting up that win in the end. That's my philosophy in life and kind of my philosophy in everything I do, from my business to my racing to my personal life."
Ronnie Davis. He gets the point.