"Are you kidding me?" Del Worsham asks himself, as the reality begins to set in. "Is this really happening?" He's all of two races into his brand-new gig as the driver of the second Al-Anabi Racing Top Fuel Dragster and it suddenly seems to be going better than anything in his entire 21-year racing career had. His extremely unfortunate first-ever final-round opponent in Top Fuel, Tony Schumacher, won't make this easy, and there's a chance, albeit a slight one, that Worsham's not quite ready for this moment. The intensity escalates as the Nitro Funny Cars ahead of him fire and pull towards the water. In a few moments Worsham will find himself in yet another do-or-die moment as a drag racer, though this one will more than likely set the tone for this second chapter of his career—one he hopes to be defined by champion status. His internal monologue reminds him of the situation's gravity: "My job is to drive the car—nothing else. The pressure is on me—nobody else."
Professional race car drivers, for the most part, relish this role; they naturally embrace the challenge and lust for the opportunity to prove their ability. Worsham is no different, but the tables seem to have turned.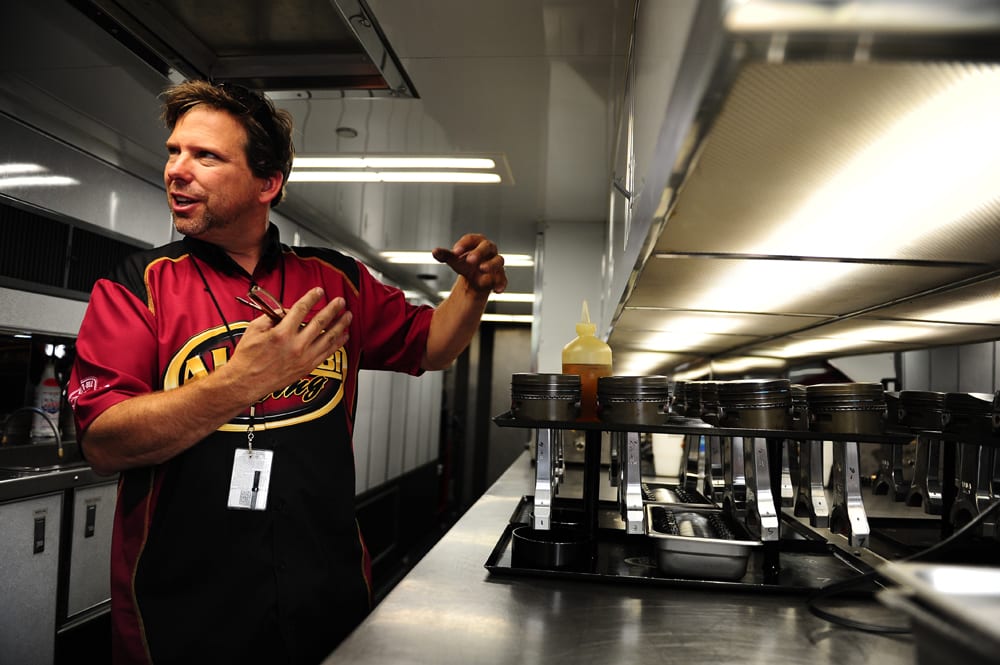 Without question, he's strapped into the fastest car on the property, the one personally tuned by Alan Johnson, who just so happens to have the most impressive credentials in the history of Top Fuel racing—a man responsible for seven of the last eight NHRA world championships. It's a stark contrast from the position of perennial underdog that Worsham had been cast for the first two decades of his racing career—a mindset that is difficult to shake. It's not entirely unjust for him to feel that way, either. He's in a new class, facing new competitors, and as he would readily admit, an entirely new atmosphere. For the first time in a long time, he's genuinely expected to win.
In that first final round against Schumacher in March at the 42nd annual NHRA Gatornationals, there was undoubtedly a moment where Worsham fully accepts the new challenge—when he takes his rightful place amongst the elite drivers of the sport and as a full-fledged member of the Top Fuel fraternity. Leaving within four-thousandths of a second of Schumacher, Worsham and his Al-Anabi dragster chase the Army car down by the 330-foot marker and pull ahead for the win by less than two feet. It was a relief, and the look on Worsham's face as he climbs out of the car shows it. As his wife, Connie, plants a kiss on him and an official hands him his trophy, all doubt vanishes – the guy can drive.
"At least at that point, I had the feeling that I could compete, that I could drive with these guys," says Worsham, who also acknowledges a little bit of shock following that first Top Fuel win, his 26th overall. "You just don't know until you get out there. I mean, I knew I had the best car, I have Alan Johnson in my corner, so 99 percent of the time, I'm going to have the fastest car, so I knew it was going to come down to whether or not I could do my job. Honestly, it felt like I was 21-years old again, back in Atlanta again, when I won the Southern Nationals. Seriously? I just beat Tony Schumacher; the guy has won almost every freaking championship for a decade! It was incredible."
This year, while all the talk in the off season surrounded what was sure to be another battle for supremacy between Larry Dixon and Tony Schumacher, Worsham has kept his head down, kept his focus. As Schumacher and Dixon enter the final race of the NHRA's regular season with a sole victory between them, Worsham will show up in Indianapolis with six wins to his credit in 2011, five No. 1 qualifying efforts, and a category-best 37-9 (80-percent) round win/loss record. With the guidance of Johnson, the detail-oriented approach of [crew chief] Brian Husen, and the funding of Sheikh Khalid Al-Thani, for the first time in his life Worsham is the odds-on favorite to win the championship, and on any given Sunday for that matter, to win the race.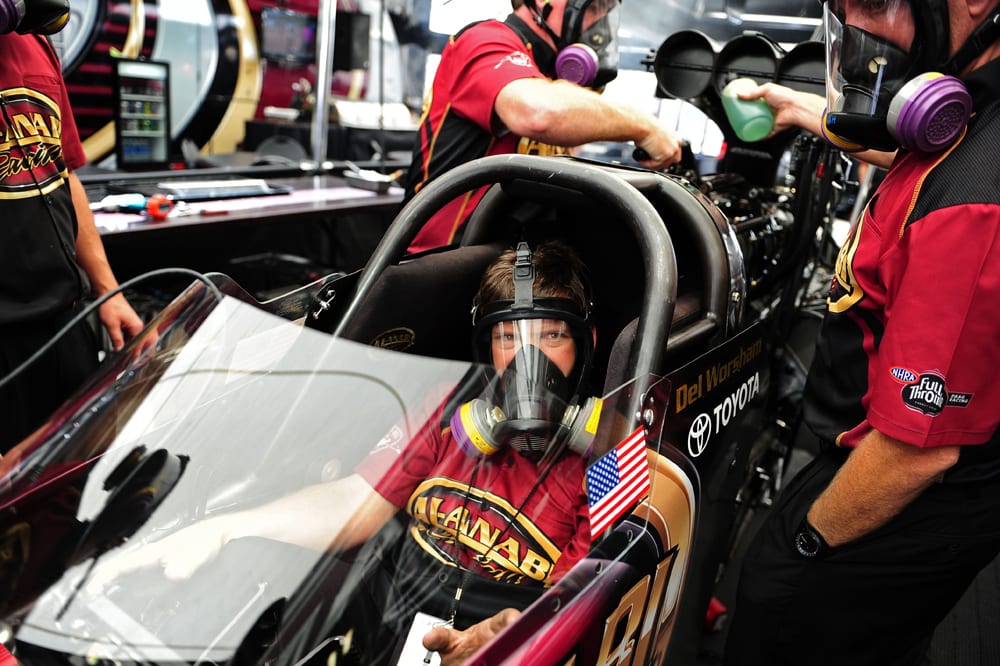 He's also in a different place now. His team wants for nothing. When they find something better or something needs to be done differently, there is no question whatsoever about doing it; if a situation arises where they need to risk blowing an engine to win, they do it. Worsham spends every second of his time at the track thinking about driving a race car.
Having this particular job was never a dream for Worsham. His only real goal in life—literally—was to go racing with his dad and drive a Nitro Funny Car. He made it happen at age 20, won his first NHRA national event at 21 in his first season on the tour, and remained a constant contender for the next 20 years before joining Sheikh Khalid's Al-Anabi Racing group led by Johnson. In many ways, he's back where he started—a fresh face amongst a highly competitive field of veterans and champions.
But if anything, being a hired driver is even more suited to Worsham's abilities and temperament than he may want to admit.
"He doesn't need any help," says Husen, who serves as crew chief on the "gold" Al-Anabi dragster. "It took Del one run to figure out you can't overdrive one of these things. He keeps the car in the middle of the groove and drives as well as anyone I've ever seen."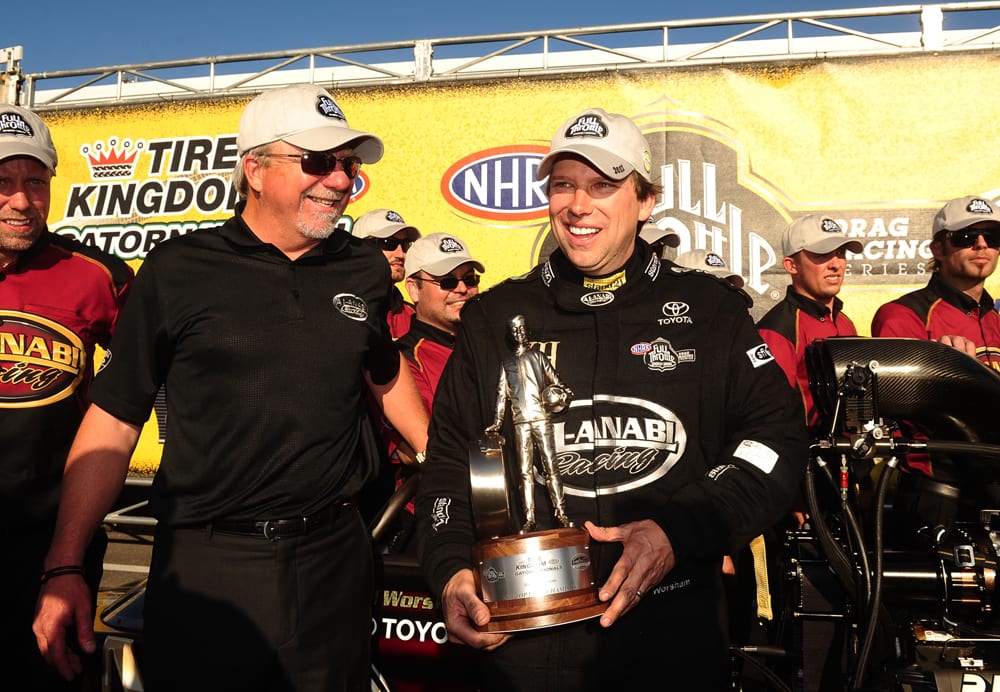 Alan Johnson isn't surprised by Worsham's quick transition from Funny Car to Top Fuel, either. "Everyone knows Del is fast. You don't win 25 races in your career and give John Force a run for his money on multiple occasions without talent."
Worsham's role now is solely, specifically, to drive the race car. As a kid, he spent his weekends at places like Orange County International Raceway and Ontario Motor Speedway, hoping and praying that this day would someday come. Now, it could be said that he has one of the most coveted jobs in all of drag racing.
"I grew up racing; racing with my dad," he says. "My dad had never driven a Funny Car, but he owned one, and he wrenched on one. A lot of kids have big dreams, but I seriously didn't know anything else. All I can remember ever wanting to do was drive a Funny Car. I mean, we had Funny Cars, and that's what I wanted to do.
"I really think I would have been a great Funny Car driver in the '70s; back when the driver was more involved, it was more of a partnership between the crew chief and the driver, there weren't computers; you had to come back and make decisions based off what you felt and what your crew chief saw. Not that I'd have had more success, but I think I would have enjoyed it a lot, and would have been good at it."
At 41, Worsham certainly wouldn't trade his current position, especially when you consider the extenuating circumstances—primarily the economy—but that's not to say he's living his dream.
"Don't get me wrong; for the time, the situation, this deal couldn't be any better," says Worsham. "It's a little bittersweet, ya' know? When I was younger the dream was to go racing with my dad, to have my own team, help tune it, and drive it. We had our time, and we did well. We accomplished a lot; probably more than we ever set out to in the beginning, but things change, times change, the economy changed, and now I just feel thankful to have this job. I can guarantee this is the second-best situation I could ever ask for."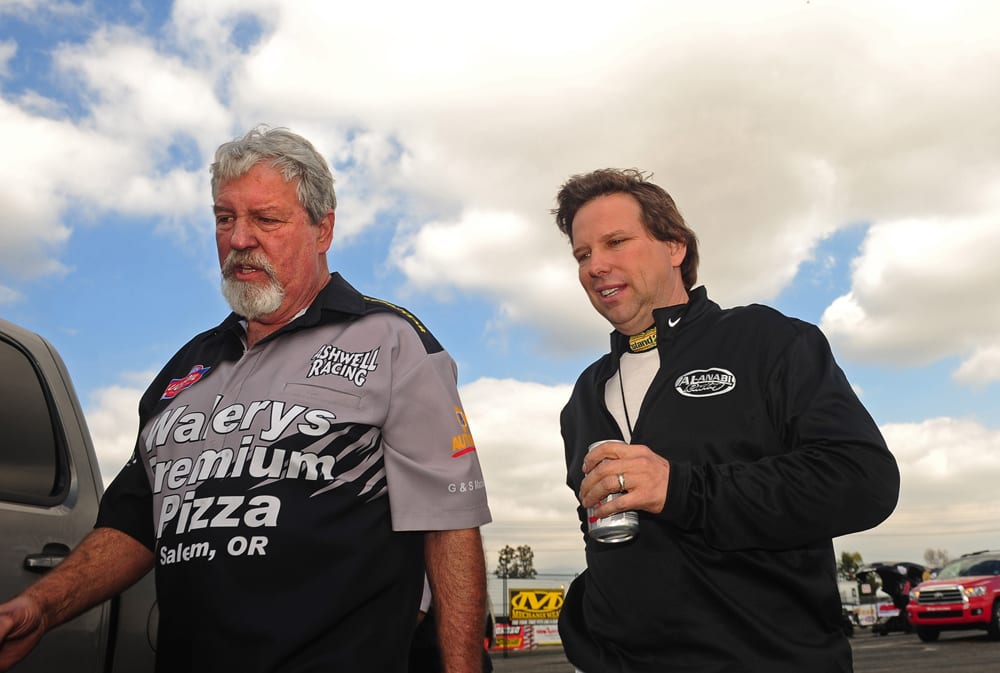 If a good-paying gig as the driver—nothing more, nothing less—of a championship-caliber Top Fuel Dragster is second best, then Worsham was simply born a little bit too late. His stance is almost certainly one that racers like Don Prudhomme, Don Garlits and Raymond Beadle would appreciate, but is lost on a great majority of today's professional drivers, not only in drag racing, but all of motorsports. That he is more comfortable being hands-on involved with his racing endeavors is telling of his personality and skill set; his new role, while different, still manages to consume all of his effort.
The pressure to do well, at least the pressure I put on myself to do well, driving for someone else, not for my own team, I feel that a little bit," says Worsham. "I'd be lying if I said I didn't. I go out there now with higher expectations, and, I guess, maybe I shouldn't, but I do. I don't want to let anyone down."
Sitting in his lounge inside one of the multiple massive Al-Anabi Racing transporters lined up in the pits at Lucas Oil Raceway at Indianapolis, Del Worsham sits, coffee in hand, waiting as the team of master mechanics outside ready his Top Fueler for a test lap during the pro test session a week prior to the NHRA U.S. Nationals.
"This has been a new experience for me. We've run well in the past, we've had some good teams, but I've never been in this position, leading the points, this late in the season," explains Worsham, speaking of his 12-year run as team owner with his father, Chuck, and as driver of the Checker, Schuck's, Kragen Nitro Funny Car.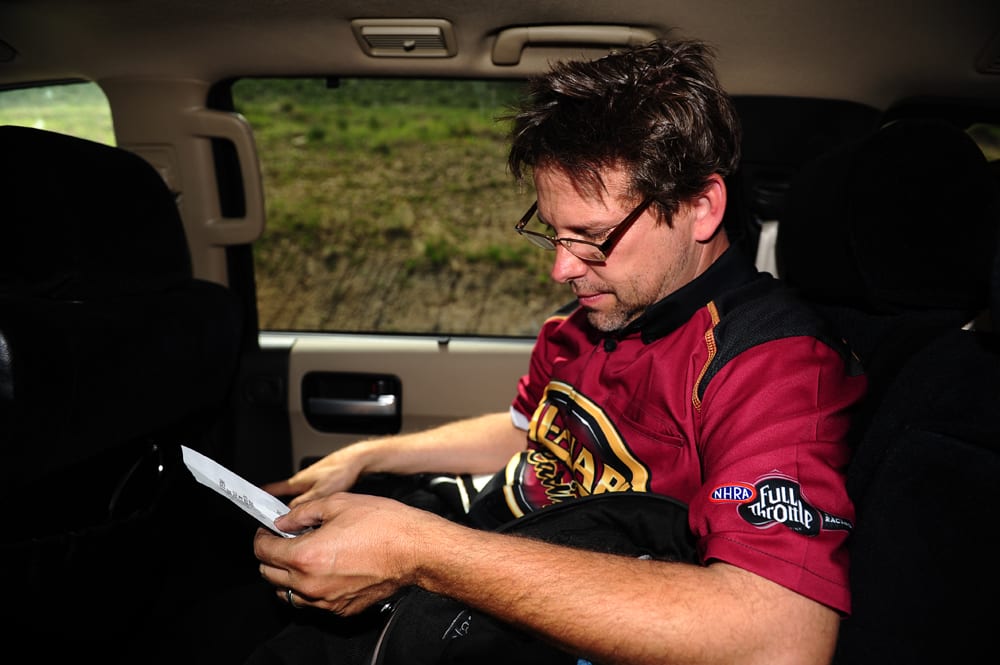 "Honestly, we were never really that close to winning a championship. We did pretty well, but it seemed like anytime we were having a pretty good year, John Force was having an unreal year. It's a new deal 21 years later, and it's hard to compare—impossible, really."
The differences are immense, but come primarily in the form of a much-lightened workload. "It's so far removed from how I used to race," he continues. "When I was doing our deal, besides driving, we owned it all and the day-to-day operations were my responsibility, along with helping tune the car. There was a job involved in every single aspect of the team. I have to say, it's been nice to sign the back of a paycheck instead of the front."
Embedded in the blueprint of Worsham's being is an unusual ability to find comfort in great responsibility. He's a family man, a father of twin daughters and a devoted husband, so the ownership he takes in everything he does is natural, instinctive. It's also rare in this day and age, especially for a professional athlete, or driver in this case, to be so ready and willing to bear the burden that comes with heavy responsibility and high expectations, let alone succeed in doing so. Far less complex is the path of surprise victor or perennial underdog, two characters Worsham played repeatedly over the years.
As Parkinson's Law dictates, Worsham's work expanded so as to fill the time available for its completion. While an underfunded, multi-tasking team owner and driver, he managed to get it all done, and even achieved a considerable level of success doing so. Now, the task of being the devoted driver, alone, of arguably the baddest race car on Earth requires all of his ability, and all of his energy.
"I work hard at this," says Worsham. "I've gotten a lot better in the Top Fuel car since the start of the year; you literally learn every time you make a pass. This is not the easiest car in the world to drive, either. Tony Schumacher and Larry [Dixon, teammate] are the only guys who appreciate what I'm talking about because they've driven for Alan. It's nothing like when I ran Top Fuel back in the mid-'90s; there's no comparison. I mean, this thing is fast—really fast. It's violent. I'm still not used to it."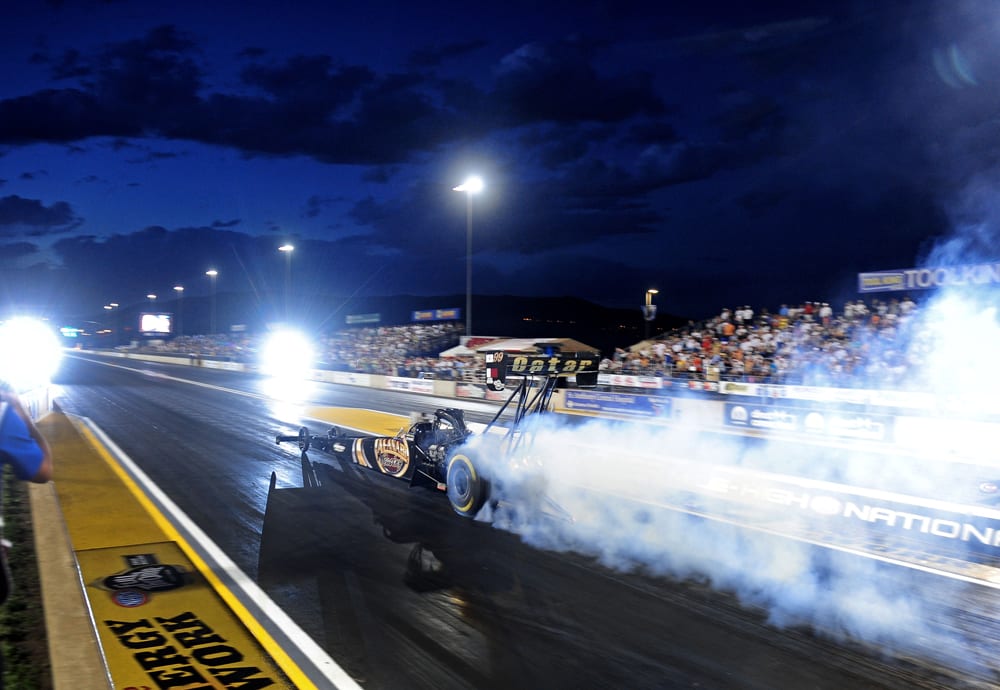 Like he says, it's not like he's "playing patty-cake between rounds or whatever," just because he isn't tuning the car, trying to fix a broken generator, or re-stripping a supercharger before every run. In fact, it wasn't that long ago that Worsham hardly had time to change shirts at the track while simultaneously trying to maintain his relationship with his sponsors, handle his obligations as a driver, review computer data, talk with the crew as they serviced the car, and make the final decisions on the car's setup with his dad. As a result, his driving suffered. He admits he often wondered what it would be like not to have so much to worry about and be able to focus on the driving aspect of racing. Now he knows.
Twelve months ago, Alan Johnson and the Al-Anabi Racing camp went public with their plans to terminate their Funny Car operation and add a second Top Fuel Dragster, which Worsham would drive. "At first I didn't know what to think. I was a little up in the air about it," he says. "Sheikh Khalid had called me with the idea, and, ya' know, it made a lot of sense; we'd be doubling our chances of winning on Sunday."
In February of 2011, Worsham earned his Top Fuel license, and had fully embraced the change in eliminators. "Eventually I got excited about it. I'd been racing the same people for 20 years, I was looking forward to starting a new chapter in my career and I knew there was a lot of potential with the move."
The door to the lounge opens and a crewmember leans in, beckoning Worsham outside; they're ready to warm up the car and need their driver. "This team is unbelievable," he says. "People think the money makes all the difference, but it's not just money, it's the effort. When I was racing with my dad, I always thought I was detail oriented and really paid attention to everything, but now I see that I wasn't. I'd have probably won a lot more races if I had been."
Worsham dons his gas mask and hops into the cockpit of the black-and-gold dragster as Husen and company prepare to fire the engine. Nitro methane fumes fill the pits with an off-green haze while the crew observes the 8,000-horsepower power plant at idle. After a few moments, Husen gives Worsham the signal to kill the engine, and he climbs back out of the car. "I've been doing this for a long time," he says. "Trust me, nobody else goes to the lengths this team does to make sure this car is the exact same from run to run."
Four years back, Worsham found himself in one of those situations that he thought he'd prepared well enough to avoid. Sitting in the grandstands and taking in a session of Top Fuel qualifying as he always enjoyed doing, he was struggling to come to terms with the fact that his role in drag racing might have to change. He was at a crossroads; his sponsorship was ending with CSK Auto, Inc. after the company's acquisition by O'Reilly Auto Parts, and continuing to operate his team wouldn't be feasible without their support.
"There aren't a lot of driving jobs out there, so I thought possibly I might have to go work on a car, or go to another team and help them out," he says. "I really wasn't sure."
Grumblings of Alan Johnson's impending departure from Don Schumacher Racing to form his own team along with Sheikh Khalid had been running rampant that particular Labor Day weekend. When the rumor was made official, Worsham made it priority number-one to interview for the job driving his Nitro Funny Car. "I hadn't really spent much time with Alan over the last 10 years, so I asked Jerry Toliver, a mutual friend, if he could get me an interview. The next day, I had gone to Jim Head and we were sitting his lounge talking about it, and he told me that of all the people they had talked about, my name hadn't come up because no one knew I didn't have a deal anymore.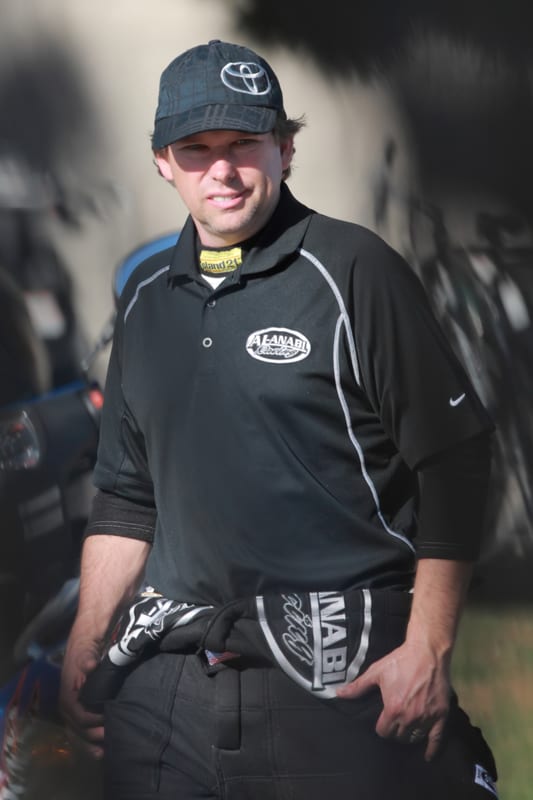 "Right then, unbelievably, Alan Johnson walked in," Worsham continues. "He asked what we were up to, and I said, 'Well, matter of fact, I was just talking about you.' He was surprised, and I told him that I'd like to interview for the position driving his Funny Car."
From there it happened fast, a handshake that day and a five-minute phone conversation a few days later, and it was a done deal. "When he was that quick to say, 'OK, let's do this,' I knew that I was making the right decision."
For all that Worsham has accomplished over the course of the past 20 years in the sport, he's not exactly the boisterous, cocksure wheelman that would generally be attached to such a resume. After spending a Sunday with his wife and kids, when he walks into his Chino Hills, California, home—a mere 15-minute drive from the legendary Auto Club Raceway at Pomona—it's amazing how little he's changed from the happy-to-be-here kid that he was in 1990 when he made his pro-debut just down the road at the NHRA Finals. Sure, he's aged a little with time, no longer quite fitting "The Kid" moniker he was given early in his career, but his quick-draw smile and genuine sincerity are no worse for wear.
If there ever was reason for Worsham to cop an attitude, it's been his performance during the summer of 2011, as he has all but dominated NHRA Top Fuel, beating up on the best the class to offer in Schumacher, Antron Brown, Spencer Massey, Doug Kalitta, and even his own teammate, Dixon. He found his way to the winner's circle before joining the Al-Anabi Racing superpower, though, and it started in his first full season on the tour when he became the youngest driver to ever win a Funny Car race in 1991 at just 21-years old. The victory helped him earn NHRA Rookie of the Year honors, and cemented his status as a legit drag racing star-in-the-making. As part of a 1999 promotional campaign straight out of John Force's dreams, eight-million miniatures of Worsham's CSK Funny Car were distributed in McDonald's Happy Meals.
Starting in 2001, Worsham began demonstrating his prowess behind the wheel by stacking up victories; four wins in both '02 and '03, and five in '04. In 2005, in what could easily be considered a career-defining moment, Worsham swept the Mac Tools U.S. Nationals, besting Frank Pedregon in the final round, a day after winning the Skoal Showdown. The performance netted him a cool $225,000 and a place in drag racing history as just the sixth double-up winner at the "Big Go."
Longtime drag racing announcer and historian Bob Frey readily admits it was a genuine motorsports moment that fateful Monday in Brownsburg, Indiana. "There had to be a consensus of opinion on the best showing by a Funny Car driver for one event and it went to Del Worsham for his Indy sweep," he says. "Del still hasn't lost the smile from his face after that one, but then, Del's almost always smiling, isn't he?"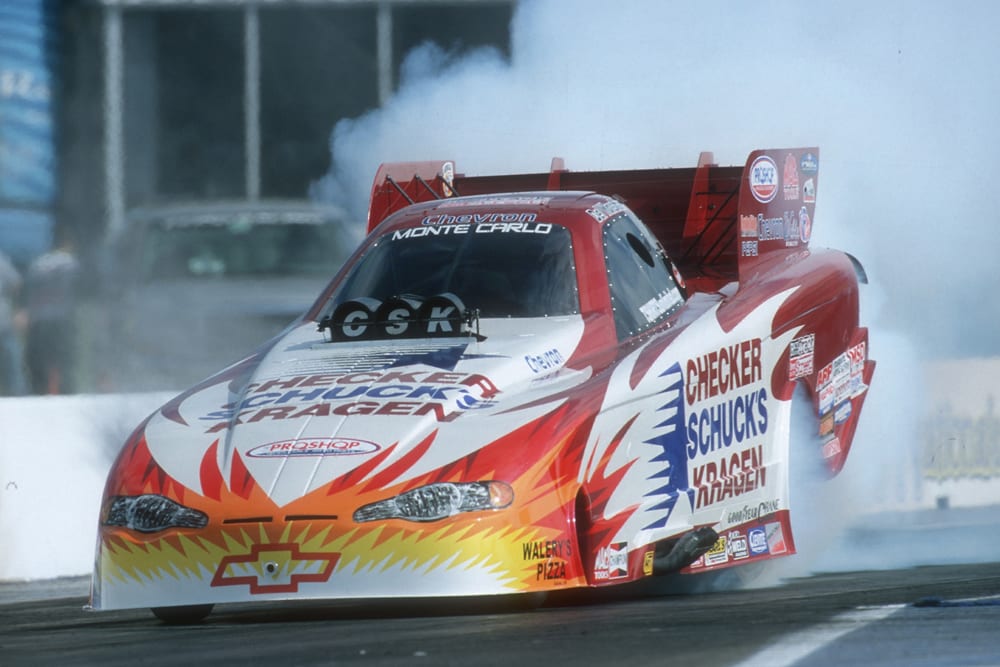 It's true. But the years following the monumental triumph in Indianapolis provided some trying times for the ever-upbeat Worsham and his family-operated race team. "It's just how the sport works," he says, recalling the days that tested his ability to see the upside, and most assuredly his desire to smile. "These races are won and lost by inches, by thousandths-of-a-second, and sometimes you're going to be on the wrong end of it. We won a lot of close races, but sometimes they go the other way."
Worsham scored his final win with his family-run team in Houston, Texas, in the spring of 2008, and they needed it. They hadn't lost faith necessarily, but they were struggling to retain it after rebuilding their team from the ground-up with new personnel, fighting severe parts attrition and, at times, struggling just to qualify.
"As bad as things seemed at the time, I knew the day would come again," Worsham says. "We were just coming up a little short."
All the while, a merger of CSK Auto and O'Reilly Auto Parts was being orchestrated, and Worsham's 12-year run as the owner and driver of the Checker, Schuck's, Kragen Nitro Funny Car was about to end. He wasn't near ready to hang up his helmet and driving gloves, though.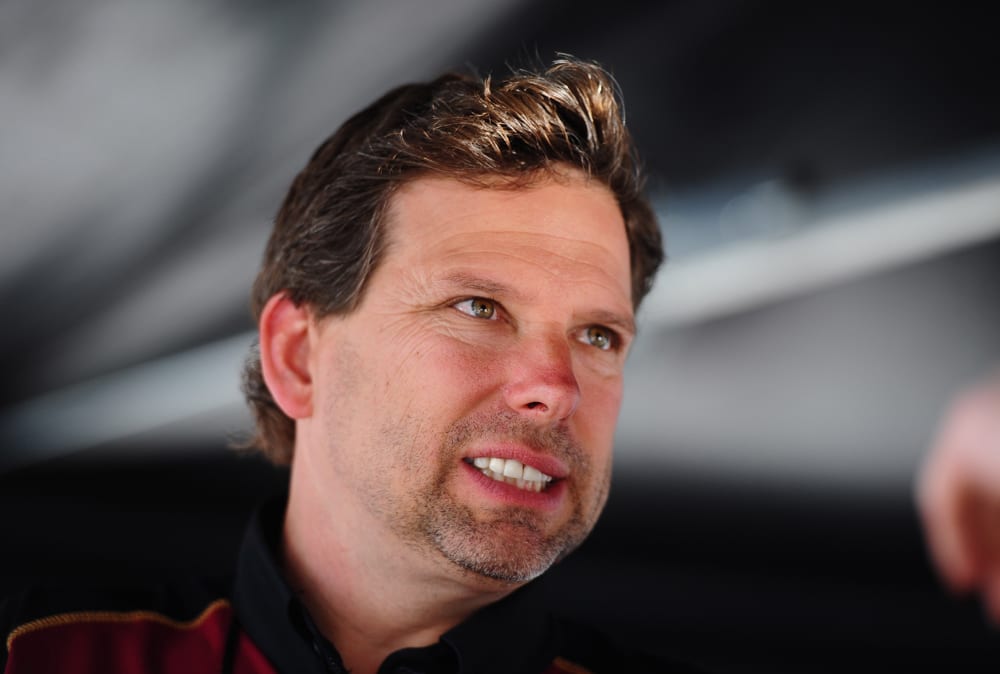 "Throughout my career, I've always said that life is about timing," he says. "We lost our sponsorship, and I was really worried about it; knowing that I might not be able to do this anymore. When I signed on to drive for Alan [Johnson] and Sheikh Khalid, I had been running our family team for so many years, and had been a big part of the operation of the team, that I was looking forward to seeing what I could accomplish as a driver—without worrying about everything else."
It's hard not to like Del Worsham—which, for the duration of his career, has served him well. Friendly and approachable, he's a fan favorite, friend to his fellow racers, and a sponsor's dream. Without question, the way he arrived at his current post—the hard way—is something people from all walks of life can appreciate. He earned it, and he appreciates it.
"It makes all those years there in the '90s, when people had sponsors, and I was sleeping on the floor of J. Ed Horton's shop over there trying to build chassis worth it," he says. "It shows that hard work is rewarded, it does pay off, and while I do feel lucky just to be here, I've paid a lot of dues. I just want to make the most of it at this point."
Those long days in the shop and at the track, the nights spent sleeping on the floor, more than anything else, have kept Worsham grounded. Though some of those experiences were long, uncomfortable, and definitely unpaid, they paved the road to the most coveted driver's seat in drag racing, and molded the person he is today.
But Worsham didn't earn his stripes as a driver in Super Stock, Super Comp, Jr. Dragsters (non-existent at the time), or even fast street cars. He was a permanent fixture at his father's side, literally growing up at the drag strip, working on the Funny Car his father owned as soon as he was old enough to hold tools, and, one day, simply asked for the job.
"Back in 1990, when this whole thing went down, things just weren't really flowing for my dad and his partners on the 'Tinker Toy' Funny Car, Ron Todoran and Art Hendy," he explains. "It wasn't going the way any of them wanted it to go, so Art went out on his own, and my dad and Ron, well, that left a vacant seat with their Funny Car. Ever since I was five-years old, all I wanted to do was drive one of these things, and I'd said that. Basically, they made the decision to give me a chance. Their crew guy at the time, Dennis Thompson, he really pushed it the hardest, probably, of anybody."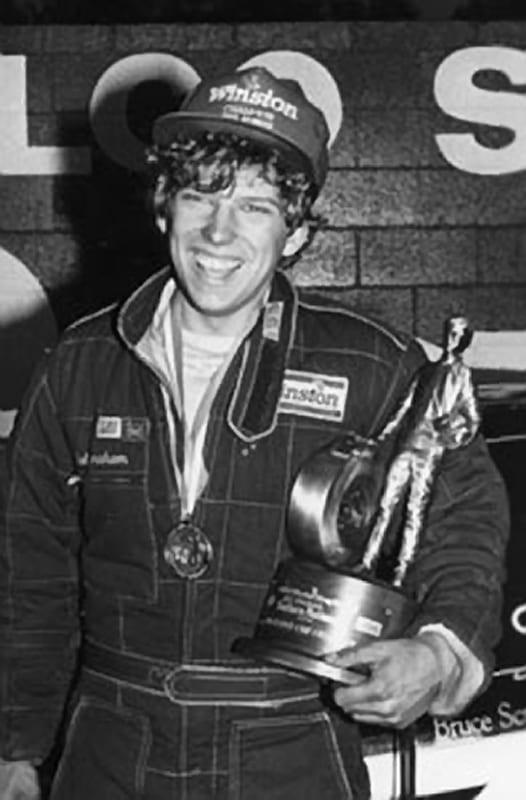 If he really wanted to do it, Worsham was told to meet them in Dallas, Texas, the coming weekend, and to bring a fire suit. "Hey, I was young, I worked on the car, and I had no responsibilities whatsoever, so they didn't have to pay me," he says. "They just said, 'Let's just sit you in the seat, fire this thing up, and see where it goes.' And that sounded good to me."
Truth is, Worsham had never before been 100 miles an hour in his life. Yet, here he was, preparing to make his first-ever trip down the quarter-mile in an ill-mannered Nitro Funny Car. "The first three or four runs, we tried to detune it, thinking it'd be easier to drive, or whatever," he says. "It wasn't that way. It'd do wheelies, I mean, it wasn't drivable. I finally told my dad, after about the fourth run, 'Look, I know I'm no expert here, but we're talking nothing, I'm turning the wheel, it's not doing anything. I think we should put it back where it was at Indy and just see what happens.'"
That's exactly what they did, too, and however unbelievable it might be, right down the track he went, shutting the car off just past the eighth-mile and coasting through to a 5.70. "Wow," he thought. "That's what it's supposed to be like."
The NHRA licensing process required two weekends at that point in time, though, and if Worsham wanted to leave the Lonestar State with one he would have to get two already licensed drivers on the property to sign off on it.
"My dad and Ron went home, but Dennis and I stayed on the road, serviced the car, and I tried to figure out who I could get to come down there and watch me. I had heard Kenny Bernstein and Don Prudhomme wanted to come test in Dallas, and I knew them a little bit, just from running around the race track, living in Orange County, where we're all from; so I called them up. I just said, 'Hey, ya' know, I'm going try and drive this thing, and I need two drivers here, so if you guys want to come test, feel free, and I'd really appreciate it if you would watch me drive this Funny Car to try and get licensed.'"
In 1990, between Bernstein and Prudhomme, you're essentially talking about the two most significant drivers in drag racing. The two took him up on his invitation, towed out to Dallas, and after watching Worsham handle himself like a pro behind the wheel, happily signed their names to that most important slip of paper. "They didn't know how many runs I'd made, which was like five," he recalls. "The car went out there and ran great; it was unbelievable. They thought I'd been doing this forever. I ended up going like 5.45, 5.50 and 5.49, around 270 (mph), and they were like, 'Well, looks good to us.'"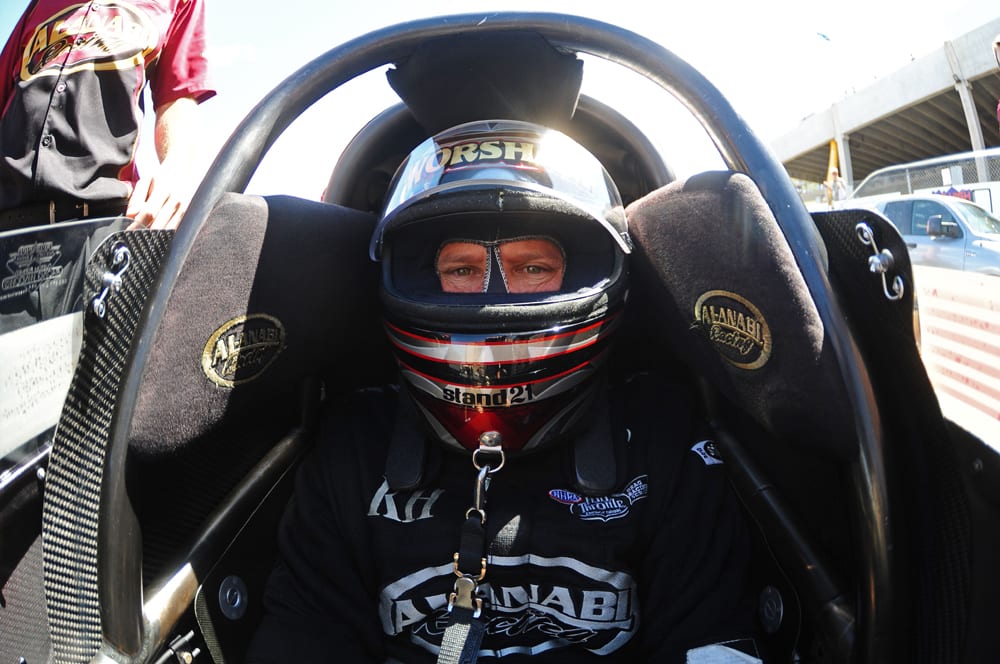 It wasn't entirely picture-perfect, but, luckily, neither Prudhomme nor Bernstein was around to see it. Having made a couple of solid passes, it was hard for the still-wet-behind-the-ears driver not to be a little overconfident. "I got out there about half-track, and the thing moved out of the groove, this thing actually kicked up and swapped lanes on me, and I crossed the centerline," says Worsham. "I actually scared myself pretty bad. I had to sit down and talk to my dad. If there was a car in the other lane, I probably would've crashed.
"I ended up talking to Don [Prudhomme] about it, he'd actually come over after about every run to speak with me about what happened, what I thought, etc. It was really helpful. He told me that I should try going out there and just shutting it off early, who cares if it kills your ET, just get it shut down, get the 'chutes out on time, and you'll be fine. And that's what I did."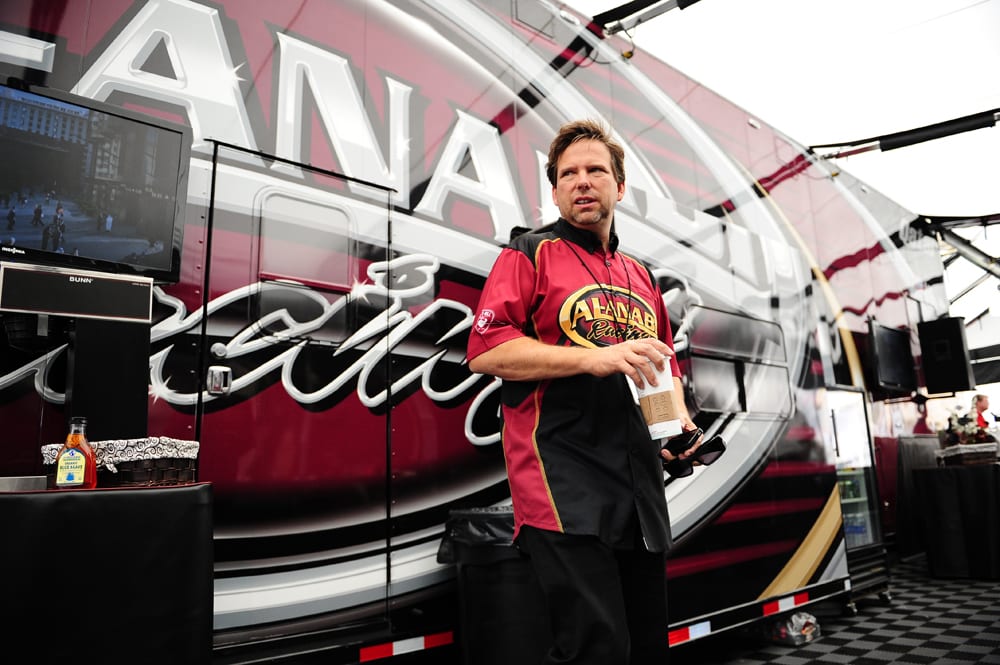 Even without a car to prepare, parts to order, or people to oversee, when the doors swing open at the family race shop in Orange, California, where Worsham spent nearly every waking moment of the past 20 years thrashing on a Nitro Funny Car, he shows up for work. His dad, along with lifelong friend and noted chassis builder, Grant Downing, remain busy, building Funny Cars and doing repairs. The somewhat harsh reality that they're no longer out racing together, as a family, has weighed heavily on the entire Worsham clan, but they're still excited about the future.
Worsham, who has made enough high-speed passes down the drag strip that the thrill of simply going fast has assuredly faded, ponders for a moment what makes him want to keep doing this, especially in such a different capacity. "I love to win, man. When you cross the finish line in a final round and you see that win light come on, or even in the old days and you didn't know. You're making the turn and you're trying to look around and see which way the cameras are facing, and to get out, and to be the winner, it's exhilarating. That's what it's about. You really feel alive, like you've truly accomplished something."
The next day, while following Johnson up the steps onto a plane back to Indy for the U.S. Nationals, Worsham can still hardly believe the situation he finds himself in. Once again, he has to remind himself that this is really happening. Thinking about his commanding 136-point lead going into the final race of the 2011 Full Throttle NHRA Drag Racing Series regular season, he asks himself again, "Are you kidding me?"
Photographs by Mark J. Rebilas
This story originally appeared in Drag Illustrated Issue No. 58 in October of 2011.