A famous saying states, "Behind every great man there stands a great woman," but in drag racing that easily could be altered to: "Behind every great driver there stands a great crew chief." In other words, for every Don Garlits there stood a T.C. Lemons; for every Kenny Bernstein there stood a Dale Armstrong, and for every John Force there stood an Austin Coil.
And just like the partnership of man and wife, husband and woman, what makes the union successful is the two participants complement each other to bring out the very best in both. The whole is greater than the sum of its parts, as Aristotle wisely pointed out.
But what makes a great crew chief great? And what does he (or she) bring to the table that gives his driver and teammates the boost they need to excel? There are the obvious attributes, of course—intelligence, communication skills, technical abilities, experience—but what about the intangibles or subtle qualities that can elevate a crew chief from merely competent to good or even great? To find out what those traits may be, we asked several prominent racers from many walks of the sport to weigh in with their opinions.
MATT HAGAN
Two-time and defending NHRA Funny Car world champion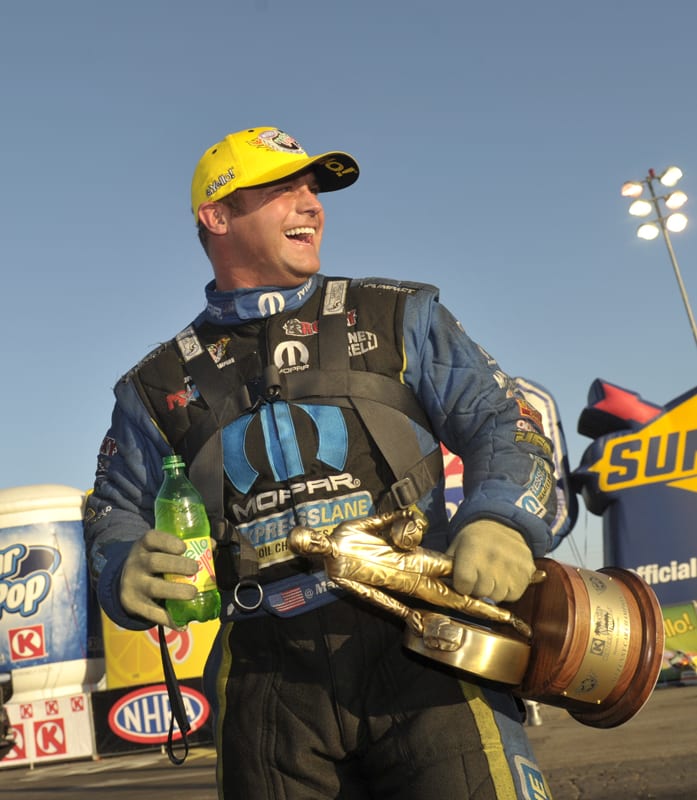 I think from a driver's perspective—and I'll be glad to talk about my crew chief, Dickie Venables, because he's very good at it—what makes him so good is basically that he's a racer on Sunday. He knows how to run hard, but he also knows how to back it down and get down the race track. There's too many times that a crew chief will let the ego side of things overwhelm them and they want to run as hard as they can and put the best number up on the board. And obviously, when you're a paid crew chief you've got to do that to secure your job, but what I like about my crew chief, he'll come to me and he'll say, 'Alright kid, look, we got a lane that I could probably run an .05 in but I'm going to back it down and run an .08; if you can give me one or two on the tree, we'll go win this race.' That kind of thing.
So a lot of times the communication between the crew chiefs and the driver is about just knowing how to be a racer on Sunday and not just going for it every round and every lap because more times than not when you do that you blow the tires off. You give me a chance to go down the race track and make up a little bit on the reaction time and we're going to win more drag races than not. To me, that goes a long way, just being able to have confidence in my crew chief and knowing that he has confidence in me. And also, it shows me how methodical my crew chief is that he's not just out there running numbers. He's actually playing the game. He's being a racer on Sunday.
CHARLES CARPENTER
Nitrous Pro Mod pioneer and for-hire crew chief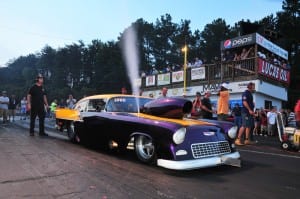 I've always run my own program and I've always been driver, crew chief, custodian, anything that I have to be in my operation. In my small racing operation it's always been I couldn't afford to have anything go wrong, or for somebody else to do something wrong, and I think it's helped me when I've been crew chief for other guys because I try to run their program like it's mine. It's hard enough just making the right judgment calls as far as trying to get the car down the track, trying to make the car fast, so you just can't afford that mistake of doing something wrong. Somebody not tightening something properly or there's just so many little things. We've all lost races, in any way possible, but there's enough ways to lose without introducing some human error issue.
For the most part, if we have good parts and I have free rein of what I need to do, I can be pretty consistent and get us a good hot rod out there. But I can also definitely say that standing outside the car and making those calls is harder than it is to drive it and make your own calls. It's a lot more stressful doing that than it is doing it all for yourself.
DEAN GOFORTH
Current IHRA Pro Stock driver and team owner for son Cary Goforth, simultaneous reigning IHRA and PDRA Pro Stock world champion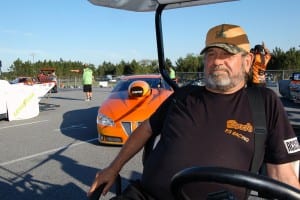 Of course, knowledge is going to be one of the things you need, but it's got to be somebody that can get along with the crew and somebody you can work with every day. We need to be able to be happy together and enjoy ourselves together while being successful also.
I'll tell you, there's some team owners out there I've watched in the last 10 years that just run through crew chief after crew chief and after a while you figure out it's not the crew chief; it's the guy he's working for. I just try not to bother the crew chief. I very seldom make a suggestion. The one we have now (Jeff Dobbins) is the most personable crew chief we've ever had. He's very good about coming and asking me about most everything he does. He listens to my opinion—which is not very good most of the time—but he will listen. Then he'll tell me, 'Well, this is why I think that maybe we shouldn't do that,' or he'll say, 'Hey, maybe that's a good idea, let's try it. Who knows? It might work.' He's just got a lot of character and he's well-rounded in life itself. He's not a spoiled brat; he's a good guy.
PHIL SHULER
Co-crew chief with Todd Okuhara for NHRA Top Fuel driver Shawn Langdon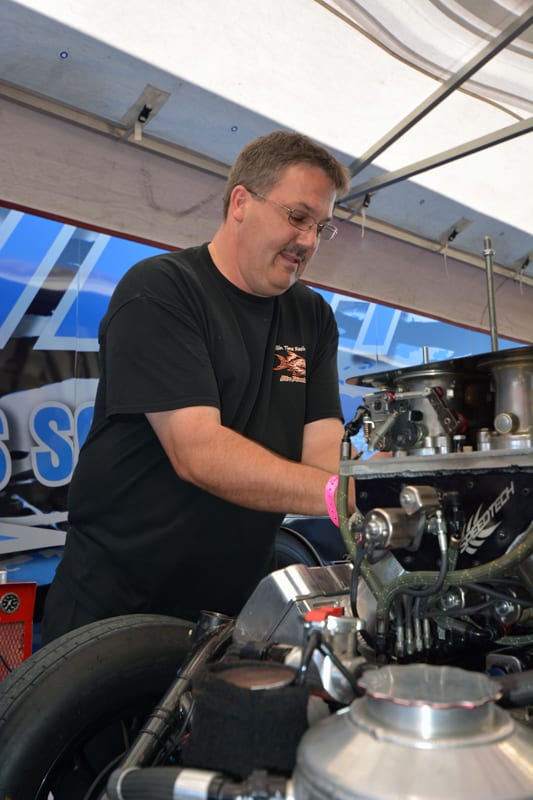 Crew chief is a fairly broad term these days. I don't know that it really signifies what people are because a crew chief is more of a leader and I think more of what I do or I'm interested in doing is tuning and managing a race car. People management is not a good skill I have, so I try to avoid that and let Todd handle it; I'm more interested in the racing aspect. I think that's why there's more people involved now. There's usually two or three people involved in the running of the race team because it's a lot that you have to think about—a lot.
Also you have to have a good owner. And the reason I'll say that is because nobody's going to get it right all the time, so you have to have a team owner that is willing to work with you through the valleys to get to the mountains. Because I don't know anybody in this business that doesn't struggle sometimes. Everybody veers off course every now and again and you've got to be able to work through the down times to enjoy the good times.
GREG ANDERSON
Four-time NHRA Pro Stock world champion and former crew chief for Warren Johnson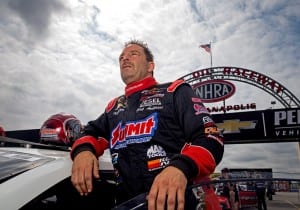 I think your crew chief position is something that you don't just all of a sudden sign up for and say I'm going to be the crew chief. You have to learn as you go. You have to gain some knowledge and gaining knowledge means being a crew member, whatever you want to call it, and learn the ropes basically. Learn how to watch your race car. Learn how to make that race car tell you what's going on without even coming back and looking at the on-board computer. A good crew chief, I think, needs to be a guy that can stand out at the starting line, watch that race car and pretty much walk away pretty much knowing what it did and what he needs to do for the next run. Obviously, we all go back and we look at the computer to confirm what we saw and sometimes it tells us different things, but I think until you get to that point where you can watch that race car without a computer and know what's happening, you're not qualified to be a crew chief. So, that's the main ingredient I think you need.
Obviously, this day and time when you've got half a dozen or so crew members working on [the cars] around you, you also have to be able to be a team leader. You have to be able to designate certain things to certain people that have specialty roles. You have a back-half guy; you have a middle-half guy; you have an engine tuner guy; you have a track reader guy; you've got to kind of be able to include everybody. You've got to be able to give direction. But you've got to be able to know how to put people in the right place. Picking the right person for the right job, that's a big part of a crew chief's job. And the days have passed where the crew chiefs can do everything. Those days have passed, just like everything else about racing. One guy is not going to be able to watch the car, tune the car, change the tires, change the clutch, do all those jobs. So he has to be a boss and he has to be able to designate to certain people what they need to be doing and trust them to do their jobs.
Now, you better know a good bit about it so you know who can do that particular job and make sure they're qualified to do it right. If you don't know anything about the job yourself, how do you know how to pick a guy? So you've got to kind of learn it first before you hand off those duties. But it's just gotten so big now you just can't do it all yourself; you have to be able to hand off those duties.
ROY HILL
Past Pro Mod and Pro Stock team owner and driver, current NHRA Super Stock team owner and driver, owner and chief instructor for Roy Hill Drag Racing School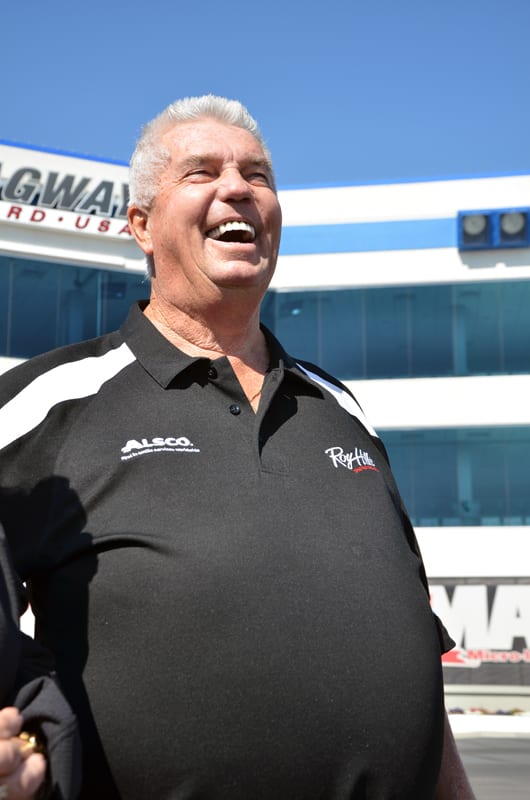 First of all, you need a crew chief that wants to live it, eat it, drink it and be there all the time—and be scared they're going to miss something by not being there. Really, the real thing that makes a good crew chief is records, keeping good records and doing a lot of testing. I've learned a whole lot the past six, nine months by Greg Steadman stepping on with me. He was with Richard Petty for 20 years and crew chiefed the 43 car for about seven, eight years and the way he goes about things, I wish I would have had him 25 years ago.
A good crew chief today in Pro Stock or Top Fuel or Pro Mod, they've got to keep good records and data from track to track. I would say the biggest thing we're going to have going for us this year is we've been to some of the tracks, but we've done some testing, too, and Greg has really brought a lot of what they do in NASCAR to my program. But the big thing is, he's the kind of person you've got to have that's very dedicated, that wants to win and do whatever it takes. Being a crew chief is not a nine-to-five job.
GREG STEADMAN
Crew chief for Roy Hill
Whether it's stock cars or drag cars it's all relatively the same; you're accelerating the car, you've got traction, you've got numbers for drag and down force and shocks and springs and things of that nature, so a lot of the components are the same. And whether you've got a small team of guys that bring that data to you or on the bigger NASCAR side you've got wind-tunnel guys and shock specialists and tire specialists and all those other people, you've got to put all that data into one pile and bring it down to a combination that works. It's all about how you apply it to the race track and the crew chief is a big part of that.
Sometimes certain tracks and drivers want a little different combination, so that's where the real fine tuning comes in about the driver's habits or personality or what they like to feel in a car versus it not being a machine that can go down the track by itself. There are a lot of pieces that come into play and really, what makes a good crew chief is when they can put all those pieces together and make something happen out of it. We do have a lot of data on the drag racing side, though, that you don't use every day on the NASCAR side, or only during testing. So there's a lot more we can learn at the drag races each time we go down the race track and each event. So the driver gets a lot more feedback from what the car is doing and what it's not.
Sometimes the car has got something it likes and part of the crew chief's job is getting the driver to understand what the car 'wants' to feel like. Does it want to be harsh? Does it want to be soft? Getting them comfortable with the car, with that feel—the fast feel—can be a challenge sometimes because comfortable is not always fast. There's a gray area there where you've got to operate; the driver has got to be comfortable with it and learn what that seat feels like when the car is fast.
That comfort comes off of taking notes and coming back to the shop after a weekend and debriefing and seeing what we did right, what we did wrong. Going the next week, applying some of that, and then as you start to do those things and build your team together everybody starts to trust what's happening because they see the results of that process.
LARRY DIXON
Three-time NHRA Top Fuel world champion
For me, I guess what makes a good crew chief is probably having a very open mind. It seems like all the great ones that I've worked for and championship ones, whether it's Alan Johnson or Dick Lahaie or now Mike Guger, it's all about having an open mind. A rule change could come in or manufacturers could change the parts or pieces that you get, and it just seems like you've really got to have an open mind all the time because nothing is set in stone. It just seems like the good ones that I've worked with in the past, they really seem to take what they have in front of them and try to make the best of what they have to work with, whether that's people or equipment or budgets.
JOHN MONTECALVO
Past IHRA and ADRL Pro Stock world champion, current IHRA team owner and driver
I think a good crew chief is someone that's open to suggestions. We like to more or less discuss each run among ourselves. My team is pretty well experienced, from myself driving, to William who's in charge of all the data acquisition and has seen thousands of runs, to my wife, Lois Ann, who is in charge of the back of the car, really. She reads the wheelie bars and the amount of rubber that's coming off the tires and all that type of stuff. And with her being a pilot she's very observant as far as what goes on with the car. So, relating back to the crew chief, I think someone that's open-minded, that listens to what everybody's seeing, is what you need. What we do in our case is we discuss the runs—but the crew chief always has the last say. We always give him full charge.
You need somebody that's really detail-oriented also. You have to dot your I's and cross your T's in this business. You don't get a second chance; there's not another lap in drag racing. Circle track racing, maybe you can make it up in the next lap or two. This business that we're in, either you do it perfect in six seconds or you're loading it back into the trailer.
And I like a crew chief that's driven a Pro Stock car before. I think it gives them a different perspective of what's going on with the driver. In our case, we've got the ideal situation because with Tommy Lee he's driven IHRA Pro Stock before, so if he needs to jump in my car himself and test it he's more than capable. And I have one-hundred-percent trust in him, obviously. Also, if it's something that I'm seeing or feeling that I need a second opinion on, well, then I've got another qualified driver with me to jump behind the wheel and say, 'Go ahead, hit the tree with this thing. Let's see what you feel.'
So, I think to be a good crew chief requires listening to the crew, being a detail-oriented person, you obviously have to be very highly organized, and it certainly takes quite a level of intelligence. It's not an easy job.