Raised at the race track, Jeff Pierce began to take duties on the car seriously around the time he turned 12 years old. He continued learning his way around his dad's nitrous Pro Street and Pro Modified cars for the next decade or so, which led to an early passion for tuning. Now at just 28 years old, he's a renowned tuner, highly sought-after across power applications and across countries.
After starting his Jeff Pierce Race Car Tuning business and working with his father, Dave, as well as Ron Muenks, Keith Haney, Jeff Cummings, Jon and Jim Salemi, Jeremy Ray, and Mike Stawicki, among others, Pierce became closely aligned with Pro Line, helping tune for their slew of turbo cars. This year he worked primarily on Sidnei Frigo's turbo Corvette and will be Frigo's full-time crew chief in 2017.
Pierce says working with Frigo is "definitely a neat experience. He's a great guy. I mean, he's one of the best customers I've ever had as far as just very easy-going. We had some struggles when we got the new car out. We fought it for two races until we finally found it, and he was really patient through the whole thing. He was just like us. He wasn't getting mad. And so finally, we got that fixed and we did better in St. Louis and better at Vegas, and so we were pretty happy and we're ready to go into next year full swing.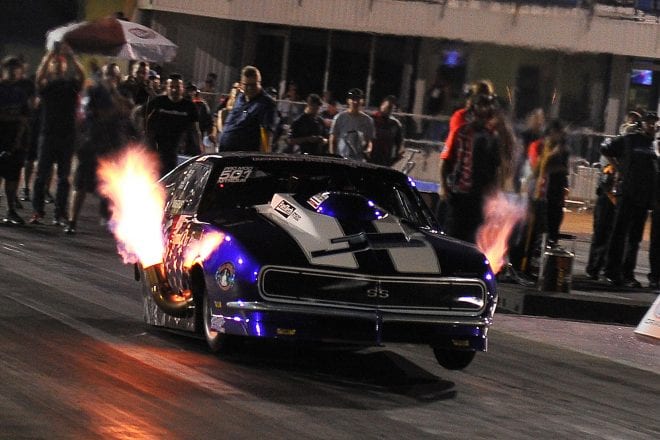 "I enjoy the tuning, the puzzle part of it," continued Pierce, who earned his Pro Mod license at 18, but never pursued a driving career. "The challenge of figuring out how to make it as fast as you can and the fact that you can never say you're done. You can never say 'Oh, this is the fastest it can go.' There's always going to be some other little loophole that you can figure out a way to make it a little bit faster. And so I enjoy that part of it. The driving is fun, but I've always liked tuning more. So that's what I've always chosen."
It's a good choice for the young professional. He tuned in Brazil and Canada this year, and, of course, across the U.S. Even if Pierce's customers have a weekend off, he can generally be found at the track with his dad's nitrous car, driven by Ron Muenks. "It's been a great year. Everybody I've worked with has been really, really fun teams. It's much more enjoyable when you've got good teams to work with and it's been a good year like that.
"Luckily when Dad stepped out of the seat, Ron came in and drove our nitrous car and he's done an excellent job and it's been a fun deal. We ran, I think six or seven PDRA races this year and the 'Throwdown' races in Tulsa. We won both of those, so that was pretty cool. I've gotten to do pretty much all the different kinds of cars and nitrous racing is still something I'm very passionate about. Luckily, Dad's still interested in it and we do that deal together. It's fun to do that with your dad and at the same time, it's – to me – one of the coolest kind of cars. I'm not saying that turbos and blowers aren't cool, but to me, nitrous racing is where it's at."
There's no doubt with the vast experience and success at his young age that Jeff Pierce will lead the way for the next generation of tuners, pushing the envelope of what's possible and continuing to be the brains behind winner's circle photos for years to come.
This story originally appeared in Drag Illustrated Issue No. 115, the 30 Under 30 Issue, in November of 2016.