What's old is new again, and for Brandon Seraphine, 21, nostalgia racing is where it's at. For the career elevator mechanic from Fullerton, California, Seraphine actually chose nostalgia racing because of his future plans and racing goals.
"I know I might get criticized for saying it, but I feel like it's harder to move up in sportsman racing, so I chose nostalgia racing because my end goal is to race NHRA Top Fuel Funny Car," he explained honestly of his long-term objective. Wise words from a relatively young man, and despite the unique way in which he selected his chosen class, Serpahine is fully committed to giving it all he's got.
Initially, Serpahine got involved with racing through his father, Jeff, who raced Funny Cars. When Seraphine was ten, he started racing Junior Dragsters. He found success early on, and racked up many notable achievements including the NHRA Division 7 championship in 2008, the Western Conference Final championship and Junior Dragster national championship in 2009, and, in 2013, the American Nostalgia Racing Association (ARNA) track championship, Barona Raceway track championship, and Firebird Raceway track championship. "I was also driver of the year for Division 7 in 2013 when I won three track championships, and finished in the semifinals at the Western Conference Final that year, too," added Seraphine, proud of yet humbled by his accolades.
"When it was time to make the transition into something bigger and faster, we used the motor and trans from my dad's old Funny Car and bought a roller," he shared of the change that went down in 2013. With his father's old, blown alcohol 511 big block Chevy engine and Powerglide transmission refreshed and updated, and with help from sponsor Bar's Leaks as well as Scott Mika at Leonard's Custom Fabrication, Seraphine's new altered came together. While getting his license with the new car when he was only 19, Seraphine put down a string of impressive 7.30-second passes in the quarter-mile.
In 2015, Seraphine's rookie year racing with the NHRA Hot Rod Heritage Racing series, he finished third in points overall for Nostalgia Eliminator 1 (NE1). Perhaps his most prestigious honor to date, though, was winning NE1 at the revered March Meet at Auto Club Famoso Raceway in Bakersfield, California in 2016. "There's so much history behind that race," said Seraphine, who was floored by the fact that he was able to add that win to his growing list. That season, he finished second in points for the NE1 in the NHRA's HRHR series. "I also won a $5,000 Thanksgiving bracket race in Super Pro in Las Vegas a few years back driving Curtis Garceau's car."
His performances have been noticed by many, and Seraphine's been fortunate enough to have picked up several major sponsors along the way as a result. Among them are Bar's Leaks and Rislone, who have been on board since he was ten years old. "George Striegel and Nic Woods of Clay Smith Cams helped me a lot in the Juniors. Tom Bogner at Lucas Oil, and Zac Bogner, have also been a big influence on me," he added.
To have done so well so early on in his career didn't happen by chance – Seraphine's got focus and determination in spades. He works hard every step of the way, and it shows. "I try to be perfect on the tree every run, I want to be dead-on," he noted of his relentless push to improve.
It isn't always an easy job to get ahead, though, as the NE1 class does not allow electronics to be used and everything on the car is manually controlled. "We play with the blower, with the jet, with the timing. It gets a little tricky when the air changes quickly, and we're usually making last-minute changes in the lanes and hoping for the best at the big end" he laughed of the never-ending rush to get it right, and it was his father who instilled that attitude in him. "He taught me that hard work gets you where you're going. I never thought I'd make it as far as I have, and it's a dream come true."
UPDATE: Seraphine recently earned his NHRA Nostalgia Funny Car license on March 26th. Driving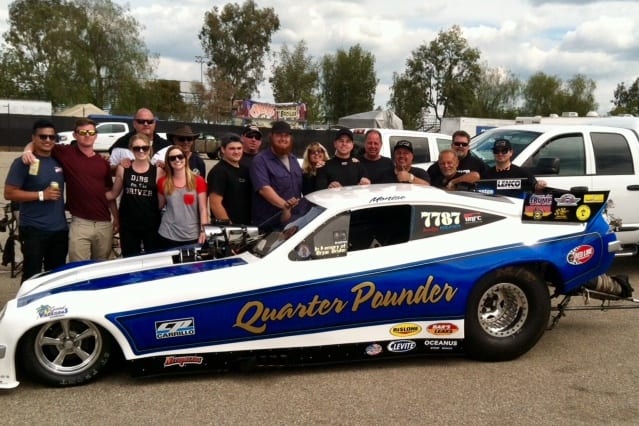 Keith Clark's Quarter Pounder fuel flopper at the legendary Auto Club Famoso Raceway in Bakersfield, Calif., Seraphine ran a planned half-track 6.63 at 156 mph, a 6.00 at 234 mph lifting early, and a 6.02 at 238 mph to upgrade his license. The Seraphines are currently in the process of putting together their own Nostalgia Funny Car program so Brandon can put the license to use.
This story originally appeared in Drag Illustrated Issue No. 115, the Tomorrow Issue, in December of 2016.