A weekend that started with so much potential ended in abrupt, unfortunate fashion for Derek Menholt.
The Billings, Mont., crashed hard into both walls after a red-light loss in the opening round of the DRAG ILLUSTRATED World Series of Pro Mod on Saturday at Bandimere Speedway.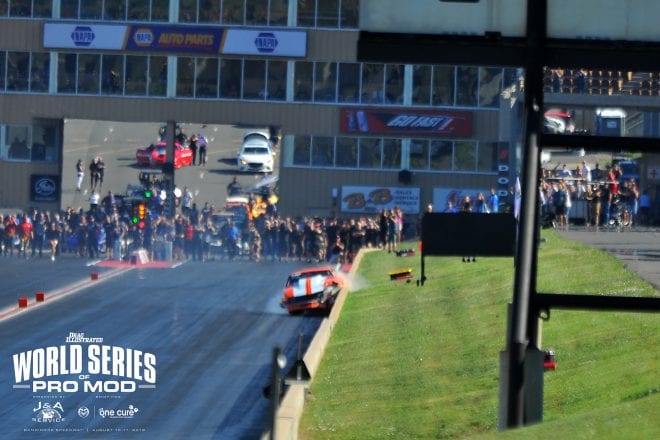 Facing off with 2017 WSOPM champion Mike Bowman in the first round for the second straight year of the $100,000-to-win race, Menholt went red by .004, handing the victory to Bowman. But that was just the start of his trouble, as Menholt got loose in his turbocharged '68 Camaro, crashing into the left wall before going across the track and slamming hard into the right wall.
Menholt exited the car without serious injuries, noting just general soreness after two significant hits against the walls.
"It broke a ring and pinion, so it just locked the rear end and turned left on me," Menholt said. "I didn't realize I red-lit, otherwise I wouldn't have been trying to still run that thing. The second one is the one that hit the hardest. The first one was kind up on two wheels and more of a ricochet. It hit harder when it went into the right wall."
Menholt said he "bent the steering wheel like crazy," but other than soreness he was okay. Still, it was a frustrating way to end a weekend after putting together the quickest run of Friday's Summit Racing Shakedown Runs.
It showed Menholt was for real, as he also hired famed tuner Steve Petty for the event. The Camaro had a new Pro Line Hemi, torque converter and transmission in it as well, giving Menholt high hopes during eliminations.
It certainly didn't go as hoped, but Menholt seemed to take it in stride.
"From everything we know, we were the fastest car (Friday)," Menholt said. "We ran a 5.86 at 251 (mph on Friday), so I think we would have been tough to beat. But that's part of it. Parts break and cars crash. Luckily, we do have an insurance policy on it so we'll be back."
The crash didn't take away from his experiences at the World Series of Pro Mod the last two years and he'll now be focused to either get the car fixed or get a new one in time for the 2019 WSOPM.
This was the race he has had circled on his calendar and even after the disappointment of Saturday, that mindset isn't changing for next season.
"I'll be back next year," Menholt said. "Of all the events we go to, this is the only event where we're the show. It's nice to be treated as a top draw. Our goal now will be to be out here a year from now."