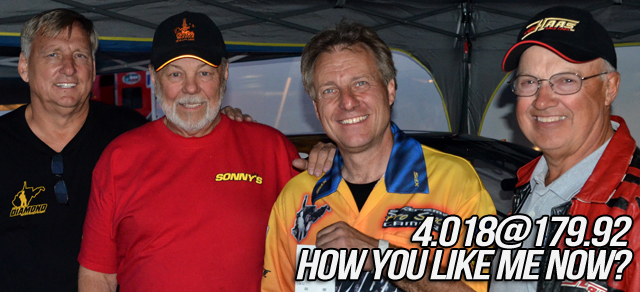 While you were stumbling around trying to regain your composure amidst the tremors created by Ron Capps and Spencer Massey's performances in New Jersey, John DeFlorian was busy initiating another horsepower-induced earthquake a thousand miles away in St. Louis, Missouri – minus the superchargers and nitro methane. Did you catch that? Manually shifted, naturally aspirated, gasoline-burning, and an eighth-mile time of 4.01-seconds at nearly a buck-eighty? True story.
In a dominating qualifying performance that only the merciless 9th century warlord Khan Krum the Horrible could appreciate, DeFlorian dropped the clutch on his essentially brand-new 2012 Pro Stock Chevy Camaro and started grabbin' gears under the lights at Gateway Motorsports Park, blitzkrieging the eighth-mile traps in 4.019-seconds at 179.92mph (.971 60-foot, 2.646 330-foot). Even at almost 180, DeFlorian managed to sneak a peak at the scoreboards down at the quarter-mile while shutting the car down, likely single-handedly making as much noise in the cockpit as the crowd did when ADRL officials instructed him to bring the car up the trackside return road.
Unfortunately, what could have been an even more memorable moment was cut short by tire shake in the opening round of eliminations. DeFlorian was still smiling when he rolled out of GMP and will certainly be looking to parlay another number-one qualifying effort into a victory in Virginia. Check time slip and more after the break.
Photo by Ian Tocher