Energized by a new technical partnership with Toyota, Steve Torrence and his Capco Contractors race team begin an historic and rare "Drive for Five" tour this week with the start of the 62nd annual Lucas Oil Winternationals at Auto Club Raceway at Pomona.
A winner of half the races he has started over the last two seasons (15 of 30) and the tour's dominant driver since 2016 with 46 victories (28 more than anyone else, regardless of category), the 38-year-old Texan is poised this year to become just the fourth pro driver in NHRA history to win as many as five straight titles.  He believes the new alliance with Toyota provides a little added impetus.
"I feel like this new partnership will only improve what Torrence Racing can do on the track," said the 51-time tour winner.  "I've seen first-hand that the drivers associated with Toyota (including good friends Antron Brown and Alexis DeJoria) aren't just part of a roster, but part of a family, and that's what appealed to me."
Torrence admitted that he will need all the help he can get in a campaign in which eight-time former champ Tony Schumacher will return to full-time competition for the first time since 2018 and in which young, hungry independents are hoping to make a name for themselves at the expense of the reigning champion and his "Capco Boys."
"There's definitely guys coming after us," Torrence said, "but that's what makes it fun.  It's all about the competition.  The longer you're on top, the harder it is to stay there and that's our challenge this year – to stay on top.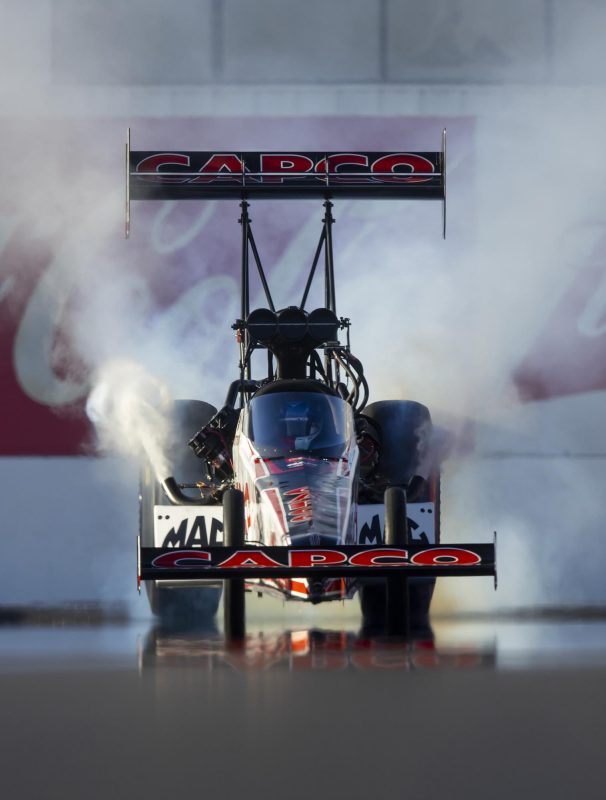 "But it's not just me and Tony," he emphasized.  "Now that he has his own team, Antron will make a strong run and since A.J. (Alan Johnson) landed over at Kalitta's, you know Doug'll be back in the hunt.  Brittany (Force) will be strong again and so will Leah (Pruett), Clay (Millican) and Shawn Langdon.
"Mike Salinas?  He was bad ass last year, especially on the lights," Torrence said of the man who finished third in points in just his fourth full season.  "So, that's a half dozen really good drivers and teams before you even start talking about the Josh Harts and Justin Ashleys and Austin Procks of the world.  It's gonna be a battle from the first week to the last."
Torrence, of course, believes his team is equal to the challenge and recent history would support that view.
With Richard Hogan and Bobby Lagana Jr. making the tuning decisions on his 11,000-horsepower dragster, the former Top Alcohol Dragster World Champ (2005) has won 81.6 percent of his Top Fuel matches over the last five years (263-59).
Moreover, in 2021, he had one of the 20 best seasons in the sport's long history when he posted a 60-9 record, the best mark in any pro class since 2008.
"These Capco Boys are unbelievable," Torrence said.  "The best in the business, bar none.  No matter how many races I wind up winning, it won't be because of anything I've done.  The Capco Boys do all the work and I'm just the guy who's lucky enough to drive the best race car out there.  We've won 51 times, but all that means to me is that 51 times I didn't screw it up.  I'm going to go out and try and make it 52 this weekend and we'll go on from there."