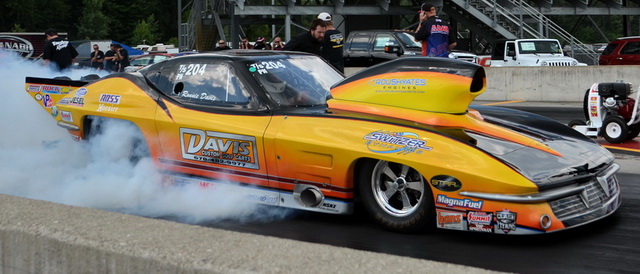 Don't count Top Sportsman veteran Ronnie Davis out yet. The five-time IHRA Top Sportsman world champion and two-time NHRA Division 2 champ may have struggled somewhat through the first half of the ADRL schedule and hasn't made an NHRA Division 2 appearance since March, but "The King," as many know him, has regained his trademark confidence and swagger.
"I won't ever quit something I started," he declares. "That just won't happen."
The Suwanee, Georgia-based golf cart dealer is hoping to build on some recent success, too, and turn his ADRL season around this weekend (Aug. 3-4), in Dragstock IX at zMAX Dragway, near Charlotte.
Davis qualified his nitrous-boosted, 822-cubic-inch, Roush Yates-powered '63 Corvette in the number-one position for the inaugural Mean 16 Outlaw Top Sportsman Shootout last month at Douglas Motorsports Park in south-central Georgia. He went on to reach the final round before the race was cut short by late-night dew settling on the racing surface.
"It was disappointing to not finish the race, especially after I ran dead on my dial three times in a row (in the preliminary rounds), but track conditions were getting unsafe with all the dew," says Davis, who was all set to face second-place qualifier Chuck Mohn in the final. "So after consulting with the promoter, Nathan Vanbeek—who did a great job with the race, by the way—we all decided to play it safe and just split the purse."
Davis also used the Douglas outing as a test session for Dragstock. In six of 10 scheduled ADRL eighth-mile events completed so far, he's qualified four times in the top five, but has not yet advanced beyond the quarter-finals.
"I've had some challenges at the ADRL races that I'm just not used to having and it caused me to lose my edge," he admits. "I have just one helper, so we both have our hands full, but that's the way I've raced for the last 25 years. And I call all the shots, do all the tuning and chassis work, so if it does go wrong, it's my fault.
"The good thing is the car is back to working the way it's supposed to and we're going to turn this around now," Davis declares. "I'm really looking forward to racing at zMAX, too, and can't think of a better place to turn it up and turn this deal around."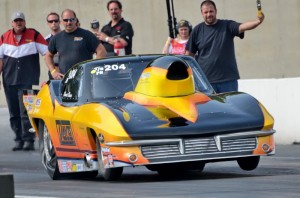 Meanwhile, Davis' thoughts also are turning back toward NHRA Div. 2 competition on the quarter mile, where he drives a second Tommy Mauney-built car, but powered by a smaller 738 c.i. Roush Yates motor.
Davis began this year's Top Sportsman campaign in February with the Div. 2 season opener at Orlando, Florida, competing in the class he helped bring to NHRA and that his Davis Golf Cart Sales has sponsored throughout its 12-year history. He was second in points one month later after three events, but stuck to his pre-season plan to go after the ADRL's inaugural Top Sportsman championship.
"I'm still in a good points position in NHRA Division 2 because even though I've only been to three races and I haven't raced there since March down in Valdosta (Georgia), I still have five more (races) I can claim for points, so I will go out of my division to get more races in," he explains. "So we will be back on that track soon. And with Mauney and Roush Yates on my side it makes me feel even better. We're ready to turn this thing around."