Fresh off of his recent win at PDRA Dragstock XIII earlier this month, Pro Extreme star Tommy D'Aprile has announced that he will face off against a jet dragster at the Professional Drag Racers Association (PDRA) Sunshine State Shootout presented by Mel Bush Motorsports, Sept. 29-Oct. 1. The rare doorslammer versus jet dragster match race is just one of the reasons why D'Aprile is looking forward to his home race at Bradenton Motorsports Park, the eighth of nine stops on the PDRA 2016 tour.
"For Mel and Johanne (Bush) this is a big race. This is the only time when PDRA comes to Florida, so we're going to be racing in front of local friends and family who usually don't get to see us race. We're certainly wanting to do well in the race itself, but we're just excited to have everyone out to enjoy the experience of seeing all of these fast cars in one place at one time.
Last year's PDRA Sunshine State Shootout was one of the most hyped races of the season before a series of severe rain storms forced the cancellation of the event. With a clear, sunny forecast projected for this weekend, D'Aprile will finally get to race Bush's Al Billes-tuned 2016 Corvette in PDRA competition at his home track.
"We didn't get to have our home race last year since the track was washed out. This is the first time we'll get to have a big PDRA race like this so close to home. I grew up at this track. My first time down a dragstrip was in the right lane at Bradenton when I was probably 12 years old," remembered D'Aprile, of nearby Port Charlotte.
In addition to competing in NAS Racing Pro Extreme, where he already has two event wins on the season, D'Aprile and his 4,000-horsepower Mel Bush Motorsports Corvette will line up against the Lucas Oil Terminal Velocity Jet Dragster. The match race is set to take place at the end of the third Pro Extreme qualifying session on Friday night.
"Motorsports is an entertainment business," D'Aprile pointed out. "We wanted to add a little 'Wow' factor to this race with it being Mel's home race. This is for the fans. Fans love the jet cars and they love Pro Extreme cars. They're going to remember this race, that's for sure."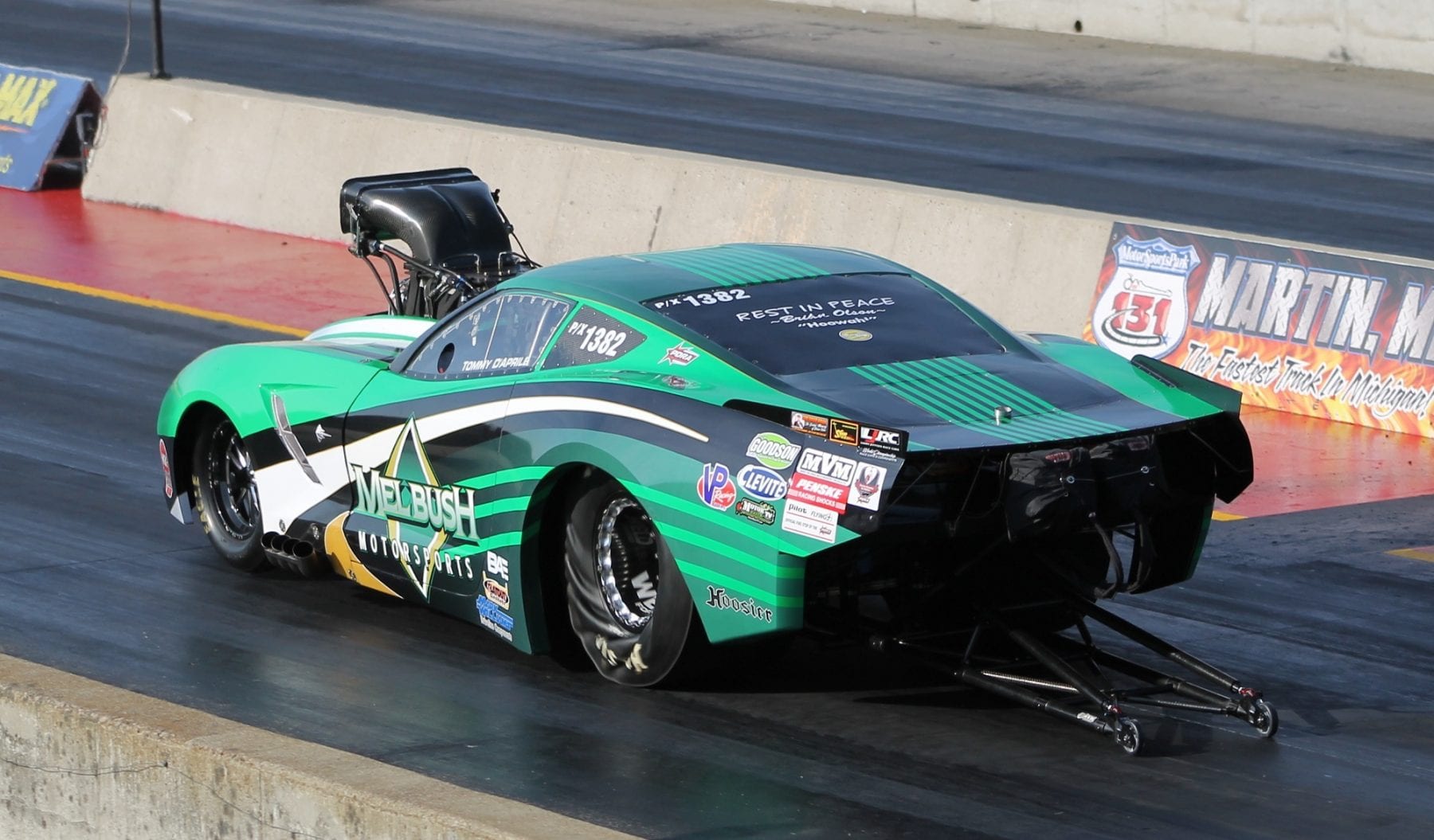 As the PDRA race chaplain, D'Aprile will also host the Saturday morning God Speed Ministry service to be held at 9 a.m.
"We have a really good message planned for Saturday morning, so I want to encourage everyone to come out for that. Anybody who's been to our services knows that it's not like church, it's more like a big pep rally," laughed the always-positive D'Aprile.
Also competing at the PDRA Sunshine State Shootout will be the PDRA's full line-up of professional categories; ultra-competitive Switzer Dynamics Pro Nitrous presented by MoTec, GALOT Motorsports Park Pro Boost, and Drag 965 Pro Extreme Motorcycle. The sportsman competitors of Ronnie Davis Top Sportsman presented by MagnaFuel, Lucas Oil Top Dragster, Talbert Pro Junior Dragster, and MegaCorp Top Junior Dragster will also be in action, along with the locally popular Outlaw 632 class.
A pre-race party will kick off the PDRA Sunshine State Shootout presented by Mel Bush Motorsports, from 6-9 p.m. on Wednesday at Gecko's Grill & Pub in Bradenton. On-track action will begin with Thursday's open test session from 10 a.m. until 8 p.m. Qualifying is scheduled to start at noon on Friday and will continue with a fourth session at 11 a.m. on Saturday morning. First round of eliminations will follow pre-race ceremonies at 3 p.m.
For the complete schedule, ticketing information and discount coupons, please visit www.pdra660.com.