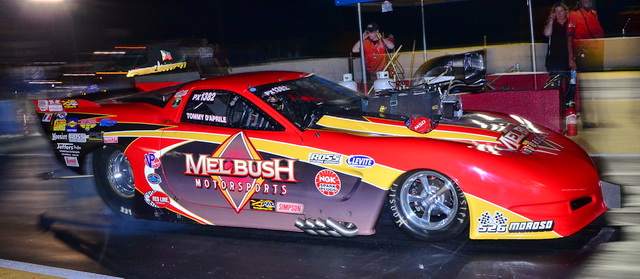 Tommy D'Aprile earned his first X-treme Drag Racing League (X-DRL) Pro Extreme win May 18, at No Problem Raceway in Belle Rose, LA.
Other X-DRL Bash On The Bayou winners included Robert Mathis (Switzer Dynamics Pro Nitrous), Dean Goforth (X-treme Pro Stock), T.J. Tindle (X-treme Pro Mod), Todd Moyer (Precision Turbo & Engine Pro Turbo), Keith Raftery (Top Dragster), Bert Prejean (Mickey Thompson Top Sportsman) and P.B. Candies (Supercar Showdown).
D'Aprile put together one impressive performance after another, finishing off his memorable day and the X-DRL's third-ever event with a 3.673 at 207.34 mph in the Pro Extreme final against Quain Stott.
"I'm so grateful to have won this race and I'm so blessed to be here," D'Aprile said. "To win for these guys, it's just awesome and just to race someone like Quain in the finals, it's great."
Eliminations began with an adventure for D'Aprile, as he had to pedal his throttle several times en route to a 4.391 and a narrow win against Shawn Jones. From there, the Mel Bush Motorsports driver never left the 3.60s, going 3.685 to advance to the finals.
Stott went 3.743 in the semifinals and used a massive holeshot to beat Frankie Taylor and his 3.64, but D'Aprile left first in the final and won for the fourth time since October.
"For me, we all work together and enjoy each other and that's what makes it all work. We are hard to beat because we're preparing to win," said D'Aprile, who dedicated the win to Elizabeth Landry, who recently passed away after battling cancer. "We also wanted to be a part of the (X-treme Shootout at Indianapolis later this year) and we're happy to be in that as well. It was just a great weekend."
Mathis also claimed his first-ever victory in Switzer Dynamics Pro Nitrous, running 3.868 at 194.18 mph in the finals to beat Jeff Naiser. It was a welcome moment for Mathis, who has made impressive strides over the past two years in the class.
"It's about time," Mathis said. "It hasn't quite hit me, to be honest."
Mathis and his Jerry Bickel Race Cars Camaro qualified No. 4 with a 3.877 and then knocked off Billy Glidden and No. 1 qualifier Jim Laurita. Neither of those runs were standout passes, but Mathis put it together in the finals with his best pass of the weekend, claiming a major win and taking a huge step in his Pro Nitrous career.
"Everybody's working hard and everybody is working together," Mathis said. "Jeff is a good racer and hard to beat. He got a little sideways, but my last (nitrous) system came on and it just started pulling. I had made it this far, I might as well end it like I'm supposed to."
Dean Goforth finished off an incredible turnaround following his crash at Bristol, TN, three weeks earlier with a weekend-best 4.121 at 174.57 mph in his brand-new 2013 Jerry Haas Race Cars Camaro, knocking off first-time finalist Rick Cowger.
Goforth debuted the new car this weekend in Belle Rose after the crash in Bristol, and even he was blown away with the incredible results in its first race.
"It's just a good crew with sharp guys working with us," Goforth said. "This is the best car I've ever been in and there's no comparison. The Haas bunch just did an excellent job."
Goforth qualified No. 6 with a 4.23 and then knocked off Todd Hoerner and crew chief Brian Self to reach the finals. Cowger immediately had trouble in the finals, but Goforth had an adventurous run, nearly crossing the center line before taking the victory, his fourth in XPS.
"Rick was having a great day, but when you're 68 years old, all the guys are tough," Goforth said. "I was nervous about all of them, but the car felt good. It was close to the center line and I was scared to death I crossed it. But it was an awesome run."
T.J. Tindle claimed his first professional win in just his fifth official race, running 3.992 at 186.54 to beat Kevin Rivenbark, who ran a quicker 3.964. But the 18-year-old Tindle was quicker off the line thanks to a .071 reaction time, concluding his memorable weekend.
"This is pretty exciting. It's a big moment," Tindle said. "I was skating out there a little bit, but he was too close so I didn't want to lift. It was an exciting moment crossing that finish line."
Bert Prejean might not have raced at all over the past year, but that wasn't noticeable this weekend, as he finished off his day with a 4.328 at 142.29 mph in the finals against a red-lighting Earl Folse. Driving a '68 Camaro from Jerry Haas Race Cars, Prejean qualified No. 4 with a 4.30 and posted a number of strong reaction times en route to the win at his home track.
"I haven't raced in a year, but Jerry Haas builds a fine race car and it was flawless this weekend," Prejean said. "We came back with a vengeance and it couldn't have went any better. I was worried I would be a little rusty. It's pretty much like riding a bike, I guess."
Keith Raftery got a solo run in the Top Dragster finals after Laramie Reid crashed during his winning semifinal run. Raftery, who also advanced to the semifinals in Mickey Thompson Top Sportsman, coasted down the left lane for the victory, claiming his first X-DRL victory.
Reid braked hard at the finish line during the semifinals, crashing into the right wall, tipping on his side and touching the left wall. He was uninjured, but Raftery claimed the victory a round later.
"It was so fast-paced racing in two different classes, but we were excited to be here. I've always had good luck at No Problem Raceway," Raftery said.
The Supercar Showdown final came down to brothers P.B. and Brett Candies, with P.B. taking the victory by running a 5.753 at 120.53 mph in his 2013 Mustang Cobra Jet. P.B. ran in the 5.70s all weekend, wrapping up his ideal weekend at his home track in style.
"This is wonderful. We had a great time. To be at your home track and run against your brother in the final, it's a great experience to have," Candies said. "The car was flawless all weekend. These Cobra Jets are just great."
Todd Moyer won the final in Precision Turbo & Engine Pro Turbo, running 3.892 at 202.91 mph to beat teammate Mike Murillo.
In Pro Junior Dragster, Morgan Torres ran 7.94 at 81 mph to beat Darian Boesch in the finals.
The next and fourth race during the X-DRL's nine-race 2013 season is the X-treme Gateway Showdown, which takes place June 14-15 at Gateway Motorsports Park in St. Louis.
(Photos by Ian Tocher; Click to enlarge)