As a trackside pastor for God Speed Ministry, Tommy D'Aprile is well versed in the concepts of patience, perseverance and gratitude. As a driver on the PDRA circuit he experienced opportunities to practice all three since losing his Pro Extreme ride at last season's close.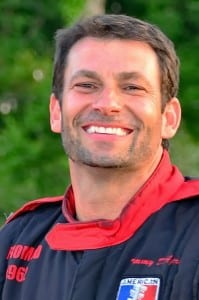 Beginning in 2008 with the ADRL and later with the short-lived XDRL, D'Aprile won three times for team owner Mel Bush before they moved over to the PDRA's premier division for its inaugural 2014 season. That pairing came to an abrupt end, however, when Bush announced last fall that he was having a new C7 Corvette built by Larry Jeffers Race Cars, then soon after declared multi-time ADRL event winner Alex Hossler would be taking over the driving duties. D'Aprile admits to feeling disappointed and discouraged at the news and wondering what he might have done wrong to attract such a fate, but says he also made a conscious decision to remain positive and supportive of both Bush and his old friend, Hossler.
"It was just a business decision and I knew that. Mel and Joanne (Bush) were always so great to me and I appreciated everything they had done for me so there was no way I could be mad or upset with them," D'Aprile explains. "And Alex, he was always one of my best friends at the track, so I called him up and wished him the best of luck and I meant it. I just felt like if I stayed positive and kept at it everything would work out best for all of us."
It was applying that patience, that perseverance, that positive attitude, that paid off in the long run for D'Aprile as he was rewarded early in May with a call from Bush offering his old driving job back. Apparently business commitments kept Bush and Hossler from following through on their plans and D'Aprile remained the obvious replacement.
"It's always an honor, always a blessing to get an opportunity like this and I know Mel is really excited about getting going again. You know, he works so hard and it's time to go have some fun again, because that's what it really is for all of us, Mel, Joanne (Bush), me, our team, it's fun to go racing together," D'Aprile stresses. "It's exciting for me because my heart's always been to be behind the wheel, but I've been at the race track serving with God Speed Ministry the last three races and I loved that, too. I just love being out there, supporting my friends and helping in any way I can."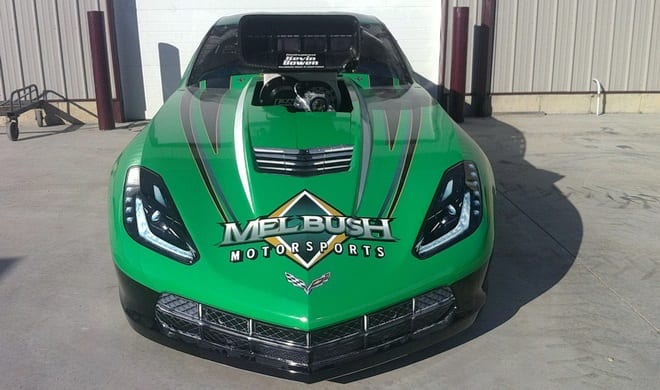 With a new car, new truck and trailer, new engines, transmissions and spares and rising Pro Extreme talent Brandon Snider tapped as crew chief, D'Aprile says Bush has completely revamped his racing program in a renewed commitment to win. The team plans its return to competition May 28-30, in the PDRA Mid-America Open at Gateway Motorsports Park, near St. Louis.
"Not too many people come straight out of the box with one of these things and go flying right away. It might be a little too late for us to go after the championship this year, but I do believe we'll get it going pretty quick and hopefully we'll be contending for a win before the season's over," D'Aprile says. "Brandon brings a lot of positivity, he's got a great attitude, and of course with his own car running as well as it is he's obviously got some knowledge about what it takes to go fast so I'm really looking forward to working with him."
During his brief time on the sidelines D'Aprile says he often heard from well wishers and fans who knew about his passion for the sport and asked why he didn't just put his own team together, as he had in the past.
"You really have to look at what people spend to run at these levels and what Mel has put together here and that's why I always say I'm so grateful because opportunities like this don't come along very often," he explains. "Now it's come along twice with Mel and I and that's really it, man. I mean, for me how could I be anything but ecstatic and grateful?"