Notoriety is not the reason Dan Fletcher started drag racing and it also didn't factor into why he wanted to make sportsman racing his career.
But seeing his name in lights, or in this case on the cover of Drag Illustrated #133: The Sportsman Issue, did provide an enjoyable moment for the celebrated sportsman racer.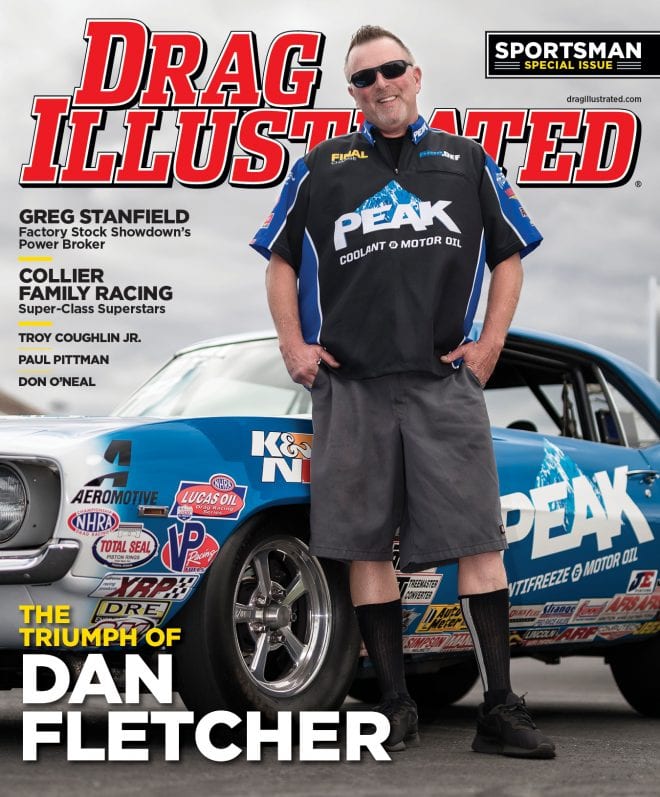 "At this point in my career, to be on the cover of the sportsman edition of a great magazine, it's pretty humbling and it means a lot," Fletcher said. "I'm a grizzled veteran, not one of the young guys, so this is pretty great."
Fletcher's long list of accomplishments made him a no-brainer to appear on the annual sportsman edition, which will again focus on many of the top names in sportsman racing.
With 103 career national event victories, three world titles (two in Super Stock, one in Comp), several divisional titles, and victories in six different categories (Comp, Super Stock, Stock, Super Comp, Super Gas and Super Street), Fletcher is among the most successful racers in NHRA history.
His goal this year is to pass Frank Manzo to move to second in all-time NHRA wins behind only the iconic John Force, but victories and success is just part of Fletcher's story, as it is with so many sportsman racers.
He grew up around the sport and a passion for racing was always there, so much so that Fletcher decided to make it his full-time occupation in early 1997.
It's worked remarkably well, but it also sums up a love for the sport that is so prevalent in sportsman racing. It is also a major reason why Drag Illustrated has chosen to feature sportsman racing in an issue each year.
"Sportsman racers are the backbone of our sport and industry," Drag Illustrated Publisher Scott Dorman said. "These people aren't out racing to get rich and famous, they are racing because they love it. It's a part of their DNA. With the Sportsman Special Issue, we shine the spotlight on these folks. There are so many extraordinary people in sportsman racing, all with stories to tell, and all deserving of more attention than they get. This is our chance at Drag Illustrated to do that."
Fletcher's story is about much more than racing as well. With a fleet of six cars, two sons that race with him and a frenetic schedule from February to November, planning and organizing are just as crucial as the actual race.
But he also knows just how important sportsman racing is for the overall health of the sport.
"I don't know if others realize how many people love sportsman racing," Fletcher said. "There's way more people involved in sportsman racing than professional racing, so it's tremendously important. People love sportsman racing. They love a '69 Camaro, new cars, old cars, a wheel-standing Camaro. It's a great class and for Drag Illustrated to have a sportsman issue, it shows they get it. They realize sportsman racing is a big deal."
To read the entire Sportsman Issue for free, please visit digital.dragillustrated.com.