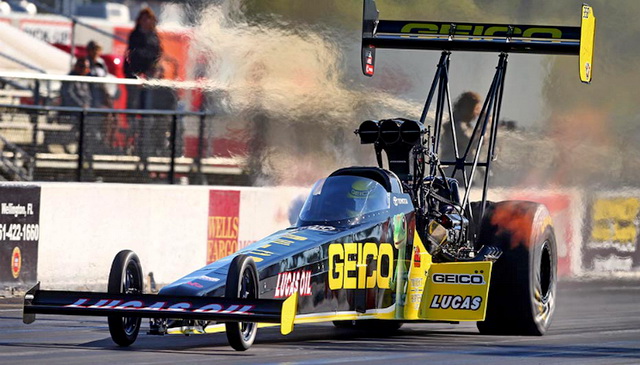 Richie Crampton, a native of Adelaide, South Australia, will make his Top Fuel debut Feb. 6-9, in the Circle K NHRA Winternationals  at historic Auto Club Raceway at Pomona. Crampton will be driving the GEICO/Lucas Oil dragster for Morgan Lucas Racing.
He earned his Top Fuel license in August but got his first heavy dose of an 8,000 horsepower Top Fuel dragster during winter testing and felt confident about his progress.
"Testing in South Florida was a little challenging for us as it was for most of the teams that went down there to run," Crampton said.
"The weather was so cool that it made the race cars pretty prone to shaking and all that kind of stuff. But nonetheless, I was able to get 24 more runs under my belt and got some very valuable seat time."
Crampton's opportunity came after driver Morgan Lucas stepped out from behind the wheel to focus more on the family business, Lucas Oil. Crampton, a former crew member for Lucas and a racer in his native Australia, was selected to take over the seat and feels his experience working on the machines will go a long way to helping with the growing pains that can accompany a rookie season.
"Honestly, I think one of the biggest things I have up my sleeve is the fact that I've worked with this team for so long," Crampton said. "The team chemistry is there right away. I've seen the way this team operates and I paid close attention to how Morgan goes about handling things during the race weekend as a driver."
Lucas piloted the Morgan Lucas Racing entry to two wins, two runner-up finishes, three No. 1 qualifying positions and a fourth place points finish last season so Crampton should have top notch equipment as he runs for the Automobile Club of Southern California Road to the Future Award, NHRA's rookie of the year honor. With Lucas' help, Crampton is ready for his opportunity.
"The fact that he's driven at the top level for so long, he's able to put it into words," Crampton said of Lucas' feedback.
"There is definitely an art to it. I'm going to be relying on Morgan throughout the season to help me get better. I just hope that I can fill his shoes."
(Photos courtesy MLR; Click to enlarge)