Courtney Force won the lucrative Funny Car portion of the NHRA Traxxas Nitro Shootout on Sunday at the 62nd annual Chevrolet Performance U.S. Nationals at Lucas Oil Raceway at Indianapolis.
Force sprinted to a $100,000 payday in her Traxxas Chevy Camaro SS by posting a 4.018-second pass at 266.04 mph to defeat teammate Robert Hight's 4.596 at 180.09 at the controls of his Auto Club of Southern California Chevy Camaro SS during the final round of the specialty event.
This is Force's first final round appearance at the NHRA Traxxas Nitro Shootout and her fifth time in the event. She entered as the No. 2 seed with her Houston victory. She outlasted Alexis DeJoria and Matt Hagan in the earlier rounds before facing Hight.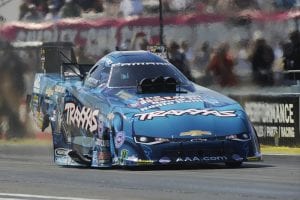 "I went out today with the mindset of calm and relaxed," said Force, daughter of 16-time Funny Car world champ John Force. "We got that run in last night and that was huge. It qualified us for fourth so my guys got me into today not thinking about a qualifying run which is huge for a race like this. To win an event like this in front of all these fans in Indiana is huge for our team. To be able to outrun Robert and get that win is a big one for our Traxxas team."
Hight, who experienced a massive engine explosion that destroyed the body of his Chevy Camaro during Saturday's second qualifying session, made his third consecutive runner-up finish at the NHRA Traxxas Nitro Shootout. He beat Tommy Johnson Jr. in the opening round and was then set to race Ron Capps in the second, but Capps' parachutes failed to release in the shutoff area during his first round sprint. Capps' Napa Auto Parts Dodge Charger R/T went into the sandpit and flipped upside down before being caught by the safety net. He exited the racecar unharmed but was unable to race Hight in the second round.