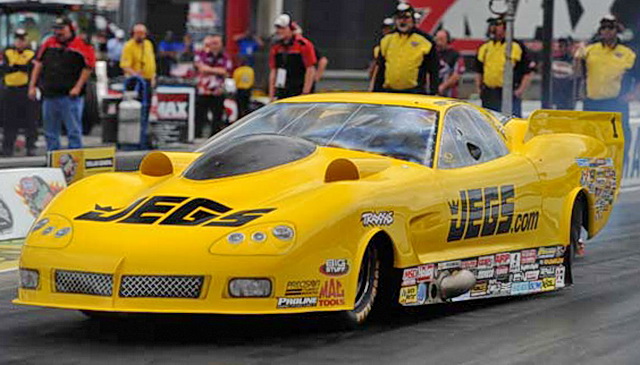 Defending NHRA Pro Mod Drag Racing Series world champion Troy Coughlin raced to the qualifying lead Friday in a rain-shortened day of action at the Dollar General NHRA Four-Wide Nationals Fueled by Full Throttle at zMAX Dragway.
The race, which is being contested in the traditional two-lane configuration, is the second of 10 races in 2013 for NHRA's popular 250-mph doorslammer touring series.
Coughlin powered his JEGS.com Corvette to a leading time of 5.963 seconds at 243.72 mph. Pro Mod teams were only able to get in one of their two scheduled qualifying sessions before NHRA Officials were forced to cancel the balance of the day's racing due to persistent rain showers and high wind in the area.
Danny Rowe was second in his '67 Camaro with a 5.966 at 244.07 and local favorite Rickie Smith, from King, N.C., was fourth in his IDG Camaro with a 5.977 at 242.41. Series points leader and 2010 champ Von Smith was seventh in his vintage Dr. Moon Camaro with a performance of 6.033 at 236.92.
The final qualifying session for the Pro Mod Series is Saturday at 2 p.m. and will be followed by the first round of eliminations at 4 p.m. Pro Mod eliminations will continue Sunday beginning at approximately 3:30 p.m.
(Photo courtesy JEG'S/Dave Kommel)
CONCORD, N.C. – Friday's qualifying results following round one of two rounds of qualifying for the NHRA Pro Mod Drag Racing Series at the fourth annual Dollar General NHRA Four-Wide Nationals fueled by Full Throttle at zMAX Dragway:
Pro Modified — 1. Troy Coughlin, Chevy Corvette, 5.963, 243.72; 2. Danny Rowe, Chevy Camaro, 5.966, 244.07; 3. Eric Latino, Camaro, 5.976, 243.94; 4. Rickie Smith, Camaro, 5.977, 242.41; 5. Clint Satterfield, Camaro, 6.019, 246.98; 6. Pete Farber, Dodge Daytona, 6.030, 242.45; 7. Von Smith, Camaro, 6.033, 236.92; 8. Mike Janis, Camaro, 6.069, 239.53; 9. Chip King, Daytona, 6.082, 247.16; 10. Kenny Lang, Corvette, 6.090, 242.71; 11. Kevin McCurdy, Camaro, 6.143, 231.83; 12. Chris Juliano, Ford Mustang, 6.208, 226.89; 13. Steve Matusek, Mustang, 6.498, 243.28; 14. Doug Winters, Chevy Bel Air, 6.592, 214.55; 15. Mike Castellana, Camaro, 7.675, 123.64; 16. Mike Knowles, Camaro, 9.386, 103.43.