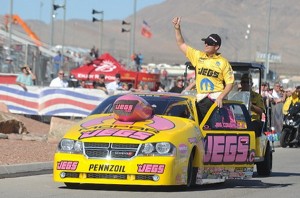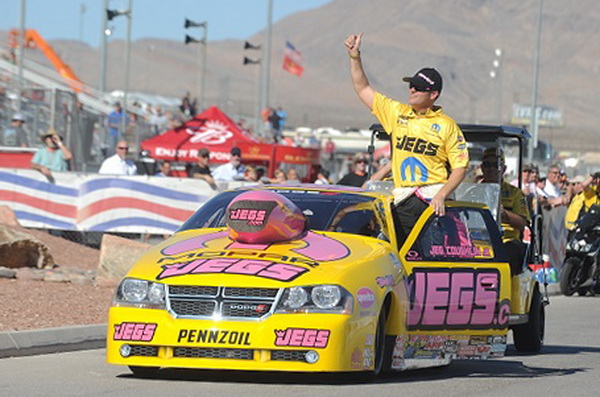 JEGS.com/Mopar Dodge Avenger driver Jeg Coughlin Jr. took a significant step toward the 2013 Pro Stock championship with a semifinal finish in the NHRA Toyota Nationals Oct. 27, at The Strip at Las Vegas Motor Speedway.
Coughlin came into the event with a 45-point edge over Mike Edwards, but left The Strip with a 71-point lead on new second-place driver Jason Line. Still, the four-time Pro Stock champion wanted more.
"We knew if we could get another round or two in here, we'd be in good shape, but we just didn't make it happen, unfortunately," Coughlin said. "Execution is key, and we just didn't execute today. The team did a hell of a job. We had a great race car and one of the fastest cars all day long."
Coughlin didn't have his best day in the driver's seat at Vegas, but still almost made it to the final round. In the semifinals against V Gaines, Coughlin's car spun the tires, but he reeled it in and continued to chase Gaines.
"That semifinal round, I let the clutch out, and it just took the tire off," he said. "It wanted to wash around through first gear, through second gear, even into third gear. Man, I was cracking the whip on that thing as hard as I could to get it down there in front of V. I knew it was close. I could hear him, I could see him, but obviously, it just wasn't meant to be."
Coughlin's pass was 6.700 seconds at 206.23 mph, coming up about five feet short of Gaines' 6.698-second run at 207.56 mph. Coughlin got to Gaines by taking out Erica Enders-Stevens in a crucial second-round matchup. Enders-Stevens was fifth in the points standings, with third-place Jason Line and fourth-place Allen Johnson also losing in Round 2.
Coughlin took command with a .026-second reaction time and was never behind, making a pass of 6.659 seconds at 207.15 mph. Enders-Stevens clocked in at 6.670 at 206.35 mph after a .053 light.
"We had a big win over Erica in the second round," Coughlin said. "We left first and never looked back. We had low ET of the round, too. With Line going out that round, that certainly didn't hurt. We didn't want to see our teammate A.J. go out, but he did as well that round."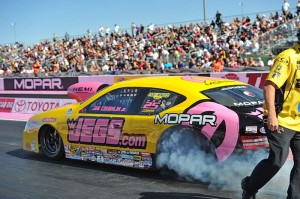 Coughlin opened the day by rallying past Greg Stanfield, who got the jump with a .023 light. Coughlin's reaction time was .060 seconds, but his pass of 6.643 seconds at 207.66 mph ran down Stanfield's 6.694-second pass at 205.60 mph.
"We were fortunate to get by Greg Stanfield first round. He made a really nice run and was trying to slam the door on us, but fortunately, we made it through. (Mike) Edwards going out first round certainly helped our cause, no question."
Two NHRA championships were decided Sunday, as John Force clinched his 16th title with the Las Vegas Funny Car win, and Matt Smith won both the race and season title in Pro Stock Motorcycle. In the Pro Stock final Gaines fell to Shane Gray and Antron Brown beat Clay Millican for the Top Fuel race win.
Regardless, Coughlin remains focused on the work still to come in the season finale at Pomona, Calif., in two weeks.
"We'll regroup and will have a week off to get all our eggs put back in one basket," Coughlin said. "We'll prepare as well as we can and go to one of our favorite tracks on the tour, and that's Pomona."
(Photos courtesy JEGS/Kommel; Click to enlarge)