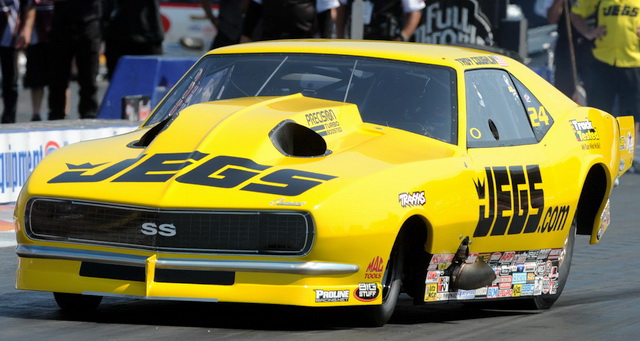 Troy Coughlin has delivered plenty of excitement this weekend in the NHRA Pro Mod Series presented by ProCare Rx, qualifying No. 1 and winning a first-round race against Mike Knowles to carry favored status into Sunday's action.
After a stuttering start in Friday qualifying, Coughlin's twin-turbocharged JEGS.com Camaro roared to life Saturday morning, posting a 5.949-second run at 250.64 mph to easily earn the No. 1 designation.
"We felt as if we had a competitive car coming into this race," Coughlin said. "We started off in qualifying by losing traction a little bit, so we had some work to do. We came back in the second run and we broke a rear end about half-track. The good news was that the incremental times looked pretty good to run 6.05 or so, so we knew we were in good shape.
"This morning we read the track and made a couple adjustments to it, and ended up with a great run that put us on the pole. We were the second car out, so we had to sit and wait all session to see what happened. But it stuck and stayed No. 1 by four-hundredths, which was nice."
Knowles broke the blower belt during his prerace burnout, rending his '68 Camaro powerless. Coughlin still staged and attempted a pass, although when his front end started rising near the 330-foot timer, he smartly shut off to avoid an accident. He eventually posted a 6.180 at 223.32 mph and will now face Donnie Martin in Sunday's quarterfinals.
"We rolled into first round on a little bit greasier race track, which we adjusted for," Coughlin said. "The JEGS car was hustling but it started picking up the front end so I cut it back a little bit. I decided not to take a chance at hurting the engine and just kind of let off. We still ran a 6.18, which is pretty quick.
"We'll tune this run for tomorrow. The weather's supposed to be a little cooler, so that's going to bring the track and the atmosphere to this thing to make it faster."
Other first round winners included Martin, Rickie Smith, David Roemer, Roger Burgess, Donald Walsh, Mike Janis and Mike Castellana. In the quarterfinals, which will continue on Sunday at approximately 2:30 p.m., Coughlin will face Martin, Burgess will meet Castellana, Smith will battle Roemer and Walsh will face Janis.
NORWALK, Ohio — Round one results from the Sixth annual Summit Racing Equipment NHRA Nationals at Summit Racing Equipment Motorsports Park, the fifth of 10 events in the NHRA Pro Mod Drag Racing
Series presented by ProCare Rx:
ROUND ONE — Donald Martin, Chevy Camaro, 6.148, 240.81 def. Leah Pruett, Ford Mustang, 6.328, 240.55; David Roemer, Chevy Cavalier, 6.098, 236.88 def. Jay Payne, Camaro, 6.157, 238.34; Troy Coughlin, Camaro, 6.180, 223.32 def. Mike Knowles, Camaro, broke; Donald Walsh, ford Mustang,5.955, 252.14 def. Kevin McCurdy, Camaro, 14.159, 59.81; Mike Janis, Mustang, 7.010, 174.01 def.Danny Rowe, Camaro, foul; Mike Castellana, Camaro, 6.182, 212.63 def. Kenny Lang, Camaro, 6.782, 209.79; Roger Burgess, Chevy Corvette, 6.159, 219.69 def. Clint Satterfield, Camaro, 6.395, 214.93; Rickie Smith, Camaro, 6.060, 239.53 def. Pete Farber, Dodge Daytona, 10.591, 85.47
PRO MOD QUALIFYING — FINAL ORDER
Psn—Num-Driver, Home Town, Car Type—————Qual-ET–Qual-Spd-Top Spd
1 24 Troy Coughlin, Delaware OH, t'68 Camaro 5.949 250.64 250.64
2 43 Rickie Smith, King NC, '12 Camaro 5.951 241.50 241.50
3 3382 Donald Walsh, Wixom MI, t'11 Mustang 5.983 248.71 250.74
4 272 Roger Burgess, Duluth GA, '53 Corvette 6.001 249.90 249.90
5 1794 Mike Castellana, Muttontown NY, '12 Camaro 6.049 237.75 237.75
6 1456 Mike Janis, Lancaster NY, '10 Mustang 6.080 239.48 239.65
7 300 David Roemer, Avon OH, '06 Cavalier 6.097 236.84 236.84
8 777 Leah Pruett, Cherry Valley CA, t'12 Mustang 6.098 248.25 248.25
9 770 Donald Martin, Lake Forest CA, *'68 Camaro 6.126 240.59 240.59
10 9 Jay Payne, Ontario CA, '12 Camaro 6.138 236.42 236.42
11 2 Danny Rowe, Laguna Hills CA, *'68 Camaro 6.179 238.47 238.47
12 4 Kenny Lang, Grande Pointe MB, '69 Camaro 6.181 235.89 235.89
13 321 Scott Ray, Greenville OH, *'53 Corvette 6.184 230.96 230.96
14 191 Kevin McCurdy, Hamburg PA, '68 Camaro 6.211 218.87 218.87
15 1518 Pete Farber, Baldwinville MA, *'69 Daytona 6.233 235.64 235.64
16 5011 Mike Knowles, Grand Junction CO, *'68 Camaro 6.233 235.27 235.27
———— Not Qualified ————
17 4720 Clint Satterfield, Albuquerque NM, '68 Camaro 6.389 230.72 230.72
18 5450 Steve Matusek, Olathe KS, t'12 Mustang 6.415 233.16 234.09
19 2072 Shannon Jenkins, Tuscaloosa AL, '69 Camaro 7.522 152.19 152.19