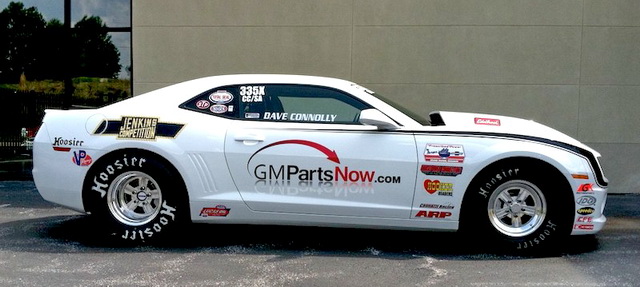 Decorated NHRA Pro Stock driver and current crew chief for Erica Enders-Stevens, Dave Connolly, will contest the national Stock Eliminator championship this year after inking a major sponsorship deal with Berger Chevrolet and its online parts division, GMPartsNow.com.
Connolly will be driving and tuning the stunning 2012 COPO Camaro he recently raced to a strong semifinal finish at the 4-Wide NHRA Nationals, which sported a "Grumpy's Toy" tribute paint scheme. A salute to Bill "Grumpy" Jenkins, Connolly's mentor, will remain on the car, taking up new residence on the rear fenders, while the doors will now be adorned with GMPartsNow.com.
"We've had a great relationship with Berger Chevrolet since 2004 and this is an extension of that," team owner Victor Cagnazzi said. "We're anxious to let the millions of NHRA fans out there know about GMPartsNow.com. I recently visited the facility and they have more than 60,000 square feet of warehouse space and 6 million dollars in inventory specifically dedicated to GM parts."
Seeing Connolly back behind the wheel will get the immediate attention of the serious contenders for the Stock title. The 30-year-old from Elyria, Ohio, has a well-deserved reputation as a top-notch driver in both the professional and sportsman ranks. His 27 national event victories, numerous divisional wins and past championship are a testament to his prowess.
"We're very excited to be part of this team," said Matt Berger, owner of Berger Chevrolet. "The COPO is a really exceptional piece of engineering, and we are proud to be part of its history. It's won its class in NHRA drag racing, and we feel confident it can win the Stock Eliminator title, especially with Dave behind the wheel.
"Really, this is about championing the COPO as an icon of Chevrolet and performance car history. The fact that we can bring some new eyes to GMPartsNow.com is just a bonus."
Celebrating its 87th year in business, Berger Chevrolet played a integral role in the COPO legacy, as it was one of the few dealerships to champion the iconic muscle car in the late '60s. Then owner, Dale Berger, immediately saw the potential of this one-of-a-kind performance car, and bought more than 50 of them. Immensely popular, they sold to performance enthusiasts and drag racers just as quickly as he could buy them.
There was a reason for their popularity. "The main goal was to build a GM-branded car that could compete with the Ford and Dodge muscle cars of that era," Cagnazzi said. "They certainly did that with the COPO Camaro and they've since resurrected the concept so GM can compete once again with the other factory-made race cars."
To that end, Connolly will not only race in at least seven points meets, but he'll also take part in a series of shootout events against other COPO Camaros, Ford Mustangs and Dodge Chargers.
Connolly has tentatively scheduled the following events: the Div. 2 race, May 23-26, in Commerce, Ga.; the Toyota Summernationals, May 30-June 2, in Englishtown, N.J.; the Div. 3 race, June 7-9, in Chicago; the Ford Thunder Valley Nationals, June 14-16, in Bristol, Tenn.; the O'Reilly Route 66 Nationals, June 27-30, in Chicago; the Summit Nationals, July 4-7, in Norwalk, Ohio; the U.S. Nationals, Aug. 28-Sept. 2, In Indianapolis; the Div. 5 race, Sept. 5-8, in Earlville, Iowa; the NHRA Nationals, Sept. 13-14, in Charlotte; and the Div. 2 race, Oct. 11-13, in Reynolds, Ga.