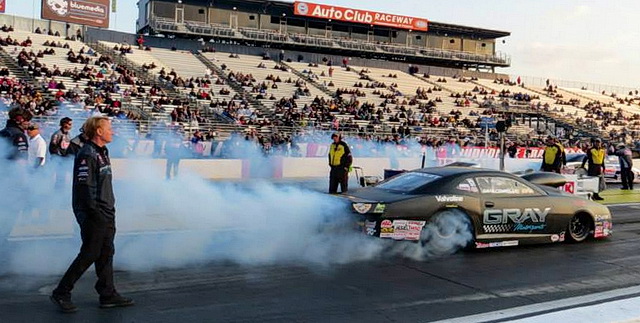 After making his last full-season campaign in 2008, Dave Connolly (above) is settling in behind the wheel of his Gray Motorsports Chevrolet Camaro and is ready to make his first start of the year Feb. 9, at the 54th annual Circle K NHRA Winternationals at Auto Club Raceway at Pomona.
The second-generation drag racer made a series of solid passes to earn a start from the No. 6 spot and a first-round meeting with Chris McGaha. His Gray Motorsports teammate, Shane Gray, qualified seventh and will face Sweden's Jimmy Alund racing in place of Greg Anderson in round one of eliminations.
Although Connolly chocked it up to "coincidence" that the two Chevrolet Camaros from the Gray Motorsports livery made nearly identical passes in the final session – each ran 6.537 at 211 mph – the two cars were never more than a hundredth apart throughout four rounds of qualifying. Gray and Connolly each ran 6.55 in the first session and followed with a pair of 6.54s – Gray cleared the finish line in 6.547-second while Connolly was a bit quicker with a 6.543 that was good for a bonus qualifying point as the third-quickest in the round. The third session of qualifying saw Gray clock a 6.528 while Connolly made his quickest pass of the weekend, a 6.519 at 211.46 mph.
"Both cars have different chassis builders and their own characteristics," explained Connolly, who has spent the last three seasons as co-crew chief for Erica Enders-Stevens. "My car has been making pretty clean runs so we had an opportunity to test a few things that last run. With Shane's car, on the other hand, we have gotten behind the eight ball and had some trouble with tire shake. We got his car to calm down and were just trying to make a cleaner run.
"We weren't real happy with that last pass, we feel like we went backwards some, but we're searching for answers. I'm confident that our crew chiefs, Tommy Utt and Justin Elkes, will figure it out, and I expect that we'll have good racecars out there on Sunday."
The bonus point that Connolly earned in the second round seems miniscule at this early point in the year, and the experienced driver admits that the team isn't yet thinking of those points. Right now, they are focused solely on winning rounds and races.
"This is the first race of 24 (this year), so we aren't looking at that right now," said Connolly. "But history shows that towards the end of the year, those little points can be huge. It was good for us to make that run because we have been struggling a little more than we anticipated, but that's what shows a good team – when they can come back from tough times. Tomorrow we will have the chance to do that.
"Shane and I are stuck on the same side of the ladder, but fortunately, we won't have to run each other until the semifinals. Hopefully, we'll have two Gray Motorsports Chevrolet Camaros in the semis. That would guarantee us an appearance in the final round, and that would be a pretty good Sunday."
(Photo courtesy Gray Motorsports)