Collier Family Racing continued to shine in NHRA and Lucas Oil Series competition at Royal Purple Raceway last weekend. The family name dominated in Super Comp and locked up a return trip to the JEGS All-Stars event in Chicago, with solid outings by Steve Collier, Koy Collier, and Jack Collier.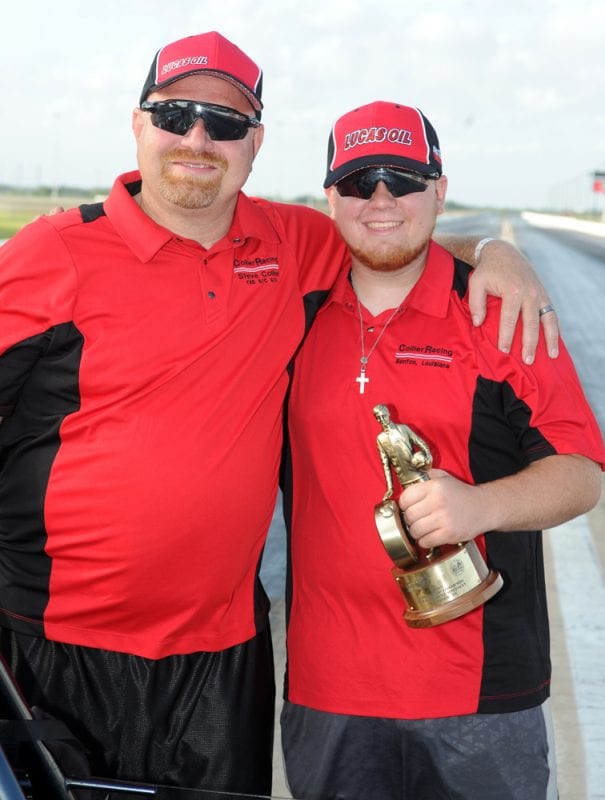 The second stop on the NHRA South Central Division schedule at Royal Purple Raceway saw an all-Collier Family Racing finalin Super Comp. Steve Collier and son Koy drove their Manpower Group-sponsored dragsters at over 180 mph through a field of 70 drivers to square off in the finals. Young Koy came out on top, as Steve fouled away his chance with a .001 red light. Koy took home the Wally in Super Comp, increasing his total in Lucas Oil Competition.
"My dad straight tried to chop my head off in the finals, I missed it," chuckled Koy. "If he turns it green I am in the way. It was truly special to line up against my dad and race in the finals. If not for him and my grandparents, I would not be able to race. Grateful for the opportunities."
Super Gas competition saw Collier Family Racing lock up the top spot to represent the NHRA South Central Division at Route 66 Raceway during the JEGS All-Star event at the end of May. Jack Collier held off tight competition from Koy and Steve, as three of the Top 4 have the last name Collier.
"To say that I am excited and speechless to be going back to Chicago as the D4 Super Gas representative is an understatement," said Jackson Collier. "We work extremely hard and to be one of the best eight Super Gas racers from across the country is going to be exciting. Knowing that either Koy or myself could have been the All-Star really made it fun, nonetheless, we are Chi-town bound."
The team has a few weeks off before spinning wheels at the Texas Motorplex during a double divisional race in Dallas, TX, April 12-15. This event will be the first event for the Collier Family Racing Top Alcohol Dragster.