"I love telling this story."
These words don't typically precede someone remembering the exact play-by-play of what happened during a harrowing crash. However, they do for Top Fuel Dragster driver Clay Millican.
The Tennessee veteran recounted the blowover incident that happened in 2005 at Milan Dragway on a recent episode of The Wes Buck Show.
"Leading up to that, we had been running some NHRA races. We had been running really quick and really fast, and the balance of our car was edgy, I guess you would say," Millican started, setting the scene of how his "Dukes of Hazzard" wrapped Top Fuel Dragster did a backflip during the semi-final round.
"I've got a photo of the car somewhere of it passing the eighth-mile cones with the front end above the cone, but the car was just ripping. I don't remember where we qualified, but we raced Bruce Linton in the semi-finals. That seemed always been a final-round matchup, but I was number one in points he was second. We leave the starting line, and the car shook the tires."
"In hindsight, I made a mistake, and I'm the one that caused the car to blow over. But it shook, and at the tail end of the shake, I pedaled the car. Looking at the computer after the fact, when the shake was done, I could have just drove through it, but I pedaled it." Millican stated, "and again, we had the balance of the car pretty light on the front, and so it started carrying the front end."
"I felt like I was still in front of him, and so I'm like, this wheelie will be fine. It'll come back down. It's just kind of maintaining it for a moment, and we're talking, a couple of feet off the ground – way higher than it needed to be for sure, and it made a move and started coming up just a little more. It maintained that for a moment, and it made another move as the clutch was starting to really lock up. Once it was like I'm seeing the scoreboards, I'm like we're done," he confessed. "You know it hadn't rotated at all. I shut the throttle, I grabbed the brake, and I'm telling you, I grabbed the brake as hard as I possibly could. It was such slow motion that the car just continued to come up and up and up, and then poof, the body blows off of it.
"It was, without a doubt, the quietest moment of my life. I don't mean like life flashes in front of your eyes," Millican says. "It was just silent. The body's gone, and I know the car is fixing to go over backward, and I get in the fetal position because I'm like, here it comes; you know this is going to hurt. But as I'm straight up and down, I hear the engine start running again. So I reach over, cut the fuel off, cut the switches off, and then it comes on around and hits the ground.
"I'm like, huh, that didn't hurt; I'm okay. Through this, a couple of times, I actually keyed the radio up and said, 'I'm okay,'" he explained. "That's all I said, is I'm okay.
"The thing's upside down, sliding, making all kinds of noise, and I'm just sliding backwards. It continues to slide for three days, and finally, I see the wall, and I'm like uh-oh, you know if it touches this wall, it's going to start tumbling. So I get in the fetal position again, all wadded up and ready, and it just continues to slide. Then it finally comes to a stop," Millican continues. "[I] take a breath. I'm like, wow, on the radio again; I'm okay. Well, Howie Dalton, one of the IHRA safety guys, and Mike Baker come sliding under the car."
"The roll cage is literally three or four feet off the ground," Millican remembers. "That when Howie was on his knees – he and I were eye to eye. Obviously, I'm hanging upside down, and he's like, are you okay? I'm like, yes, I'm fine, and he's reaching up for my seat belts. I'm like, Howie, don't touch that, and he said, 'I thought you were okay.' I said, 'I am, but if you undo those seat belts, I'm probably not going to be okay because I'm going to fall out of here."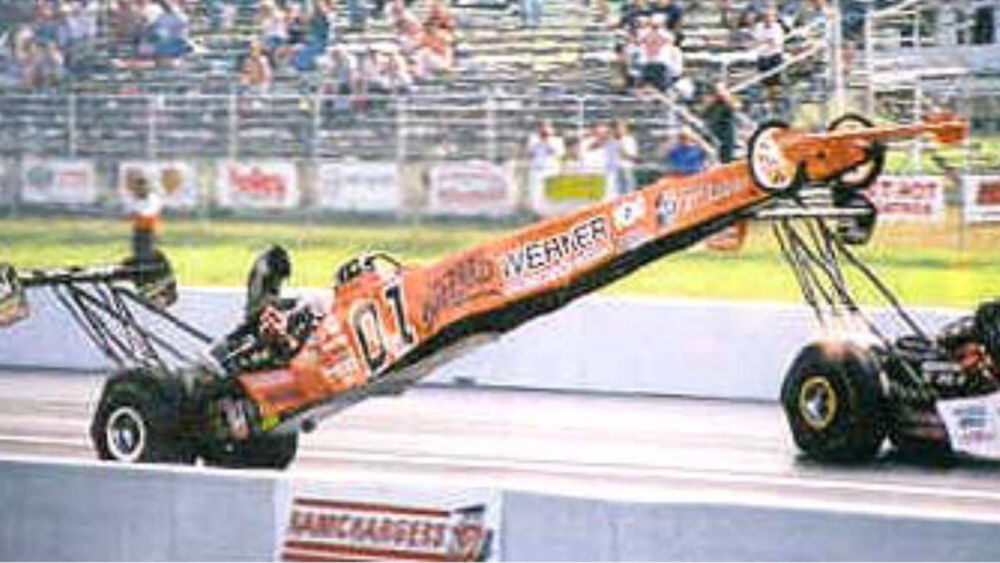 Millican was retrieved from the car by several of the safety workers and claims he was "100% fine." They strapped him to a backboard, and Millican asked if his crew chief at the time, Mike Kloeber, could come over and check on him.
Kloeber made his way to Millican, and after grabbing ahold of him on the stretcher, Clay jokingly said, referring to a previous incident, "You're the one vibrating this time."
Unknown to Millican then, another incident was happening on the starting line with Jim Weinert, the official IHRA starter. He needed immediate medical attention, so Millican's trip to the hospital was delayed as he gave up his ambulance to Weinert.