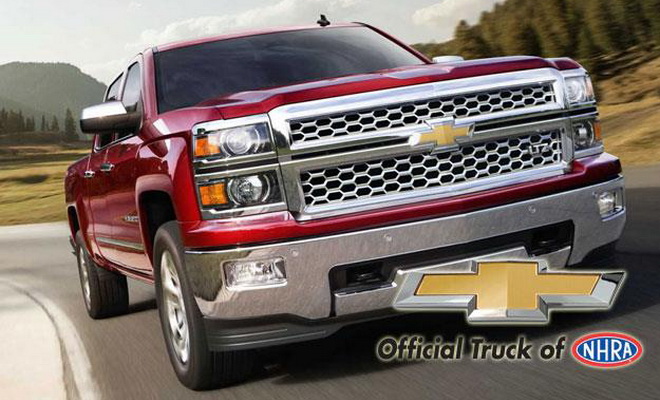 The National Hot Rod Association (NHRA) announced May 13, it has signed a multi-year agreement with Chevrolet, designating the legendary U.S. vehicle manufacturer as the Official Truck of NHRA.
As the Official Truck of NHRA, Chevrolet will have a major on-site presence at all NHRA Mello Yello Drag Racing Series events. Most notably, the all-new Chevrolet Silverados and Suburbans will be used by the legendary NHRA Safety Safari presented by AAA for emergency response and track preparation. The dependability and capability of these trucks are paramount to the legendary safety team performing its trackside duties.
"Chevrolet is proud to partner with the series as the Official Truck of NHRA, and are honored that our Silverados and Suburbans will be utilized by the NHRA Safety Safari," said Jim Campbell, vice president of Performance Vehicles and Motorsports. "Our involvement in NHRA allows us to showcase the most dependable, longest-lasting trucks in America to our customers and fans, and to fans of NHRA drag racing."
The sponsorship increases Chevrolet's involvement in NHRA Drag Racing. The Chevrolet Performance brand is the title sponsor for the world's most prestigious drag race, the Chevrolet Performance U.S. Nationals, held each Labor Day weekend near Indianapolis.
Additionally, several drivers race Chevrolet Camaros in the Pro Stock class including Greg Anderson, Dave Connolly, Erica Enders-Stevens, Shane Gray and Jason Line, and Chevrolet is the preferred choice of many Sportsman racers.
"NHRA provides a unique platform for Chevrolet to reach out in a very personal way to our very loyal fan base," said Gary Darcy, NHRA senior vice president of sales and marketing. "Chevrolet will have a great opportunity to expose its products to NHRA fans and, at the same time, share its connection with NHRA through its extensive dealer network."
During a span of 24 years (from 1985-2008), GM partnered with NHRA as an official sponsor through various brands.
"Chevrolet has a tremendous history of involvement with NHRA at the series level, event level and team level," Darcy added. "Chevrolet's expansion of its NHRA sponsorship reaffirms the fact that the NHRA Mello Yello Drag Racing Series provides a great return-on-investment."