A soggy forecast due to Hurricane Ian put a stop to the Northeast Outlaw Pro Mod Association (NEOPMA)'s plans to close out its 30th anniversary season with a special $30,000-to-win race at Maryland International Raceway (MIR) last fall. Rather than cancel it outright, series founder John Mazzorana decided to roll the celebration forward. The 31-31-31 race – 30-plus Pro Mods racing for $31,000 to celebrate the 31st anniversary – will kick off the eight-race 2023 NEOPMA season April 27-30 at MIR.
"We're really looking forward to starting the season with a big race at MIR," Mazzorana says. "Right now, we have over 35 cars pre-registered. We understand various issues, be it parts shortages or delays, might come up between now and then, but we hope to have well over 30 cars."
The extra time before this race allowed Mazzorana and the NEOPMA team to fine-tune the event format. In a return to the club's past format, the 31-31-31 race will feature a split field, both paying $15,500 to win for a $31,000 total between the winners and $45,000 in total payouts. One field will include nitrous oxide and turbocharged entries, while the other field will allow screw blowers, roots blowers, and centrifugal superchargers.
"Splitting the fields is turning out to be pretty good," Mazzorana says. "We have around 20 blower cars and 15-16 nitrous and turbo cars. We originally had split classes until around five years ago when we combined them because of poor attendance on the nitrous side. We're hoping we've overcome that problem by giving the nitrous guys the opportunity to compete against each other at a reasonable cost."
Mazzorana notes that the split-field format is an experiment that will start at the season opener and will continue as the season progresses.
"We're testing it for the first four or five races," he says. "If we have enough attendance on both sides, we'll keep it split. If we do not, we'll go back to combining the classes. We've always been willing to test different things. If it doesn't work, we're willing to stand up and say it didn't work, but we tried it, and we'll go back to what we were doing before."
After the season opener at MIR, the series will return to Pennsylvania's Maple Grove Raceway on May 12-13. Cecil County Dragway in Maryland will then host its first of three races on June 2-3; the others are July 28-29 and the Yellowbullet Nationals Sept. 1-3. New York's Empire Dragway is back for its third consecutive year on the NEOPMA schedule with the Empire Northeast Outlaw Pro Mod Challenge IV June 30-July 1 and the Empire Northeast Outlaw Pro Mod Challenge V Aug. 18-19. The season will wrap up back at MIR for the Supercharger Nationals Oct. 6-8.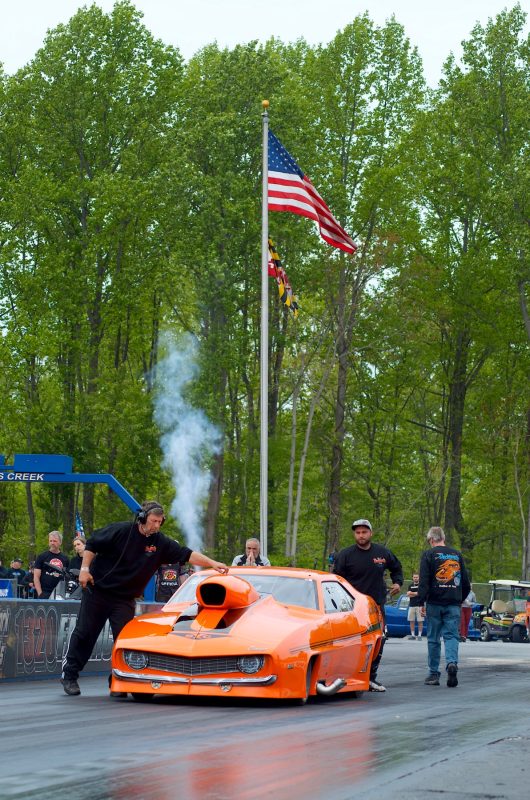 "We're really happy with the schedule we put together for this season," Mazzorana says. "We get great attendance in both cars and spectators. We get good facilities, probably some of the best in the country. We get a great reception. We're welcomed with open arms at these tracks. For example, our teams get standing ovations at MIR and Empire. The fans love to see us, so we like going back. At this point, we're excited because I think the tracks on our schedule are some of the most noted in the country. The track prep is also some of the best in the country."
Though the series has been in operation since 1992, Mazzorana is dedicated to reaching even more new fans and welcoming more new teams to join the series in 2023.
"We're excited about the 30 years we've had," Mazzorana says, "but we're also excited about the future because we believe we can compete with just about any club in the country. Our alliance with the Canadian group [PMRA] has resulted in a lot more Canadian cars racing with us."
Always thinking of ways to grow not just NEOPMA, but Pro Modified racing in general, Mazzorana envisions a future where the various eighth-mile Pro Mod organizations work together to develop rivalries between the groups and drivers.
"Maybe even start a series on a regional basis where you'd see PDRA compete against Mid-West and we would compete against NMCA, then the winners would advance to the next round, almost like a pennant race," Mazzorana says. "I'd love to see something like that come together because I think the rivalry would be good for the clubs. I think it'd be great for the spectators. The tracks would like it because that kind of environment would attract fans, and I think it might bring in some new sponsors too."