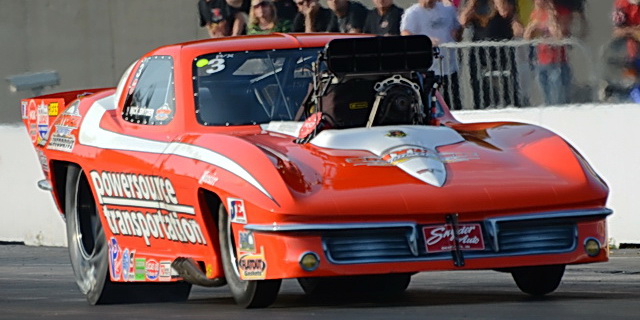 The fall season may mean cooler temperatures, but it also means things will be hotter than ever going into the final two American Drag Racing League (ADRL) events of 2012. It starts this weekend (Sep. 28-29), with the Summit Racing Equipment Ohio Drags VI presented by Mickey Thompson at Summit Motorsports Park in Norwalk, Ohio, and will come to an incredible finish Oct. 19-20, with the World Finals VIII presented by CarSafe at the Texas Motorplex, near Dallas.
Cool conditions are expected in Norwalk, which could mean record performances and outstanding runs. It also will contribute to amazing chases in a variety of classes heading into a memorable finish on the 2012 ADRL Tour.
PRO EXTREME
This is turning into a two-car, teammate vs. teammate chase, as Jason Scruggs trails Mick Snyder (above) by just 104 points. Remember, every round win in the ADRL is worth 100 points, meaning only a round and qualifying points separate the two dominant drivers in the class.
They've combined to win six of the eight races held so far this year and now it seems they will decide a championship. Von Smith is still in the hunt at 626 points back, but this seems like it will come down to Snyder and Scruggs, and who will perform better in Norwalk and Dallas.
With mid-3.60s expected throughout most of the field at Norwalk, it may take runs in the 3.50s to go rounds.
PRO NITROUS
This has turned into a dream season for Bob Rahaim, the points leader heading to Norwalk, where he will be racing relatively close to his Michigan home. He has momentum, too, after winning earlier this month in Memphis, beating his closest points rival, Doug Riesterer, with a holeshot in the final.
Of course, Riesterer at 156 points back, meant that matchup was huge. In essence, it's really a 406-point lead for Rahaim, as he is in line to get 250 bonus points for attending all 10 races while Riesterer missed the event in Reading, earlier this year.
Rickie Jones, who will carry his Summit sponsorship into the big Summit event this weekend, is 528 points back and will need a run akin to his back-to-back victories to start the year to get back in this mix.
MICKEY THOMPSON EXTREME 10.5
Alan Pittman leads Billy Glidden by 702 points, meaning if all goes well for Pittman–and it has gone extremely well for him for much of 2012–he could have the title clinched heading into Dallas. In fact, it would take near-disaster for him to lose this kind of lead with just two races left.
Glidden is capable of some amazing things, but should he slip past Pittman, it would rank among the greatest performances of his career.
PRO EXTREME MOTORCYCLE
Eric McKinney leads Casey Stemper by 998 points, meaning his third straight victory in Memphis–and fifth overall in a fabulous 2012 campaign–all but wrapped up his first world championship.
It's not officially clinched, as McKinney still needs to go to Dallas to clinch the 250 bonus points, but another dominant performance in Norwalk would make that a moot point. The most interesting subplot for Norwalk is seeing whether McKinney, who went a fantastic 4.02 in Memphis, can break into the 3-second zone.
EXTREME PRO STOCK
Speaking of the 3-second zone, that could happen in XPS with near-perfect conditions expected this weekend in Norwalk. Points leader Cary Goforth, though, is more concerned with winning a second-straight world championship.
It started to look a little more clear after Memphis, as he opened up a 436-point lead against Richie Stevens Jr. after Stevens was upset in the first round. Stevens came on strong to end 2011, and will likely need at least a finals berth to make things extremely interesting heading to Dallas.
AEROMOTIVE FUEL SYSTEMS PRO MODIFIED
There's a lot still to be decided in this one, as Mike Castellana leads Jeff Naiser by 249 points. But Naiser is in line to earn the 250 bonus points, meaning he hypothetically has a one-point lead.
Castellana won't be in Norwalk, meaning Naiser has a golden opportunity to become the favorite heading into Dallas. He had a great opportunity in Memphis as well, but failed to qualify, meaning things will be even more wild over these next two events. With the bonus points, Pat Musi only trails by 354 points, which should only add to the excitement over these next two races.
Should both Musi and Naiser do well in Norwalk, it will create some must-see action in Dallas, where Castellana is expected to compete.
SUMMIT RACING EQUIPMENT TOP SPORTSMAN
This race might be the most exciting of all of them, as four drivers trail points leader Marco Abruzzi by five rounds or less.
As we've also seen in class, almost anything can happen on any given weekend, meaning this one is totally up for grabs. Abruzzi didn't qualify in Charlotte, but came back to win in Memphis, putting him back in the points lead. Racing in Norwalk means he's also at his home track, giving him a great opportunity to add to his points lead.
Currently, he leads William Brown III by 171 points, Chuck Mohn by 277 points, Earl Folse by 355 points and Ronnie Davis by 434 points. All are capable of catching him, meaning this race will be incredibly thrilling in Norwalk and Dallas.
PRO JUNIOR DRAGSTER
Alexander Oppen continues to hold onto a slim lead in the class over Jackson Core (194 points). Things will be even more interesting this weekend in Norwalk when a 32-car field in Pro Junior Dragster will compete.
(Photos by Ian Tocher; Click to enlarge)