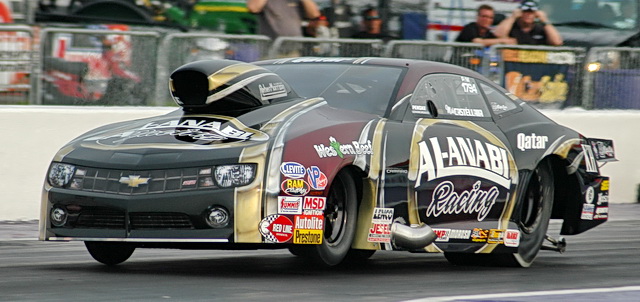 In a thrilling final round, Mike Castellana in his nitrous-injected Al-Anabi Racing 2013 Camaro claimed a noteworthy runner-up finish against veteran Rickie Smith at the previous NHRA Pro Mod Drag Racing Series event in Norwalk, Ohio.
Now, the native New Yorker says he is confident his team and his 250-mph hot rod have what it takes to win at the prestigious 59th annual Chevrolet Performance U.S. Nationals, Aug. 28-Sept. 2, at Lucas Oil Raceway at Indianapolis. The event is the seventh of 10 races in 2013 for the NHRA's popular 250-mph doorslammer touring series.
"Our plan is to win the championship," Castellana said.  "To do that we need to qualify No. 1 and win most of them.  It's too late in the season to make any mistakes. One bad showing and the championship is over for us."
So far in the 2013 NHRA Pro Mod Drag Racing Series, Castellana has posted two No. 1 qualifying spots (Gainesville and Houston) and is currently tied in fourth place with fellow Al-Anabi Racing teammate Von Smith. While the Pro Mod vet has consecutive runner-up finishes in Indy, Castellana is still looking to claim his elusive first win at the Big Go and join a legendary roster of drivers who've won the tradition-rich event.
"We've run great two years in a row in Indy, and I know we are capable of winning," Castellana said. "We feel good and ready for the challenge. It's always a very tough field of drivers. You are racing the best of the best."
"We've faced some pretty demanding challenges this season," Castellana continued. "We started the season with a new car and have just remained focused on getting it to run consistently fast, and I think we accomplished that the last few races."
With only three races remaining in the Pro Mod season, Castellana and other championship contenders will be laboring for critical positioning at the world's most prestigious drag race.
"No matter where you are in points, everyone comes to Indy looking to do a good job at this legendary event," Castellana said. "Come race day, all I can do is my best and we've come pretty close back-to-back. I'm also grateful for our sponsors Al-Anabi and Western Beef for giving us the resources to accomplish our goals in racing and my team to make it actually happen."
Other top drivers who enter the event as pre-race favorites are series points leader Smith, defending world champ Troy Coughlin, Von Smith, Kenny Lang, Mike Janis and Danny Rowe.
(Photos by Ian Tocher; Click to enlarge)