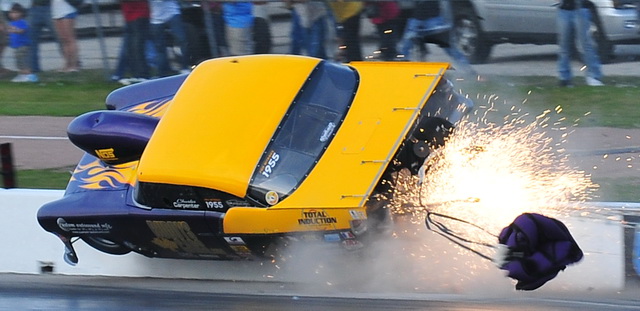 John Force has driven more than 30 drag racing Funny Cars in a career spanning four decades, everything from Chevrolets to Pontiacs to Oldsmobiles to Fords.  In largely the same time frame, Charles Carpenter has driven only one – an iconic 1955 Chevy Bel Air in which he will try to win this week's Extreme Outlaw Pro Modified Association (EOPMA) title during the annual Super Chevy Show at Steve Earwood's Rockingham Dragway.
The three-day extravaganza celebrating all things Chevrolet is presented by Chevrolet Performance and Richmond County Tourism and will include a car show, swap meet and vendor midway as well as a full complement of racing events including GM-only ET bracket races on both Saturday and Sunday.
The highlight, though, will be Carpenter's pursuit of a title in competition with some of the top cars and drivers in the Extreme Outlaw Pro Modified series including former IHRA Pro Modified champion Tommy Mauney of Shelby, S.C., and Kernersville's Doug Winters, whose supercharged 1957 Bel Air has a Carolina following of its own.
While Carpenter and Force both are icons of the sport – Force in an NHRA Funny Car division over which he has reigned 15 times and Carpenter in a Pro Mod category he actually had a hand in creating, they share much more than just their longevity.
In fact, both survived crashes that would have chased lesser men out of the sport.  Ironically, Force suffered his most serious injuries in a 2007 crash in Dallas, Texas; Carpenter in Houston, Texas.
The man who's been called "the Father of Pro Mod" racing suffered a fractured vertebrae, among other injuries, when his car veered out of control and climbed the guardwall, sliding down it on two wheels in March, 2009.  Like Force, he never thought about not coming back.
Instead, he focused on making the latest incarnation of this popular '55 safer.  The fact that it also was quicker and faster is beside the point.  Using carbon fiber and titanium and an 864 cubic inch Chevy engine with a four-stage nitrous oxide system, Carpenter recently covered the eighth mile course, from a standing start, in career best 3.92 seconds.
That's the kind of performance that produceed a pair of Pro Nitrous victories in the American Drag Racing League, one at Norwalk, Ohio, and the other, ironically, at Houston.
A Chevy purist, Carpenter never has driven anything other than an '55 – at least not on the racetrack.  At age 14, he started racing in a '55 model he bought from his brother and was a top sportsman racer until the late '70s when smaller, more aerodynamic models like the Vega and Monza began to dominate.
"It got to where my car was almost not competitive," Carpenter recalled, "and then they allowed us to use nitrous oxide.  That was in the early '80s and when we started using the nitrous, it suddenly caught me up with the smaller, more aerodynamic cars.  Then the media picked up on it.  They loved that a 'shoebox,' a big, boxy car, was out there racing with these sleek little aerodynamic cars."
Carpenter's success was the first step in the creation of a Pro Mod class that featured quick, fast cars in packages that were unexpected – 1955 and 1957 Bel Airs, 1968 and 1969 Camaros and 1963 Corvettes.
In addition to winning the overall Super Chevy Series title in 1988 and 1989 (and earning runner-up honors the next two years). Carpenter was the United States Super Circuit champ in 1992 and he remains viable today in a joint effort with son Mike, the art director for Drag Illustrated Magazine, who doubles as crew chief and PR director on his dad's nostalgic "shoebox."
"I think I am a lucky man," Carpenter said of the accident.  "The part that bothered me the most was my son standing there watching it.  He and I have had this conversation, if he was in that car, I can't image what I would be thinking.
"By the same token, it's a testimonial to what we do," said the North Carolinian.  "I have preached this for 30-plus years: if you wear your safety equipment and you stay in the car and the car stays within the confines of the race track, you walk away (more than 90) percent of the time."
A special 12 noon-to-7 p.m. test-and-tune for Super Chevy Show contestants will begin the program on Friday.  Saturday's pro qualifying at 12 noon, 2 p.m. and 5 p.m. will share center stage with GM-only Pro ET and Footbrake races and the first of two Junior Drag Racing events.
Sunday, Pro ET drivers will compete for a $3,000 top prize in a DriveDuracell.com event starting at 10:30 a.m.  Champions also will be crowned in Footbrake, Junior Dragster, DOT Street and Real Street.  For the Pro Mods, "last chance" qualifying will be conducted at 11 a.m. Sunday with single elimination finals beginning at 12:30 p.m.